Pop Culture Ephemera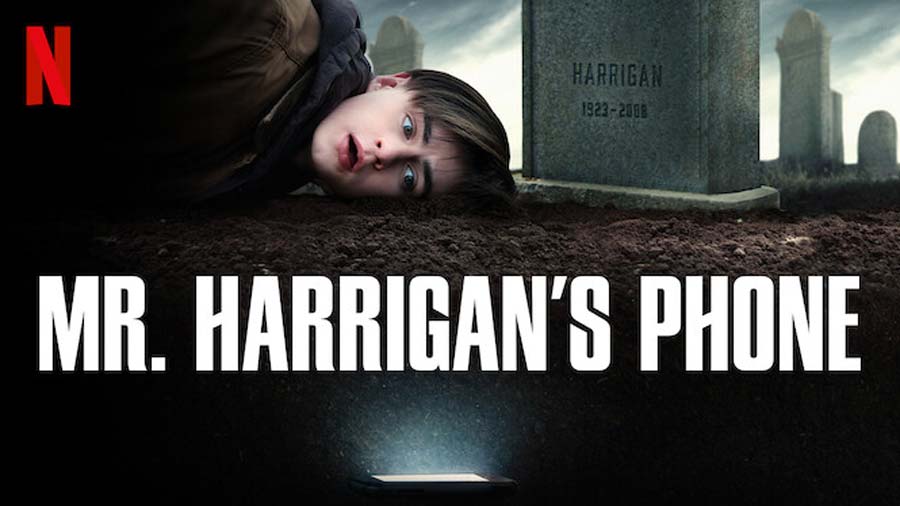 Mr. Harrigan's Phone (2022) (Directed by John Lee Hancock): "In the 21st century, I think our phones are how we are wedded to the world. If so, it's probably a bad marriage." – Craig. John Lee Hancock who has directed sports films like The Blind Side was an interesting choice to direct this slow burn, dialogue-heavy Stephen King novella. The first best decision was the casting. Elderly Mr. Harrigan (Donald Sutherland) hires Craig (Jaeden Martell) to read to him. The relationship grows through literature and life lessons until Mr. Harrigan passes away, leaving Craig a legacy. This all starts to sound familiar to anyone currently reading King's new book, Fairy Tale, or anyone who remembers Hearts in Atlantis. At this point, the stories diverge. I loved this story in If It Bleeds and it's in that tradition of The Body that there isn't horror like Cujo or Pet Semetary. It's a slow build, so be warned you have to have some patience for the story to unfold. The title might lead you to believe the story is a warning about phone addiction. That's a simplistic view of the plot. The story, especially in print, revolves more around power (Mr. Harrigan's money for one) and how you decide when to use it. I wish the director had taken more time to explore that sentiment.
The Midnight Club – "The Final Chapter" (S.1 E.1) (NETFLIX) (2022): "To those before and those after. To us now and those beyond. Seen or unseen, here but not here." – The Midnight Club. Mike Flanagan is back just in time for the Halloween season. The story sets up pretty quickly in the first of the 10-episode season. Ilonka is a high school senior about to graduate when she is diagnosed with thyroid cancer. Nine months later, she ends up Brightcliffe Hospice. It's a creepy home that is partially Poe's "Usher" and not far from Flanagan's Haunting of Hill House. A group of similarly aged young people with end-of-life afflictions form the Midnight Club to tell stories. This episode mostly serves to set the tone and create the Are You Afraid of the Dark? style of episodes. Flanagan has two things you can count on. There are voiceovers (not as long as they are in Midnight Mass) and there are jump scares (way more than I've seen from him before and it could get annoying). I'm willing to see where this is headed. Not sure if it's going to rely more on the episodic stories or the members of the Midnight Club. I'm enjoying Flanagan's recurring crew of actors.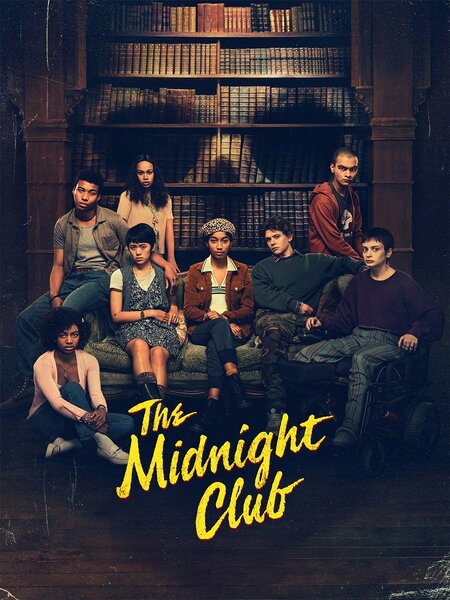 Talking Heads – "This Must Be The Place (Naive Melody)" (1983) (from Speaking In Tongues): "I come home, she lifted up her wings / Guess that this must be the place." – David Byrne. There are songs in our lives that we love from the very first moment we hear them. At some point in 1983, the day I bought Speaking In Tongues, I got to the end of the second side of the album and tucked away as the last song was this gem and from the introduction to "Home is where I want to be" I was already enthralled. While "Burning Down The House" was the huge hit, it's this song that gets covered today over and over. Simple guitar and synth line but a really clever percussion that gives it an African beat feel as they seem to be playing household objects like wine glasses and cans instead of drums. Byrne actual sings these lyrics instead of his usually staccato spitting of the words. The self doubt is less obvious but it's still there in the "must" of the title. He is finally not doubting how he got here but embracing love as "home" and "I've got plenty of time." Always for love. Say goodnight.
What Became of Jack and Jill (1972) (Directed by Bill Bain): "Ah, the old. Well, they've finished their scoff, Gran. But they just sit on and on and on; just don't know when to get up and go." – Johnnie. This Amicus production never saw light of day as an Amicus film. Amicus was the home of gothic horror films and anthologies but this was an attempt to outdo Hammer Films and branch into the Exploitation market. A panic from the company at such a dark film that they shelved it until Fox picked it up for drive-in releases. The plot is meant to be a horror but unfolds at too plodding a pace to pack many jumps. A slacker grandson and his girlfriend are trying to convince his grandmother that she is being hunted down by a group of youths that want to kill the elderly in order to induce her death so they can inherit her home. The girlfriend is named Jill but the grandson is Johnnie. So I'm not sure what to tell you about the title. It's not a great film but there's some quality direction in scenes that make it creepy. I wish it had been more focused on the horror elements.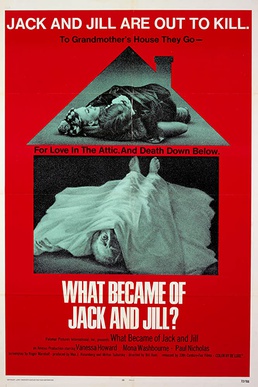 Asylum (1972) (Directed by Roy Ward Baker): "Never turn your back on a patient." – Dr. Rutherford. Another Amicus Productions anthology film. I love this on par with Tales From the Crypt (1972). The EC Comics inspirations of the previous film are set aside for more traditionally creepy stories from horror writer, Robert Bloch (Pyscho). This set of four stories are even more in the Hammer Films genre and feel like they aren't far from what Hitchcock might have done in this era. Dr. Martin (Robert Powell) must interview four patients at the mental asylum before getting a job there. Baker is a competent director and once we get to the stories, the pacing is just right. Like other Amicus Productions, the casting is strong and they carry even the light-hearted plots. My favorite is Peter Cushing in "The Weird Tailor" mostly just because of Cushing. The most creepy is "Mannikins of Horror" with Herbert Lom and a freaky robot. I'm a fan of short stories, anthologies and horror versions of both in particular. This definitely goes with your yearly Halloween viewing.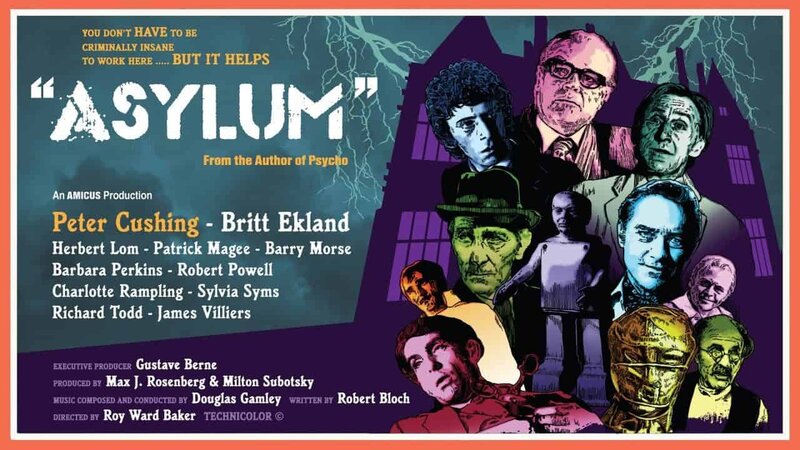 Best of the Rest
I credit the rebirth of "This Must Be The Place" to this Shawn Colvin cover which is when I first started to hear it again everywhere. Her version is more haunting and really emphasizes the longing for love this time.
The movie, This Must Be The Place, is only mediocre by all accounts. But Sean Penn as a Robert Smith-ish goth looks funny. The title is an obvious reference to the Talking Heads song. This scene where the boy wants the Arcade Fire song "This Must Be The Place" and Penn tells him "You're delusional" that it's a Talking Heads song is touching. (Beats the usage in Wall Street and only slightly better than Lars and the Real Girl)
Mike Flanagan (Midnight Mass, Midnight Club) is doing a Fall of the House of Usher eight-episode mini-series for Netflix for 2023. I'm excited to see some Poe adaptations coming to streaming. Flanagan has a great collection of regular actors and I imagine this won't play out too differently than the pacing of The Haunting of Hill House. I just started the book What Moves the Dead by T. Kingfisher that serves as a continuation of the Poe story and it presents some wonderful ideas of how to adapt it for a longer series.
Sunday Morning Tuneage Flashback
On the Sunday Morning Tuneage of 5/27/2007, it was Memorial Day weekend and the Saturday morning games were rained out. But there was a neighborhood pool party (back when I had a local social life!) and I was still recovering that morning. The television season was over so we were looking at Most Outrageous Moments (NBC), TV's Funniest Moments (FOX), and Pirate Master (CBS) from Mark Burnett. There was one pretty cool show that slipped in there.

Star Wars: The Legacy Revealed (HIST) (2007): Executive Produced by Ken Burns. That should tell you that this isn't a simple "making of" type of documentary. This special puts the first six films into the perspective of the "hero" stories of Joseph Campbell's books. What an interesting cast of people making commentary including J. J. Abrams, Peter Jackson, Newt Gingrich, and Linda Ellerbee among others. The mythology of Star Wars is often discussed but this is the longest discussion of it that I have encountered on video. This special should be part of some home video package because it's full of information we don't explore elsewhere.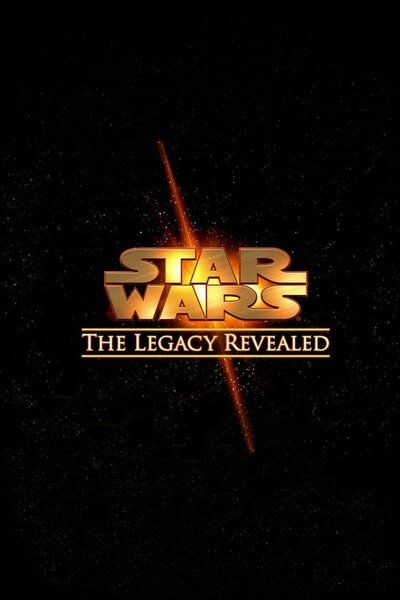 Flash From The Past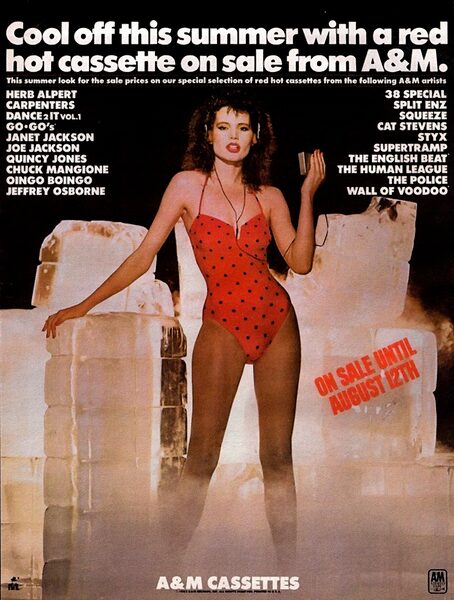 What the Hell Did I Put In My Mouth?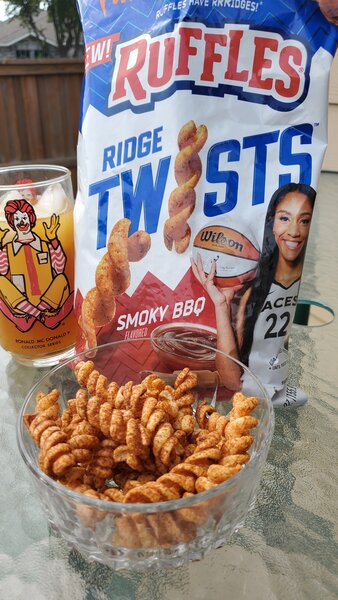 Ruffles Ridge Twists: Smoky BBQ
At some point Frito Lays ran out of ideas for new products and just put the same approach to snacks across their brands. There are Frito chips that are this same shape. So now it's in potato form under the Ruffles brand. The cover makes it look like a braided pretzel but in reality they are more like a spiral pasta. The smoky BBQ flavor is heavy on the tomato-based BBQ sauce and short on the smoky but it's not a bad combination. What you would never guess is that they bear any relation to Ruffles (one of the best basic chips ever invented).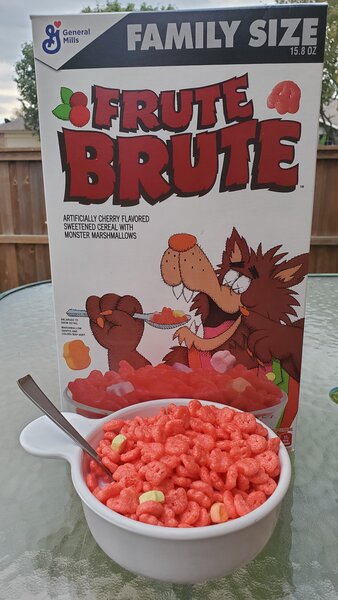 Monster Cereal: Frute Brute Kaws Edition
The fourth Monster Cereal entry this year is the star of the bunch. Originally released as Fruit Brute in 1974-1982. It was originally a mix of fruits like Froot Loops with lime-flavored marshmallows. It was relaunched in 2013 as Frute Brute, now with cherry cereal and marshmallows. It's not the cereal of my youth but maybe it's slightly improved because there just aren't many cherry-flavored cereals. That design? Dang I love that werewolf. This is a winner.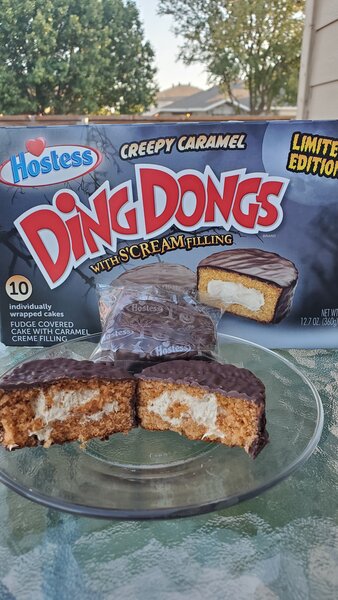 Ding Dongs: Creepy Caramel
There have been Caramel Ding Dongs in the past, at least back in 2020, but for some reason they are being rebranded as "with s'cream filling" as if this is a new thing. I'm not a Ding Dong consumer much anymore. I think the recipe has changed in the past decade or so. The caramel creme isn't too bad but the fudge covering has a different flavor than I remember. It's not a remarkable product and now I'm curious if the non-caramel Ding Dongs still taste like my memories.
"I'm just an animal looking for a home
Share the same space for a minute or two
And you love me till my heart stops
Love me till I'm dead" – David Byrne
Stay Hard.
sb