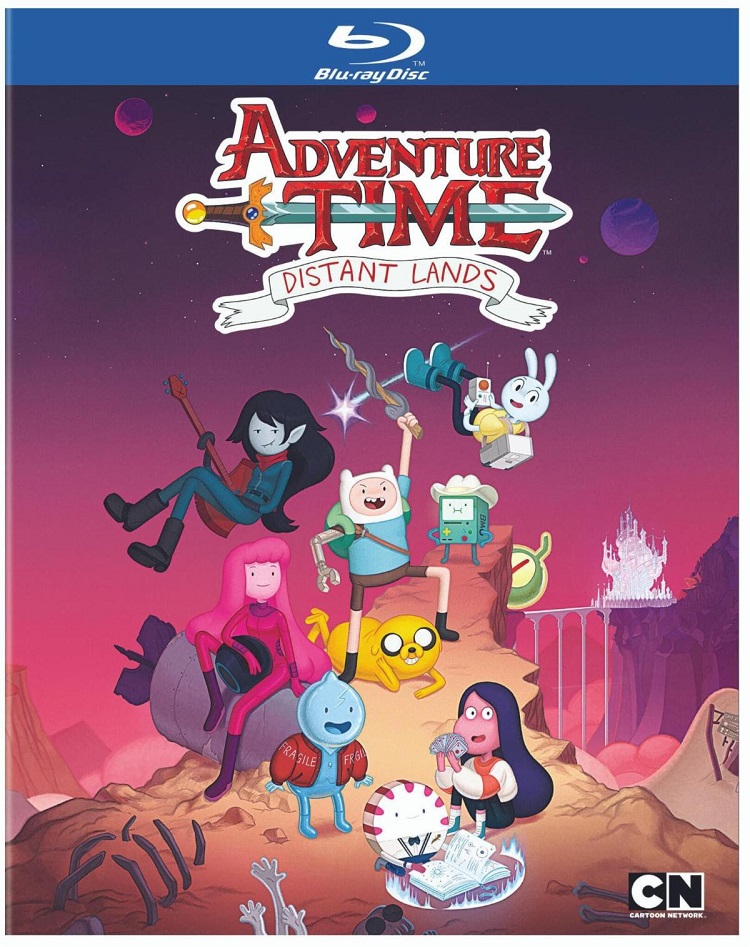 Adventure Time ran on Cartoon Network from 2010 to 2018. It presented the adventures of a human boy named Finn (Jeremy Shada) and his best friend Jake (John DiMaggio), a shapeshifting dog. They live in the Land of Ooo, a magical place inhabited by all manner of creatures. Distant Lands collects four Adventure Time specials, which debuted on HBO Max in 2020 and 2021. Each special is expanded to approximately four times the length of a typical episode.
"BMO" finds the titular character, an anthropomorphic video game/computer/VCR device, shanghaied by a a protocol droid that takes her to a space station called the Drift. A young rabbit scientist, who changes her name to Y5 (Glory Curda), rescues BMO. Y5's parents want BMO used for parts so the Drift's leader, Hugo, can rebuild the station's unity pod. However, Hugo has other plans. The episode offers good lessons about blindly trusting leaders and the benefit of working together.
"Obsidian" is a Marceline the Vampire Queen story that aside from the adventure, focuses on her relationship with Princess Bumblegum and with her late mother. Years ago, Marceline trapped the dragon, Molto Larvo, and saved the people of the Glass Kingdom by creating a song with lyrics that are insulting towards Princess. In present day, Glassboy, a young glass boy with a cracked head, tries to fix himself but accidentally unleashes the dragon. He searches for Marceline, hoping she can subdue the dragon again; however, she struggles with her creativity. Princess Bumblegum's technological skills hold off Molto to a point, and they eventually get trapped together. In addition to the expansion of Marceline's character, the story teaches about accepting one's differences and not seeing them solely as flaws.
"Together Again" presents Finn and Jake in a story that deals with rather serious subjects for kids, such as death and the afterlife. Old Man Jake has died, yet he's happy about being in the Dead Worlds because now he and Jake can be reborn together. However, that's not the way reincarnation works since New Death took over the role of Death from his father. Finn goes on quite a surreal journey through different Dead Worlds before reuniting with Jake. They work to defeat New Death, with help from his mother Life, who is upset that her son has stopped reincarnation. In addition to the imaginative Dead World hopping, the plot offers a good explanation as to New Death's motivations.
"Wizard City" is where the formerly evil wizard and older version of Peppermint Butler attends Wizard School to relearn magic after he was doused with Princess Gumball's Dumb Dumb juice. Like many young students, he looks up to and wants the attention of someone he thinks is cool (Spader Petersen) and wants to distant himself from those who are odd and different (Cadebra, a young wizard who is captivated by theatrical magic). After some dubious events occur, Pep is the main suspect due to his past, but he needs to tap into those old skills to prove his innocence. This a fun mystery with a message that hearkens back to "BMO".
The video has been given a 1080p/MPEG-4 AVC encoded transfer that is displayed at the original aspect ratio of 1.78:1. All the colors pop in strong hues. Blacks are inky and whites are accurate, contributing to the image's strong contrast. The picture is clear and free of defects. Didn't notice any artifacts diminishing the video. The audio is available in DTS-HD Master Audio 5.1. Dialogue can be heard in the front center channel. The music and and ambient effects surround the viewer. The subwoofer delivers solid bass, especially in support of Micheline's playing. There are no extras.
As a causal fan of Adventure Time, I enjoyed the writing and animation in these Distant Lands specials. I didn't feel lost by the series's lore, but do wonder if there are deeper connections to what's gone before that I am unaware of and can't speak to any contradictions that may occur in characters' behaviors. I do wish there were some extras to help me better understand how these stories fit into the series as a whole. The high-definition presentation is satisfying and should please fans.