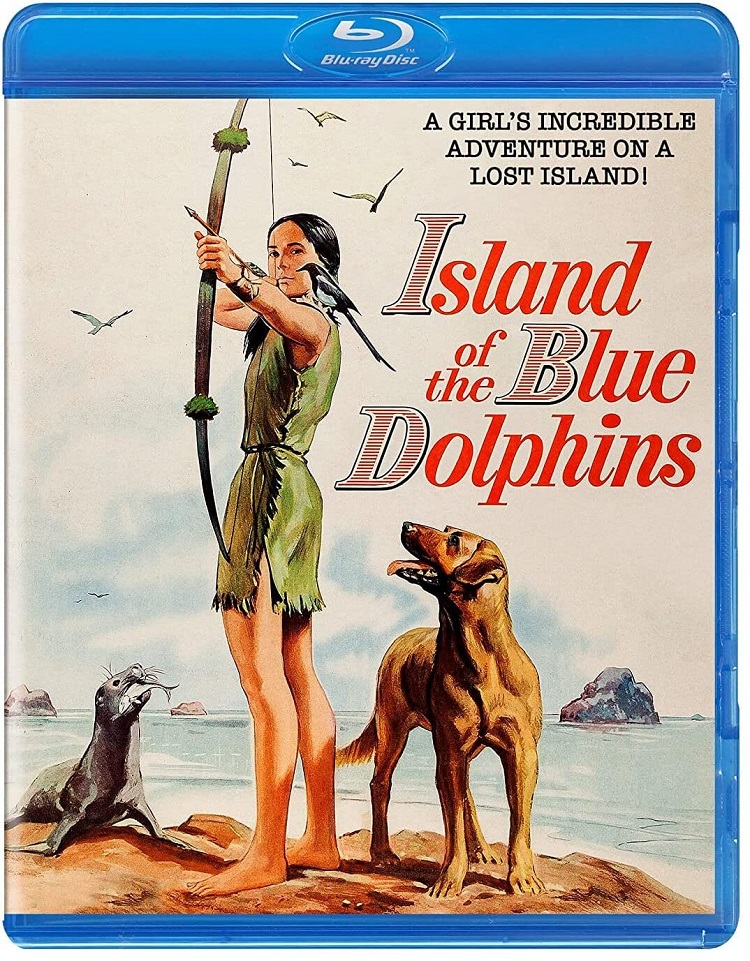 Most of us have movies that we watched repeatedly as children. I recall my sister and I watching Island of the Blue Dolphins every time it would come on television. It was fun to go outside after a viewing and pretend to be stranded on an island with only our dog. Unfortunately, our dog was not as well trained as the dog in the movie. For those of you not familiar, Island of the Blue Dolphins is based on the Newbery Award winning book of the same name by Scott O'Dell. The book was based on the true story of a woman left behind on the Channel Islands by missionaries in the early 1800s. In the book and subsequent film, Karana (Celia Kaye) survives on her own until she takes in Rontu as her canine companion. A surprising relationship considering that Karana had tried to kill Rontu who was responsible for the death of her brother Ramo (Larry Domasin). Karana experiences both triumphs and tragedies in her time on the island, and this makes for an enjoyable story to watch unfold.
The film certainly holds up as a quality family film. Unfortunately, I've changed and look at things with a much more critical eye than I did as a child. The movie has nothing to do with blue dolphins. I believe we see dolphins twice. In fact, the artwork for the film has a dog, seal, fish, and birds. No dolphins, blue or otherwise. The pacing is slow compared to the films of today, and the editing, to appear that our heroine is near the blue dolphins and other creatures, is choppy at best.
Ultimately, it is the performance of Celia Kaye that carries the film and garnered her the Golden Globe for Most Promising Newcomer. Her ability to convey strength and vulnerability makes her relatable to all. As Karana walks to the boat that will finally take her off the Island of the Blue Dolphins, and end this adventure, we see a strong, proud woman. The child that started our story is still there, but Karana has learned much about herself and what she is capable of. The next island better be ready for who is coming.
The new release on Blu-ray that is set to hit shelves on October 18th from Kino Lorber/Scorpion. The Brand new 2K master makes the video look much like it did on TV more than 50 years ago and it sounds better. Sadly, there is no bonus material available, which is surprising considering that Celia Kaye is active and is scheduled to appear in Southern California at The Hollywood Show on October 22nd. Someone should have been able to sit down with her for an interview.
Island of the Blue Dolphins receives Ron's Recommendation as it hearkens back to the Sunday nights filled with The Wonderful World of Disney. It may be challenging to get children to sit for a movie with no superheroes, animated characters, or explosions, and there is some violence that is a bit more graphic than necessary, but it is worth the effort. There are few dolphins and contains limited action, but this well-told story is well worth the 93-minute investment.