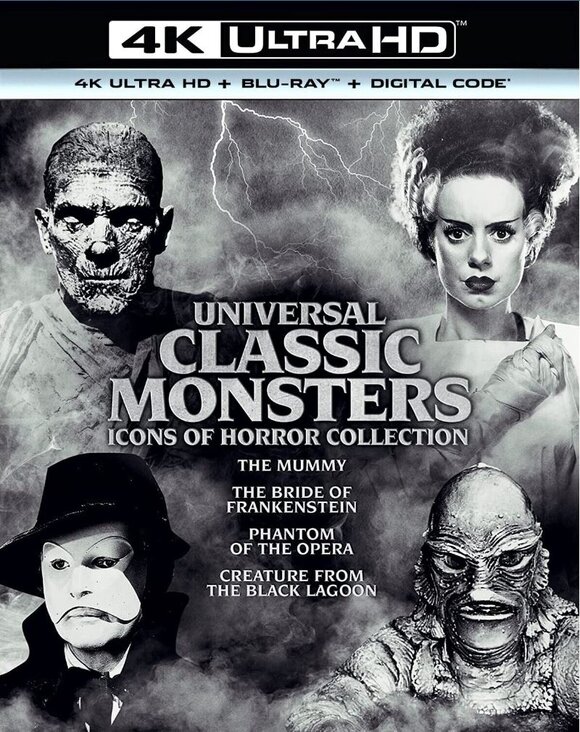 Holiday shopping gets a big push this time of year. In response, the Sentries offer gift-idea suggestions as you shop for family and friends on Black Friday, Cyber Monday, and every other day remaining in 2022.
Movies:
Davy recommends Universal's E.T. The Extra-Terrestrial 40th Anniversary Blu-ray. In his review, he said, "the Spielberg classic continues to bring laughter, tears, and exhilaration to all generations." He also suggests a few titles from the Criterion Collection: The Piano ("Jane Campion's sublime masterpiece"), 'Round Midnight ("the greatest and most compelling jazz film ever made"), and The Worst Person in the World ("incredible, deep, and fully fleshed-out film").
Jack Cormack recommends Universal Classic Monsters: Icons of Horror Vol. 2 on 4K Ultra HD. In his review, he points out that while the set "is pricey, but any self-respecting horror connoisseur will dig it."
Steve Geise is a big fan of Arrow Video's Claude Chabrol releases. He recommends the box sets Lies & Deceit: Five Films by Claude Chabrol and Twisting the Knife: Four Films by Claude Chabrol. He also has praise for Giallo Essentials [Black Edition] Blu-ray, stating in his review, "viewers interested in learning more about the genre will find much to admire in all of the films." Working his way around the globe, Steve also recommends the Criterion Collection release of Ryusuke Hamaguchi's Drive My Car, which he describes as "an absolute delight in spite of some bleak subject matter."
For any baseball fan, Gordon S. Miller recommends Facing Nolan because he "can't imagine [one] not enjoying learning or reliving the story of Nolan Ryan's career." For the superhero fan, Matt Reeves's The Batman is a different take of the franchise that "highlights the character as a skilled detective." Green Lantern: Beware My Power is "an action-packed, enjoyable adventure…[that]re-tells how John Stewart became the Green Lantern amidst a larger Justice League story." For those who like crime and mystery, the Criterion Collection offers up a couple of '90s neo-noirs. Denzel Washington makes solving mysteries look easy in Devil in a Blue Dress and nothing is easy in David Lynch's Lost Highway. And for those who enjoy Lynch films or any film that takes bold, creative chances, Strawberry Mansion is a wondrous discovery.
TV on DVD
Time Life provides a great service presenting classic television shows. Ed Sullivan's Rock & Roll Classics Volume 1 & 2 is a 10-disc set featuring 128 television performances of American pop music from the middle of the 20th Century including The Beatles, Elvis Presley, The Rolling Stones, and The Supremes. Volume 2 also includes The All Star Comedy Special and two episodes of the documentary series, The History of Rock 'N' Roll. Russell Simmons' Def Comedy Jam Collection is a 12-disc DVD set presenting over 23 hours from the series nine-season run with performances by stars of stand-up and those who soon would be, such as Dave Chappelle, Tiffany Haddish, Kevin Hart, Steve Harvey, Tracy Morgan, and Bernie Mac. Also includes Shaq & Cedric the Entertainer Present: All Star Comedy Jam. Both are currently available exclusively through the Time Life website at the links above.
Cartoon Network has released Ed, Edd n Eddy: The Complete Series (66 episodes) and Foster's Home for Imaginary Friends: The Complete Series (79 episodes) on DVD and Courage the Cowardly Dog: The Complete Series (52 episodes) is available as a digital download.
Aqua Teen Hunger Force, the absurd anthropomorphic happy meal, had to home video releases this year. Aqua Teen Hunger Force: The Baffler Meal Complete Collection repackages the previous ATHF releases into a 20-disc set that "Includes ALL 138 Episodes from the Epic Series, Plus the First Theatrical Film, and All the Enhanced Content." Aqua Teen Forever: Plantasm "deals in the same surreal humor, both high brown and low brow, that has become the series's trademark."