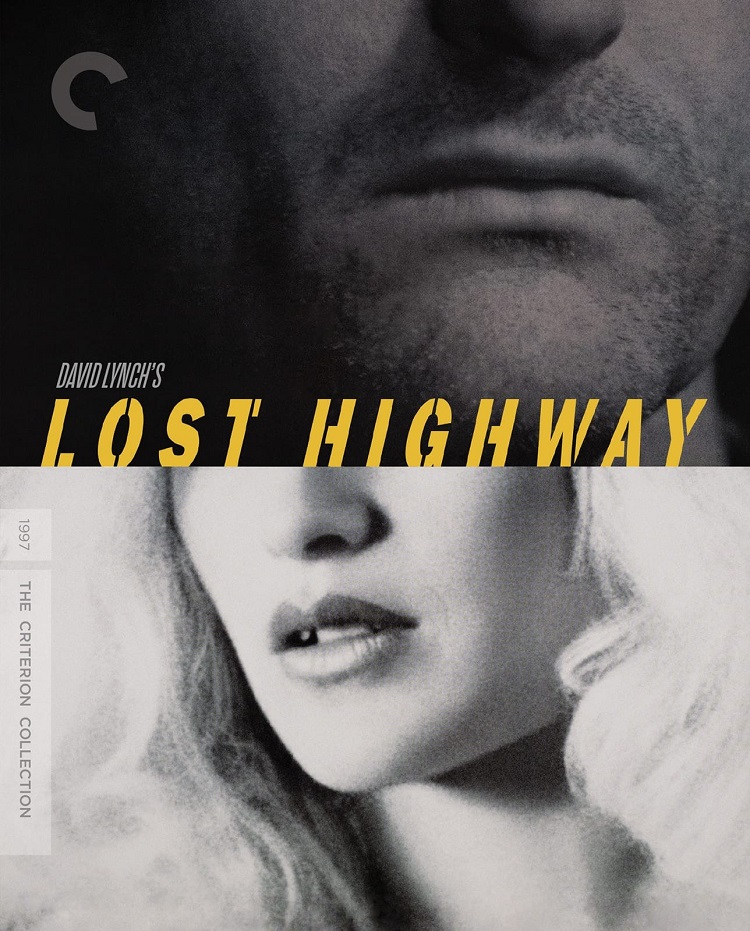 The opening credits of Lost Highway are a POV from a car racing down a darkened highway, its headlights the only source of illumination for what's ahead. David Bowie's "I'm Deranged," co-written and co-produced with Brian Eno, envelopes the viewer and foreshadows the mind set of the main characters, and possibly the viewers, in this twisted tale of jealously and betrayal.
One morning, saxophonist Fred (Bill Pullman) hears a voice through the intercom, informing him "Dick Laurent is dead." Before he can who was speaking, a car can be heard driving away with police sirens in pursuit. Married to Renee (Patricia Arquette), he distrusts her and with whom she associates. One morning, she finds an unmarked package with an unlabeled video tape inside. It shows the front of their house. The next tape shows the cameraman got into the house while they were sleeping, leading them to call the cops, but there are no other clues to direct them, and the discomfort of knowing someone broke into your house while you sleeping is palpable.
At a party together, Fred encounters the Mystery Man (Robert Blake), as he is identified in the credits. He's a bizarre-looking man, dressed all in black, face with white make up, who says they've met before and that he is currently in Fred's house right now. Fred calls home and the man is speaking on other end.
The next video finds Fred having murdered Renee and then he awakens while he is being interrogated by the police. While in his prison cell, Fred is inexplicably replaced by Peter Dayton (Baltazar Getty), a younger man and former auto thief on probation, who authorities have no choice but release to his parents.
Lost Highway then follows Peter's story in which a young man gets involved with a beautiful woman who is involved with an older gangster. The latter is Mr. Eddie (Robert Loggia). He likes Peter working on his car and there's a hysterical scene where Mr. Eddie expresses his displeasure with a tailgater. The woman in the middle is Alice, who is also played by Arquette, connecting the worlds of Peter and Fred. Film noir fans will find the love triangle follow a familiar trajectory, but before the typical resolution, there's another major plot twist that makes Lost Highway fold in upon itself.
I enjoyed the two stories in Lost Highway but don't understand the one story Lynch and co-writer Barry Gifford are telling, presuming they are. While confused about how things may tie together as the credits rolled, I didn't mind because there is so much good stuff throughout the film that the parts supersede the sum. Lynch cast actors who commit to their roles and keep the viewer engaged. Cinematographer Peter Deming and his team bring Lynch's vision to screen, and combined with the sound design which includes haunting music by Angelo Badalamenti and Trent Reznor and and songs by an alternative all-star roster, Lost Highway is always engrossing even if incomprehensible.
The video is displayed in the film's original aspect ratio of 2.39:1. The liner notes reveal "this new digital transfer was created in 4K resolution on an ARRISCAN film scanner from the 35 mm original A/B camera negative and was supervised by David Lynch." Inky blacks are a standout. The colors appear in solid hues. The image delivers depth and details, although there are moments where Lynch intentionally wants a distorted image.
Also from the liner notes, "The near-field remaster of the original 5.1 soundtrack and alternate stereo track was made from the 35 mm magnetic track and mix-supervised by Lynch and rerecording mixer Ron Eng." The dialogue is as clear as intended. With extra oomph from the subwoofer, the explosions, the rock music, and the roaring car engines boom. Objects can heard positioned in different channels and ambiance and music fill the surrounds.
The director-approved special edition features include:
Pretty as a Picture: The Art of David Lynch (81 min) – Toby Keeler's documentary about the filmmaker includes on-set material from Lost Highway and interviews with Lynch and many of his collaborators. There are 14 minutes of outtakes available a separate option
"Next Door to Dark" (audio, 44 min) – Lynch and co-author Kristine McKenna read this chapter from their 2018 book Room to Dream.
The Making of Lost Highway (13 min) – a shorter look at the film's creation.
David Lynch, 1997 (11 min) – Lynch talks further about the film.
Theatrical Rerelease Trailer (11 min)
With Lost Highway, David Lynch and his crew create a film that epitomizes Ralph Waldo Emerson's quote, "It's the not the destination, It's the journey," although your mileage may vary greatly as the subject matter gets a little grim. The Criterion Collection delivers a welcome high-definition experience with extras that augment appreciation for the film and its creators.