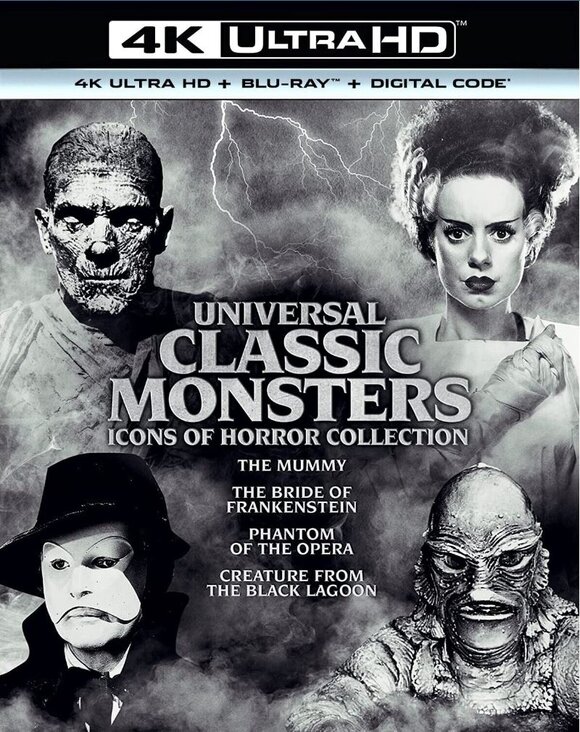 Halloween is over, but we can celebrate it all year long—am I right? I'm always in a mood to watch 'scary movies.' And the new Universal Classic Monsters: Icons of Horror Vol. 2 collection—which presents, in stunning 4K Ultra HD, four old Universal Pictures—is close to Halloween and Christmas in one. Every movie here offers something enjoyable, but only one is a stone-cold classic.
That one is James Whale's Bride of Frankenstein (1935). A weird, witty send-up of his adaptation of Frankenstein (1931), it beats its predecessor by a clear mile. Both funnier and more surreal than the other movie—and a lot more memorable—Bride follows the monster (Boris Karloff) as he seeks companionship, given to him as Elsa Lanchester's frazzle-haired spook.
Whale was an artist. After his winning streak with fright flicks ended in the '30s, Universal couldn't keep the standard he set (and then, via Psycho [1960], Alfred Hitchcock shook the studio's handle on horror out of the doldrums).
I'd be foolish, however, to dismiss Karl Freund's take on The Mummy (1932), a melodramatic chore to sit through but a marvel of shadow and light. (Back in the silent era, Freund was a camera operator for expert German directors Fritz Lang and F. W. Murnau.) Awakened after many, many years of entombment—convinced his great love (Zita Johann) lives again—Karloff's Egyptian mummy looks great. (Hat-tip to Jack Pierce, makeup artist extraordinaire.) The movie's a fossil… But it's still the moodiest and best mummy film.
Up next is Phantom of the Opera (1943), a creaky Technicolor remake of the silent movie that starred none other than the Man of a Thousand Faces, Lon Chaney. As the disfigured, vengeance-seeking opera hound, Claude Rains brings a certain theatrical flair. Overall, there's too much opera for my taste, but Hal Mohr's Oscar-winning cinematography sings.
Lame-brained and clunky, Creature of the Black Lagoon (1954) is a silly relic. The silliness, though, might be its sole redeeming quality. Yes, we know the Gill Man (discovered in the movie during an Amazon expedition) is a guy in a rubber suit with zippers. Still, the movie is the supreme model of cheesy '50s sci-fi & horror. (It's also the model for how fun [and cheeky] that model could be, then or now). Jack Arnold directed (not the underwater shots, though—a second unit deserves the kudos for those). Milicent Patrick designed the creature (a male artist got the credit instead. Boo). The creature's look is what intrigues me most about the film.
Universal Classic Monsters: Icons of Horror Vol. 2 is pricey, but any self-respecting horror connoisseur will dig it.
As for special features, the 4K set is chock-full of 'em.
Bonus content (on a separate disc) for The Mummy includes a trailer gallery, a pair of audio commentaries (one has makeup genius Rick Baker, the other has film historian Paul M. Jensen), and a tomb full of documentaries (Mummy Dearest-A Horror Tradition Unearthed; He Who Made Monsters-The Life and Art of Jack Pierce; Unraveling the Legacy of The Mummy; The Mummy Archives; and 100 Years of Universal-The Carl Laemmle Era).
Bonus content (on a separate disc) for Bride of Frankenstein includes a trailer gallery, an audio commentary by film historian Scott MacQueen, and a lab full of documentaries (She's Alive! Creating the Bride of Frankenstein, The Bride of Frankenstein Archive, and 100 Years of Universal-Restoring the Classics).
Bonus content (on a separate disc) for Phantom of the Opera includes the theatrical trailer and photographs of the production. This disc also has audio commentary by MacQueen, and two features (The Opera Ghost-A Phantom Unmasked and 100 Years of Universal-The Lot).
Bonus content (on a separate disc) for Creature from the Black Lagoon includes a 3-D Blu-ray version of the movie, a trailer gallery, a slideshow of production photographs, and a couple of features (Back to the Black Lagoon and 100 Years of Universal-The Lot).
In the 4K case, Universal also includes mini-reproductions of each film's original poster. Neat-o!