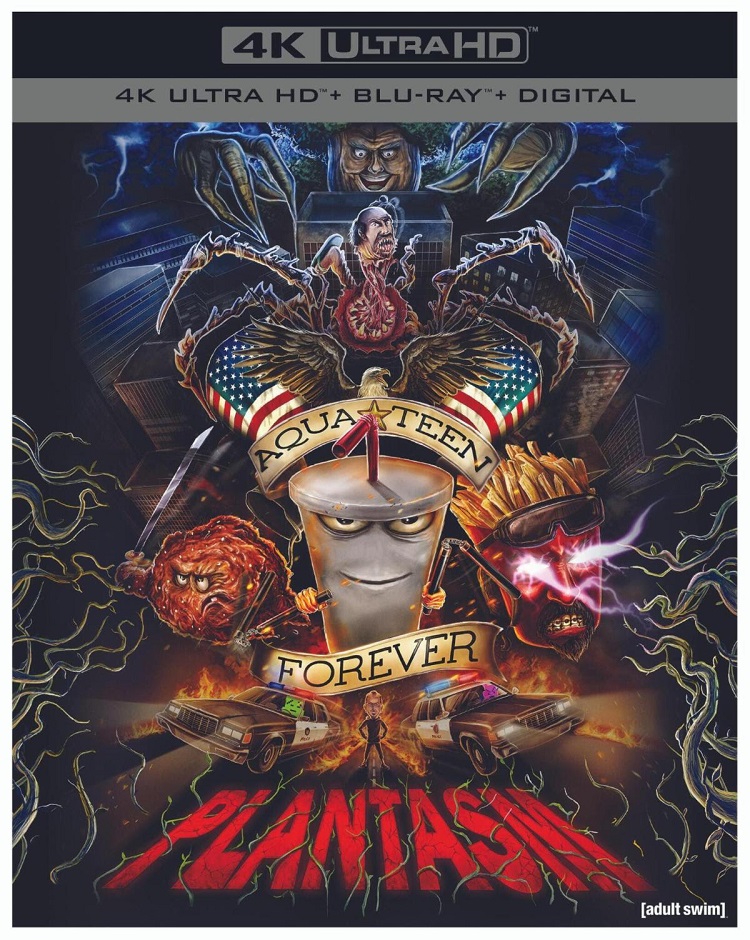 Fifteen years after Aqua Teen Hunger Force Forever, the 11th season of the series, concluded, Aqua Teen Hunger Force is having a resurgence. Back in April, they dropped 10 short episodes on YouTube, and now their second film, the first of Adult Swim's direct-to-video movies, Aqua Teen Forever: Plantasm will be released on Blu-ray, 4K Ultra HD, and digital on November 8, 2022
Plantasm finds the team living apart, possibly after a fatal space mission or more likely because Frylock (Carey Means) couldn't take it anymore. He now goes by the name Phoenix and is doing IT work at the mega company Amazin. Master Shake (Dana Snyder) is homeless as is Meatwad (co-writer/co-director Dave Willis), who temporarily resides at a dog shelter.
Amazin's CEO Neil (Peter Serafinowicz) is very short and he brings in Frylock to increase his height. This upsets Elmer (Paul Walter Hauser), Amazin's Head of Research & Development. So much so that Elmer turns his project of getting plants to respond to his verbal commands into a plan for global domination.
The Aqua Teen Hunger Force must set aside their differences and reunite, along with former neighbor Carl (Willis), who mixes food and self pleasure in an odd way, in order to defeat Elmer and his vegetative army.
Or not, as the show's wacky sense of humor and story over the years could easily lead to the characters living in a post-apocalyptic world rules by plants, which would not surprise long-time fans of the show, so the writers always leave one guessing where they are going. An absolute highlight is the non-story appearance of ATHF's nemeses, the Mooninites, Ignignokt (Willis) and Err (co-writer/co-director Matt Maiellaro). They break the fourth wall and take over one's viewing device, pausing the movie and mocking the viewer.
The video has been given a 1080p/MPEG-4 AVC encoded transfer displayed at an aspect ratio of 1.78:1. It presents the same bright primary colors the show is known for. Blacks are inky and whites are accurate. The images exhibit fine details in the drawings, such as Carl's curly body hairs. Shadows are well rendered, such as when Carl sets a box on fire in his back yard.
The audio comes in DTS-HD MA 5.1. Dialogue comes through clear. The rock songs blare out the speakers. Objects can be heard positioned in different channels, like when the Moonites pop around the screen.
The extras are:
Aqua Teen Is Back (7 min) – The creators and cast talk about the new movie.
Commentary – A packed room including Dave Willis, Means, Snyder, and a number of producers and editors are on hand to talk about the making of the movie.
Deleted Scenes (4 min) Use the Play-All option for the 22 scenes.
Animatic with Full Textbot Script (80 min) – See the movie in early stages of animation.
El Walko in SloMotiono (3 min) – The crew walks and is shot in slow motion.
An accompanying fold-out poster
Although there's over 150 episodes and a movie, Plantasm is as good a place as any to enter the ATHF universe because there's no continuity in the franchise and because it deals in the same surreal humor, both high brown and low brow, that has become the series's trademark. The high-definition presentation is satisfying and the extras provide enough behind-the-scenes material to please fans.