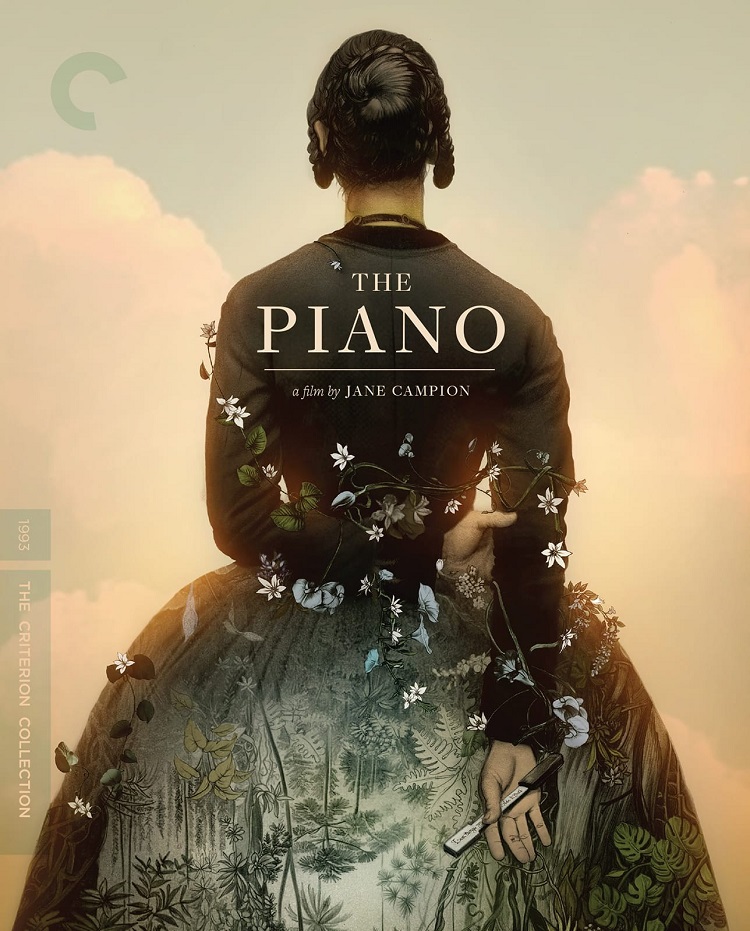 Despite all the accolades and acclaim, director Jane Campion still seems to be continuously undervalued and taken for granted. That's obviously unfortunate, especially because of the way she approaches and delicately handles her characters (the female ones definitely). She cares for them, makes them incredibly complex, but never lets the humanity slip away from them. If you need a starting point to her magnificent oeuvre/career, then The Piano, her sublime 1993 masterpiece, is one that you should immediately seek.
The great Holly Hunter stars as a Scottish woman named Ada, who has been mute since she was six years old, without any discernible reason. She and her young, spirited daughter Flora (Anna Paquin) travel to a remote island on the coast of New Zealand, along with some belongings and her beloved piano, for which she uses as a kind of defense mechanism and expression. In this case, words have no place in her world. She's arrived there for an arranged marriage to farmer local Alisdair Stewart (Sam Neill), for which she doesn't seem to connect with on any level whatsoever. However, her repression and aversion to sexuality becomes undone once she meets his Maori-friendly acquaintance, the brooding George Baines (Harvey Keitel), whom she has been playing for as he listens and basically gets off on. At first, she is put off by him, but discovers something in him that awakens her to the possibilities of love and desire. Alisdair eventually finds out about this and takes an axe and chops off one of Ada's fingers, and threatens to get rid of more if she sees George again. Even more enraged, he confronts George with a gun and threatens to shoot, but realizes that he will never have Ada's heart. As she, Flora, and George leave the island, she feels that she maybe outgrew her piano, so she has the Maori people throw it into the sea. She deliberately puts her foot into the rope, and is dragged down with it. She changes her mind, and swims up to safety.
In the last moments of the film, she narrates her new life in another part of New Zealand, living with George and Flora. She's now fully content, happy and in love, and even taking voice lessons to learn how to speak again, but she will never forger her piano, still sitting at the bottom of the sea.
I saw this film several years ago for the first time, and quite liked it. Now, I love it! It has a strange dreaminess to it, and is perfectly made by Campion. From where it takes place, to Michael Nyman's stirring score, to the period costuming; every aspect of the film is rich and poetic. There's isn't a frame of this dark, Gothic, feminist love story that hits a wrong note.
Hunter's near-silent performance (one that won her the Best Actress Oscar of 1993) is a masterclass in how to use full and true emotion, without speaking a single word, sans her opening/closing narration of course. It's one of the very best of her career. She's given amazing support by an intense Keitel, an uncommonly sinister Neill, and most revelatory of all, a young Paquin, who won a Best Supporting Actress Oscar for role as Flora (making her the second youngest performer in history to do so). She is a surrogate voice for Hunter in the film, and she does it incredibly well, and is very mature (especially for a child actor).
On this Blu-ray (as well the 4K and DVD editions), Criterion's amazing release contains stacked supplements, such as commentary featuring Campion and producer Jan Chapman; new conversation between Campion and film critic Amy Taubin; new interviews with cinematographer Stuart Dryburgh, production designer Andrew McAlphine, and Maori adviser Waihoroi Shortland; 2018 interview with Hunter on working with Campion; "The Piano" at 25, a program featuring a conversation between Campion and Chapman; interview with composer Nyman; excerpts from an interview with costume designer Janet Patterson; Inside "The Piano", a featurette with interviews of Hunter, Keitel, and Neill; The Water Diary, a 2006 short film by Campion; and trailer. There's also a great new essay by critic Carmen Gray.