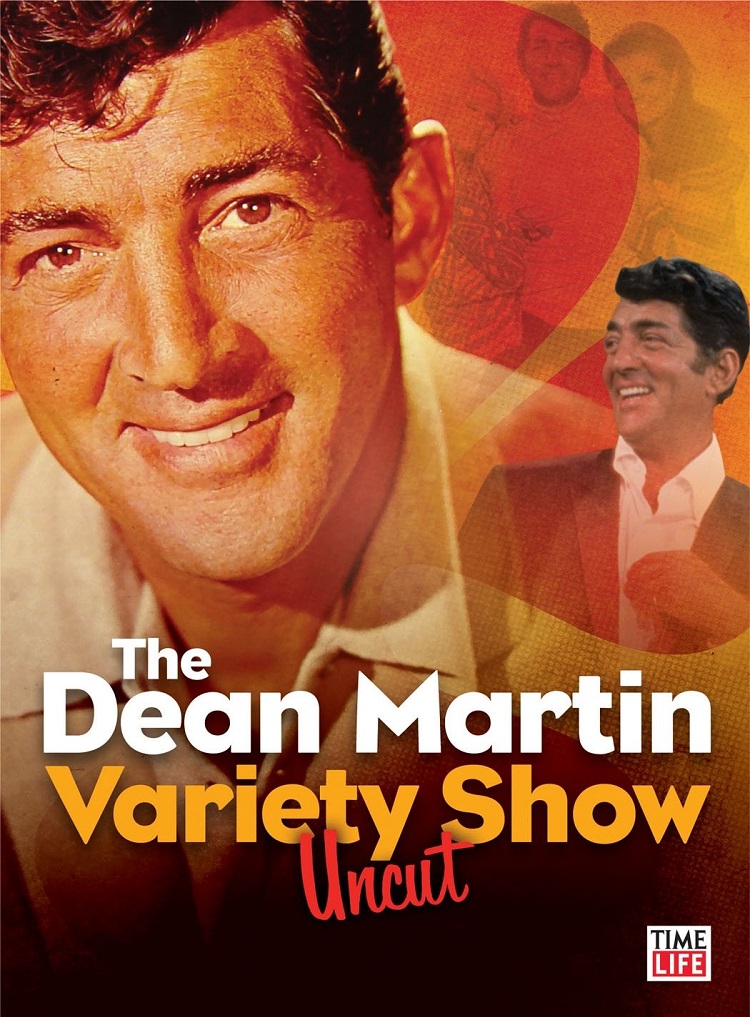 Watching episodes of The Dean Martin Variety Show made one thing very clear – there is no equivalent of the "variety" show on U.S. television these days. My favorite shows of my youth included variety shows like Donny and Marie Osmond, The Muppet Show, Hee Haw, and The Carol Burnett Show. Today, the shows that combine music and comedy have morphed into nighttime talk shows like The Tonight Show. Other shows like Saturday Night Live or America's Got Talent rely too much on comedy sketches or on the contest portion of their shows to really feel like they spring from the same family tree. The Dean Martin Variety Show sprung from a proud tradition of shows like Your Show Of Shows, Caesar's Hour, The Ed Sullivan Show, and shows from Milton Berle, Perry Como, and Jackie Gleason. The Dean Martin-hosted show ran for nine season from 1965-1974. Essentially he started in the heyday of the variety show and ended at the beginning of the end a mere 264 episodes later.
About a year ago, Time-Life released highlights of The Dean Martin Variety Show. It's an entertaining feature but it suffers from the same frustration I have with variety shows of television's Golden Era. It's great to see scenes from the shows, "greatest hits" if you will, but when you don't see complete shows you just can't get a feel for what it was like to watch the show week after week. The newest release – The Dean Martin Variety Show (Uncut) is a step in the right direction. It is a three-disc set that includes six full episodes from the series – one from Season One, one from Season Two, three from Season Three, and one from Season Six. There's an ebb and flow to watching a full episode unfold. I approached this set having only seen clips of the show and I was impressed at what I saw on this release.
I won't leave you hanging on until the end to tell you that the show is very appealing to even modern sensibilities. It's not just fun in a nostalgic trip down Memory Lane; it proves that quality comedy and music is timeless. Dean plays the Dean Martin character that we all imagine when we hear the name. He's playing the slightly tipsy ladies man that's put down by his wife and kids. The show succeeds in making the audience feel like they've been invited to a Dean Martin party. The show feels unrehearsed, like you are watching a show that's just not ready yet. Dean reads most of his jokes and monologues off of cue cards – often mispronouncing words and blaming the cue card writer. There are comedy scenes where Dean and his guests essentially just try to crack each other up. There's one with Allen & Rossi where Dean has to take a few drags on his cigarette to keep from breaking down laughing.
There's a larger reason why I like seeing the whole episodes over just a greatest scenes. There's a comfortable flow to each show that gives the viewer comfort. I think of other shows like Saturday Night Live – opening sketch, monologue, Weekend Update, musical guest, etc. or The Tonight Show – monologue, skit, guest, guest, musical guest or comedian, etc. The patterns become comfortable and there become lots of inside jokes that develop when the patterns are disrupted.
Regular spots through the series include a spot with his pianist, Ken Lane. In each scene, Dean runs and jumps on the piano. And Ken plays a tune that Dean starts to sing a song he eventually adds different lyrics to try to crack up Ken. Often there would be a knock at the closet door and an unannounced guest would appear much to Dean's entertainment. Dean sings at least one song seriously each show but the rest are usually broken up with different lyrics or a series of jokes. It's kind of a game to watch and wait to see when he's going to go off the rails with a song. There was a regular rotation of guest stars like Phyllis Diller, George Gobel, Jackie Mason, Dom DeLuise, etc. The more these characters appear, the more there's a comfort level – like old friends coming to visit again. Successful talk show hosts like Johnny Carson and David Letterman have realized the value in recurring characters and the anticipation of returning guests.
I don't feel the need to review episode by episode like a serial TV show but there are highlights to focus on in these episodes.
Show #0025 (March 3, 1966) – Abbe Lane is a sexy singer who does "Whatever Lola Wants" and Dean, George Gobel, and Sid Caesar do a "Dames" medley where they pause to crack each other up throughout.
Show #0718 (January 12, 1967) – Dean and Allen & Rossi have a great sketch that does not follow the script and Leslie Uggams does a couple of great jazzy numbers.
Show #0811 (November 16, 1967) – Cyd Charisse beautifully dances to "Music To Watch Girls By" and Dean, Dom DeLuise, and Buddy Ebsen have a sketch that also doesn't follow many rules.
Show #0815 (December 14, 1967) – there's a great Bomb Guard sketch with Bob Newhart and Guy Marks does some funny impressions.
Show #0820 (January 29, 1968) – Joey Heatherton is really pretty and sings "You Can Have Him" while Buck Owens sings a solo and does a fun duet of "I've Got A Tiger By The Tail" with Dean.
Show #623 (February 25, 1971) – Fred Smoot is a forgotten comic that has a spot here and The Dingalings do funny version of "Funky Chicken" (is there a serious version?)
The show would not completely end in 1974. It morphed into a series of specials called The Dean Martin Celebrity Roast – another must-watch series. I'm happy to see the evolution to showing full episodes. I hope the success of this disc brings out some full seasons of the show. There are acts on these discs that have been long forgotten that are still as funny today. I know the music isn't up to today's pop standards but these are quality songs that new generations should know. Support the revival of these Golden Age shows in their original formats. There aren't any extra features on the three-disc set but you don't need them when you're as cool as Dean Martin.