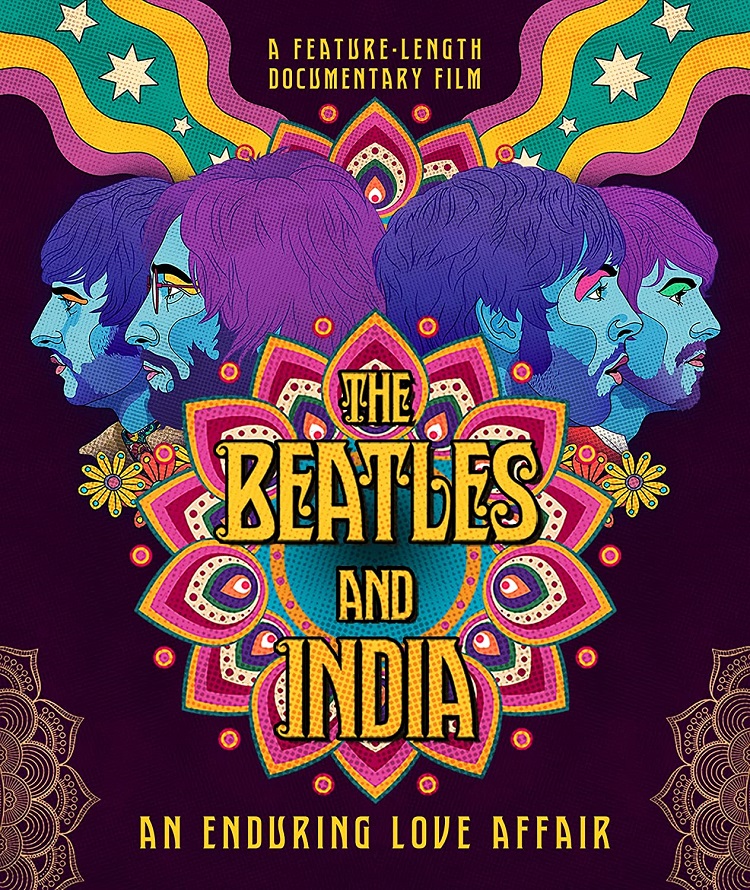 This new feature-length documentary directed by Ajoy Bose was released June 21, 2022 by MVD Visual on DVD and Blu-ray. The Beatles visited India for the first time in September 1966, but the influences of Indian music and culture on the band was already apparent. This new documentary collects archival footage of their trips, eye-witness interviews, commentary from experts, photos, current footage of locations, and a long lost radio interview in India with George Harrison.
The film doesn't fall into the trap of trying to tell too large of story. Anytime a filmmaker tries to document a part of the Beatles' history, it's tempting to expand the story to the connection to larger cultural events of the Sixties and Seventies. The story of the Beatles trip to India and the influence of Indian culture on their music is mostly a story driven by George Harrison. It's not a strictly chronological story of their visit. The film allows the story of the influence on them and their influence on Indian culture to unfold with the various sources.
Drugs, especially LSD, was an important impact of these trips around India. The film doesn't shy away from those connections. It isn't something that is presented as a weakness or shame but more as a natural progression for the group. There's a marked change between the pre-visit group and the spirituality they acquired, especially after the death of Brian Epstein. By the time of their 1968 visit, they were even more receptive to the spiritual leadership of Maharishi Mahesh Yogi, the leader of the Transcendental Meditation movement. This visit is most reflected on the songs of The Beatles (The White Album).
The video and sound are very well done. The source video is often in B&W and grainy and then the switch to current interviews and footage is a bit jarring when it is so deep and clear. The soundtrack is a simple Indian music score. It is a little disappointing not to have a handful of the Indian-music-influenced Beatles songs featured on the soundtrack.
I loved learning more about this Beatles and India connection. These are stories that are often condensed or completely overlooked in other documentaries. Even the recent Get Back gave some lip service to the influences of this period but didn't hit upon the spiritual importance of the visit. It helps to be a fan of the group to care about a film like this. If you are, it's well worth the 90 minutes.