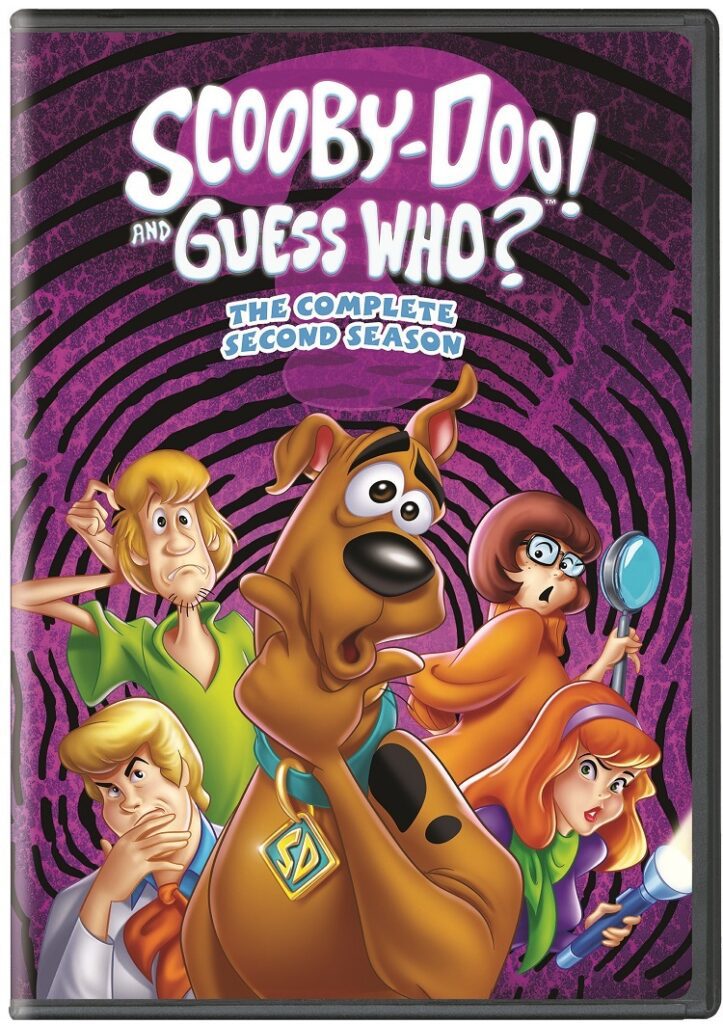 Warner Bros. Home Entertainment provided the writer with a free copy of the DVD reviewed in this Blog Post. The opinions share are his own.
On June 28, 2022, Warner Bros. Home Entertainment releases the 26-episode Second Season of Scooby-Doo! and Guess Who? The show debuted in 2019, a year after the unceremonious end of the Be Cool, Scooby-Doo! show. That show had aired for two seasons and 52 episodes, but ratings and other market forces led to the show having the last few episodes dumped onto the Boomerang Video-On-Demand service in 2018. At that point, I thought we were going to go through a prolonged period without new Scooby-Doo! shows. The movies have continued to be a strong franchise for them but stringing together a show with some continuity has struggled.
In June of 2019, Scooby-Doo! and Guess Who? debuted at first on the Boomerang app and then later on the Cartoon Network. The first half of Season One aired on Boomerang and then after a break, the second half of Season One was dumped onto the Boomerang app at once in the Summer of 2020. Similarly, the first half of Season Two aired on Boomerang until after a eight month delay, the remaining episodes debut all at once on HBOMax. I'm a faithful fan but even I had trouble following the releases and getting any consistency. It continued to feel like a disrespected franchise.
The concept behind the series is very similar to The New Scooby-Doo Movies (1972-1973). The Mystery Inc. gang solves mysteries where they either team up or interact with stars of music, sports, film, television, and even fictional stars. The ability to pull from Warner Bros. stable of stars leads to some fun and interesting guest stars. The key voices have remained consistent. That gives the show a connection across the different series and films. Frank Welker is the classic voice of Scooby-Doo and Fred Jones. Grey Griffin as Daphne, Matthew Lillard as Shaggy and Kat Micucci as Velma rounds out the vocal cast.
"The Horrible Haunted Hospital of Dr. Phineas Phrag!" (S.2 E.1) (Celebrity guest: Kristen Schaal): I'm a huge fan of the vocal work of Kristen Schaal as Mabel on Gravity Falls and Louise on Bob's Burgers. Picking natural voice actors is a really smart choice for a series like this. The story of Dr. Phineas Phrag as a 1950s evil scientist type of character who returns as a mutant ghost is really fun. Kristen fits in naturally as a member of Mystery Inc. and this plays as one of the best of this season.
"The Dreaded Remake of Jekyll & Hyde!" (S.2 E.12) (Celebrity guest: Sandy Duncan): This is the first episode that calls back to the New Scooby-Doo Movies as this serves as a remake/sequel to "Sandy Duncan's Jekyll & Hyde". There's a mummy here that appeared two episodes previously with Liza Koshy in such a way to suggest that they are put out of order and that there should be more continuity between the episodes. Of course, the Hyde monster is "real" on the movie set and tries to stop the filming of the movie because they want access to something hidden in the studio. It has a fun Old School feel, partially because of Sandy Duncan who can't be a familiar name to children these days.
"Returning of the Key Ring!" (S.2 E.16) (Celebrity guest: Sean Astin): In this version of the celebrity appearances, Sean Astin is a friend of Daphne and not his Lord of the Rings character although obviously that is acknowledged in the plot. A plant monster is haunting a hardware store called More Walls! Doors! Stuff! It's a fun store name and gives the gang an opportunity to have a clever take on the multiple doors chase scene trope. Astin assists the gang and calls them "Alliance of the Ring of Key". The mystery is a bit bigger than the episode length can contain. This is definitely a story that would have worked best as a movie length story. A few of the Season One episodes also suffer from stories that are too complex for the 30-minute format.
Other episodes will have guests such as Tara Lipinski, Morgan Freeman, Cher, Terry Bradshaw, Axl Rose, Carol Burnett, and Dynomutt and Blue Falcon. The series doesn't have the continuity heavy story of Scooby-Doo! Mysteries Incorporated or the fun, campy laughs of Be Cool, Scooby-Doo!. It does recall some of the best series in the past but it's also very safe in a bland way at times. The issue with guest star based shows is that your enjoyment of the episode is often based upon your investment with the guest star. There's also a difference between having trained actors like Jason Sudeikis do a character versus Kacey Musgraves who performs music but not voice acting. I hope there continues to be an outlet for new series for the Scooby-Doo! franchise. I still believe that with consistency this is a relevant group of characters.