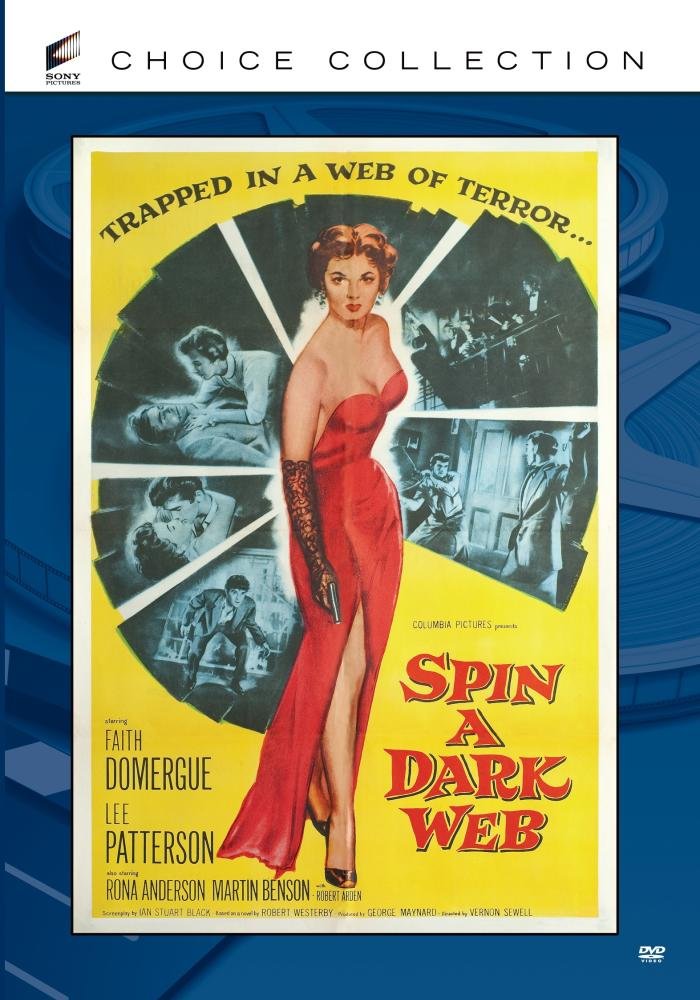 With all the great American film noir movies out there, forever leaving their mark on experienced and newbie fans of cinema everywhere, it's easy to forget that countries like England have contributed heavily to the genre. Sadly, many of them wind up getting swept underneath the giant carpet of time, waiting for the day when someone finds them and gives them a little distribution. One such forgotten item is a British flick that was originally entitled Soho Incident, but which was given the more lurid moniker Spin a Dark Web for its 1956 debut in the U.S.
Here, the one and only Faith Domergue takes the lead as Bella Francesi, the beautiful-but-unsurprisingly-cold-blooded sister of a London gangster, Rico Francesi (the always great Martin Benson), who runs out of the Soho district (back when it was a seedy part of town). One of Rico's main interests is the lucrative world of boxing — and a young Canadian import buy the handle of Jim (Lee Patterson) catches the eye of both sides of the Francesi family: Rico fancies Jim's handiness with electronics (his ability to fight is never brought up, strangely enough), while Bella just plain fancies Jim himself.
Of course, Jim isn't your average oblivious Canadian. Sure, he might be able to make some bank with his ingenious phone tap that will somehow enable Rico to do a different kind of tapping into the world of off-track betting, but he still has a motive of his own: mainly to find out who is responsible for the death of one of his boxer buddies. It all leads to romance, danger, and intrigue as only the Brits can do — complete with production design by future James Bond stylist, Ken Adam (his first credited job in said department) and the feature film debut of Bernard Fox as one of Benson's bad guys.
Sony Pictures Home Entertainment brings us this b-movie jewel under its Columbia Choice Collection line of Manufactured-on-Demand goodies. The movie — which is based off of the Robert Westerby novel "Wide Boys Never Work" and directed by Vernon (The Blood Beast Terror) Sewell — is presented in its original 1.66:1 widescreen aspect ratio, and is 16:9 enhanced. The quality here is pretty good all things considered, exhibiting a bit of grain throughout (and, come on, now, we like grain in our noir, don't we?), but the print is rather clean otherwise. The title is available from several online retailers and is worth a look if you're a lover of film noir.