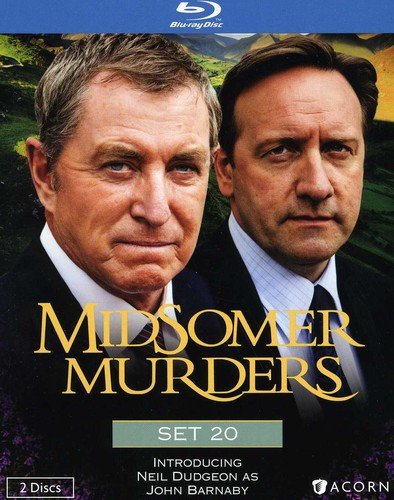 Deep in the English countryside, there's a fictional county with an alarmingly high murder rate. Despite its fairly low population, the charming villages in the Midsomer area are rife with murders that require the expert crime-solving skills of veteran Detective Chief Inspector Tom Barnaby (John Nettles). Unfortunately, after 13 seasons of catching bad guys, the DCI finally decides to retire in this last set of mysteries. It's not the end of the series, just the end of the Nettles run, but don't be concerned about the prominent position of his replacement on the cover because these episodes belong entirely to Nettles.
There's a particular market demographic for which this show is designed; regrettably I'm not a part of it yet. These murder mysteries are of the plodding, glacial, Murder, She Wrote and Matlock variety, not the faster-paced likes of young whippersnappers like CSI or The Glades. Each episode finds DCI Barnaby tasked with solving a murder, but devotes most of its screen time to the guest stars of the week, who generally aren't worthy of the time devoted to them. Nettles adds a wise, bemused presence to the proceedings, offering a twinkle of the eye here and a knowing smirk there to reassure us that he won't be fooled by the scoundrels infesting his county. Sure, he takes his sweet time apprehending the baddies, with each episode running a full 100 minutes, but there's never any question that all will return to status quo by the end. Unlike bleak, gritty English contemporaries like Wallander and Luther, there's never any risk of your pulse racing here, as these are the kind of mysteries that can be enjoyed as a family, say after dinner at grandma's house.
Having never watched the show before, I was apprehensive about starting at Set 20, but with each episode functioning as a self-contained movie and barely-existent character backstories for the regulars, it's a series that offers easy access at any point. As the set wraps up with its fourth episode, the producers trot in the replacement, a heretofore unknown cousin of the current DCI named John Barnaby (Neil Dudgeon), but even in his 1-2 minutes of screen time it's immediately evident that he's sorely lacking his predecessor's charisma. Dudgeon has maintained the series for a couple of years now, but even if I liked the show, I probably wouldn't be back on board for Set 21. Nettles is the sole reason to watch the show, as the mysteries themselves aren't particularly clever or well-written.
The Blu-ray image quality is excellent, with minimal artifacting and fine transfers from the above-average production quality. The bonus features are woefully inadequate, with only a photo gallery and essay to round out the set.