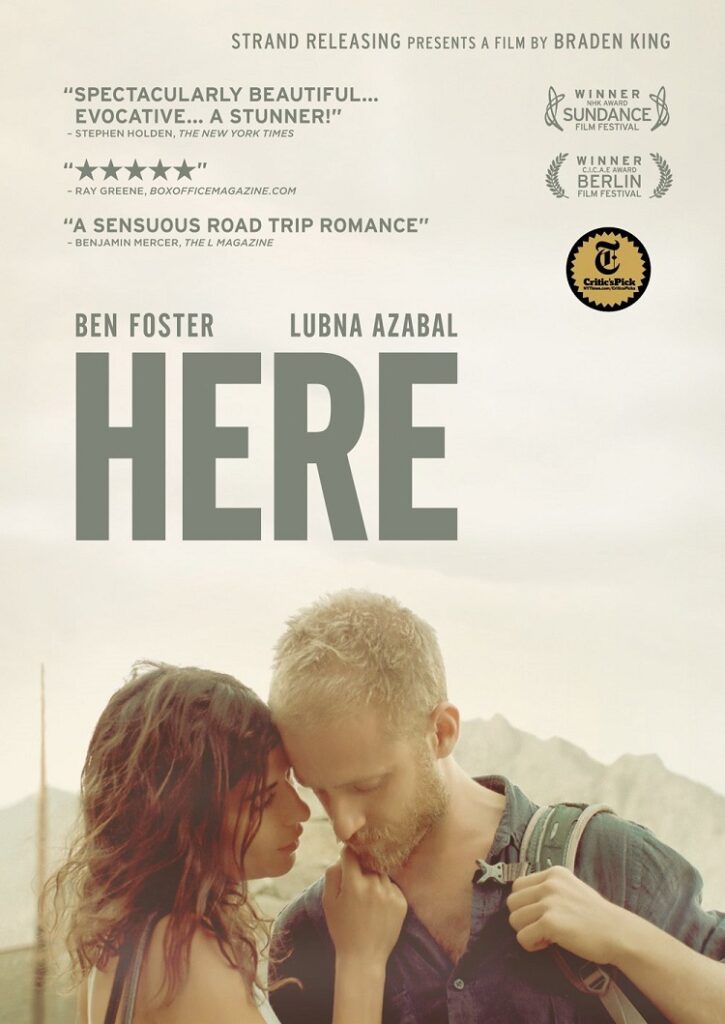 Braden King's Here opens by informing us that "the story is still asleep." In the case of the filmmaker's vision of map-making and charting the depths of relationships, the story takes a little nudging to awaken and never really seems to wind to its full potential. Perhaps that's the point, as the two lead characters amble through their respective existences without really ever touching the ground.
Here has the honour of being the first American film to be shot entirely on location in Armenia. King is, without question, a lover of landscapes and locations. It shows throughout the motion picture, with broad shots of fields and atmosphere joining with a Peter Coyote "narration" serving as frames for the various panels of the story.
That human story involves a satellite mapping engineer named Will Shepard (Ben Foster) and an Armenian-born photographer named Gadarine Najarian (Lubna Azabal). Will is dedicated to his work, but he's a solitary individual without much mind for human relationships. He is tasked with "ground-truthing," the job of ensuring that the satellite images held by the corporation he works for are accurate.
Gadarine is caught between cultural expectations and her love of photography. She is making some headway in her career, but her family remains in the old ways and she is troubled somewhat by guilt. Leaving her sad mother and weary father behind seems unfair in some regard, yet she can't repel the allure of seeing the world. When Gadarine and Will meet, their relationship picks up the workings of their lives and takes them to some rather passionate places.
Here is sometimes a very good film. Foster and Azabal are excellent together. Their relationship slowly and delicately blossoms, exploding in some places when the basics of their unspoken expectations come to a head. A critical scene involves Will having "waited" for Gadarine. He feels stood up, but she rails against him and his thus unfounded claims on her time. "What are you, my father?" she shouts.
The conversation reveals more than any of King's long visual shots do – and that proves essential in a film that doesn't always engross. Much of Here seems concerned with reconnoitring the "edge of the map" in less palpable ways, with Coyote's elegiac chronicle springing in place over shards of arty photography and light. These pieces, while aesthetically striking, don't do much for Will and Gadarine.
The relationship between the two is one of longing, of missed words and of transience. Cinematographer Lol Crowly elegantly captures this and the film is far more poignant and emotional when the work almost lovingly focuses on lost glances, understanding caresses and longing touches. King's mapping of their relationship is neatly juxtaposed with Will's mapping of the landscapes of Armenia.
Here is a patient motion picture and it takes its time, sometimes too much time, in arriving at the fact that it has no real destination. Like Will's calling, charting the dregs of the relationship at the core of King's movie takes some doing. While there's something splendid about the effort the filmmaker asks of his audience, there's something ultimately thankless about the result. Perhaps that's the point.
The DVD includes some lovely photographs presented as taken by Gadarine, as well as more interlude footage and the theatrical trailer for Here.