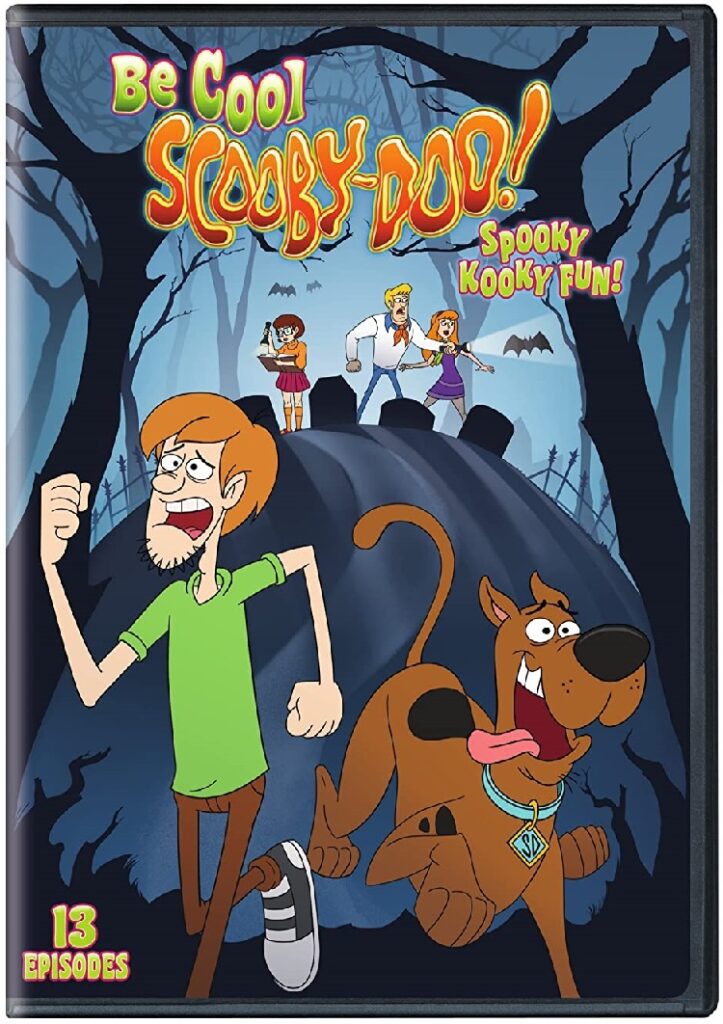 A few years ago I reviewed the eleventh version of Scooby-Doo! – Scooby-Doo! Mystery Incorporated.  That series was a pretty serious, back to the original concept series that concentrated on the story and actual mysteries.  The Mr. E character made it feel like a children's version of Pretty Little Liars.  It went for two seasons and was fun and entertaining. But it played itself out and we went almost three years without a Scooby-Doo! series on the Cartoon Network.  In 2015, the twelfth version of the series was added to the Cartoon Network lineup.  This week Warner Bros is releasing a two-disc DVD containing the first 13 episodes of this initial season.
There has been no bigger supporter of the Scooby-Doo! franchise than yours truly. I think they had hit upon a decent balance with the last series. The series has always worked best when it told a mystery story first and foremost and let the comedy and camp flow from that base. This series feels written by folks that have never watched the series before. It's a conglomeration of everything that is wrong with the series and not enough of what is right.
The first thing that you will notice and notice again and notice then again until it becomes a distraction is the animation style. It's the overly cartoony-slightly anime-influenced style that works perfectly for Teen Titans Go!. The animation style is the only thing that mimics current trends at Cartoon Network. The cast is taken to their most stereotypical and randomness that is present in so many of the CN shows. There are lines that feel cut from Regular Show, Teen Titans Go! and even Uncle Grandpa. It's always been a facet of the show to play up the smart characters versus the bumbling ones. But this corners them into a much smaller box – Velma is the smart one, Daphne is adorkably naive (and will apparently grow up to be The New Girl), and they've even made Shaggy less stoner and more streetwise humor (in other words he's a bit more Beast Boy).
The general set up of the series is that the group has graduated from High School and this is the last big adventure summer before (at least) Velma starts college. This "last summer" adventure is a decent conceit but even they don't seem to stick with it through all the episodes. It gives an excuse for the gang to be driving around and solving mysteries much like some of the earlier series. They have smartly lost the romantic interests that were dominating previous series and they have moved Scooby's domination of the series to a much more minor role, which is an important distinction between the series and the movies. Casey Kasem has passed away and is no long a part of the series and Mindy Cohn was replaced by Kate Micucci as the voice of Velma. None of these changes overwhelm the already big change in look.
A quick high and low of the episodes.
The good includes "Where There's a Will, There's a Wraith," a remake of an original episode "A Night of Fright Is No Delight," which has the feeling of a good mystery. It's the classic plot of having to spend a night in a haunted house. A plot that always bears some entertaining fruit for me. I liked "Screama Donna" too. Once again, a classic theme out of Phantom of the Opera, with a ghost not wanting people to perform in his theater. I might have been able to find a third but it's a push. These episodes work despite the copycat style of current shows.
The bad isn't bad. It's just meh. And in some ways telling very mediocre stories that aren't memorable is worse than telling something horrible. I was unimpressed with "Kitchen Frightmare," which is surprising because there's a Yeti in the episode. But the general making fun of the Gordon Ramsay shows just doesn't hit home. "Grand Scam" is a very tired ghost baseball player episode that didn't feel written as much as it felt culled together from three other cut episodes.
So they've put together this "cool and updated" version of Scooby-Doo! that has the look of a Teen Titans show that parodies the other serious animated superhero shows but this show isn't a parody. The characters are funny but this isn't camp. It's a mystery show that is happy telling mostly the same story every time. I love this franchise. But I truly fear what this is doing to it. There isn't much talk about this show and until last month I wasn't even sure when the show was airing on Cartoon Network. This isn't as character driven as they would like to portray it. The next version might be a long ways away after this one. And that's just not right.