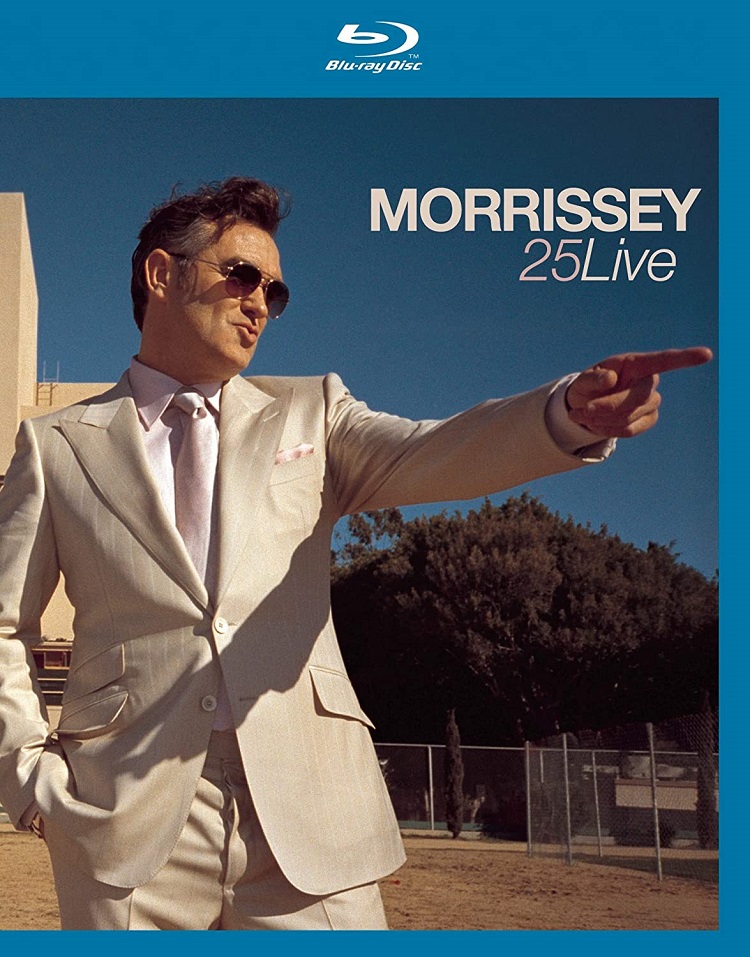 OK, it actually came out in late October, but I just watched it and the tagline was too tempting to pass up. Commemorating the first 25 years of his solo career, Morrissey's new concert Blu-ray serves as a vivid reminder of the towering body of work he has produced. Rather than utilizing a typical arena venue, the concert was filmed in the intimate 1900-seat auditorium of Hollywood High School, an unlikely and inspired choice that adds a visceral energy to the set.
Unfortunately, the show gets off to a tepid start with "Alma Matters" and "Ouija Board, Ouija Board", eliciting a muted response from the audience. It's only with "Irish Blood, English Heart" that Moz and the crowd start to come alive, leading into the much-loved "You Have Killled Me". From there, Moz continues to survey his solo work with only a handful of interruptions for Smiths songs. It's really only on "That Joke Isn't Funny Anymore" that I longed for ex-Smiths bandmate Johnny Marr's shimmering guitar work, a further testament to how far Moz has outgrown his old band in the past quarter century.
Morrissey is extremely relaxed in this performance, almost too relaxed, seemingly so at ease on stage that he appears alternately bored or sleepy. He's like a comic book artist who started out with exacting artistic precision as a youth but has settled into a loose, almost sloppy style with increasing age. There's nothing inherently wrong with that, and it certainly makes for a humanizing performance, but compared to the remarkable staying power of his significant elders such as Jagger and McCartney he seems like he's really running out of gas. Sorry, petrol. He sings without earpieces, isn't all that concerned with hitting or holding the right notes, and yet he can still count on the full adoration of his fans.
Those fans are actually a high point of the show, and Morrissey makes the most of them, working the crowd and occasionally passing the mic to individuals to allow them to shower him with words of thanks and adulation. Even 30+ years into his performing career, he's drawing a largely young, passionate fanbase that allows him to sell out arenas in spite of his paucity of mainstream success. Their passion for Moz is palpable, and it's only amplified in the intimate setting of Hollywood High School's auditorium. Best fan moment: in the closing performance of "The Boy With the Thorn in His Side", as dozens of fans frantically scramble over each other to touch him before he leaves, he pulls up a tearful, incredulous 9-year-old in a Smiths shirt and holds him up on stage.
In spite of the high school setting, the show was produced and filmed extremely well, with fully big-league lighting and sound expertly captured by superior camera work. The high production qualities make for a stunning Blu-ray presentation, made even more epic in scope via 2.35:1 aspect ratio, a rare but intriguing choice for a concert film. This is an up-close and intimate hi def performance, with detail so fine it led my wife to comment "can you believe that I never noticed how BLUE his eyes are until this Blu-ray?!"
Bonus features are headlined by 2011 studio performance footage of four previously unreleased songs, a fascinating look at the recording process that finds the whole band and Moz performing together rather than recording their tracks separately. Elsewhere, we get behind-the-scenes footage of the preparation for the show, along with Russell Brand's opening stage introduction where he sweetly sums up what many of the fans are feeling by offering: "This is a person who offered us salvation at a time when we were truly, truly alone". Moz's light may be dimming, but it's hopefully still a long, long way from going out.