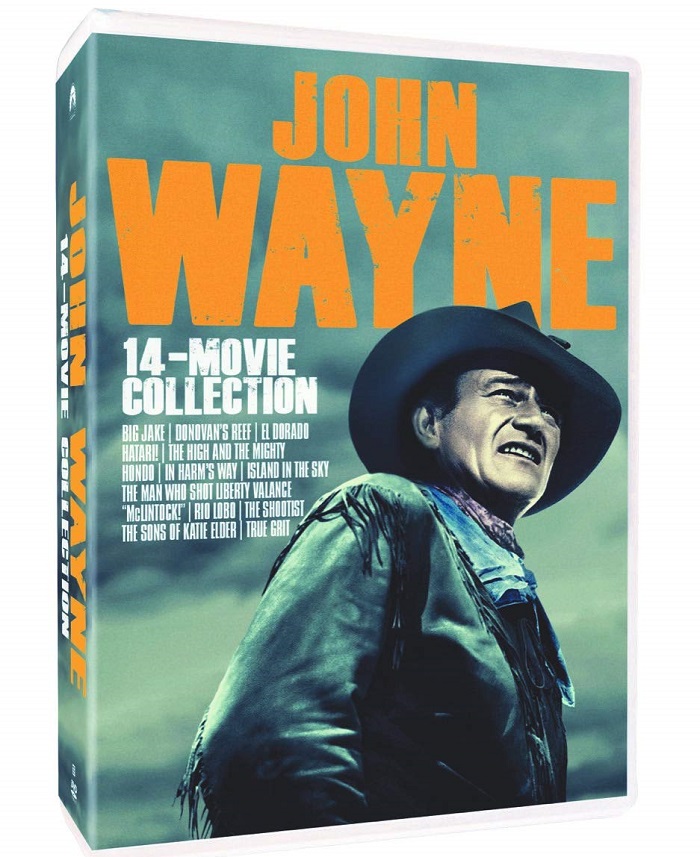 John Wayne appeared in 169 feature length films over his 50-year career as an actor. The 14 films in this Movie Collection are from the second half. They are John Farrow's Hondo (1953); William A. Wellman's Island in the Sky (1953) and The High and the Mighty (1954); John Ford's The Man Who Shot Liberty Valance (1962) and Donovan's Reef (1963); Howard Hawks' Hatari! (1962), El Dorado (1966) and Rio Lobo (1970); Andrew V. McLaglen's McLintock! (1963); Otto Preminger's In Harm's Way (1965); Henry Hathaway's The Sons of Katie Elder (1965) and True Grit (1969); George Sherman's Big Jake (1971); and his final film, Don Siegel's The Shootist (1976).
Wayne made a career portraying the mythic American hero, a rugged individual who stood up for what's right and odds are he and those who fought alongside him triumphed. Frequently seen as a cowboy of the Old West, who is good with his fists, good with his guns, and not too bad with the ladies. This collection of previously released Paramount DVDs also finds him playing characters such as a pilot, past and present members of the Navy, and an animal expedition leader in Africa.
He won his first and only Best Actor Oscar for True Grit in which he played U.S. Marshal "Rooster" J. Cogburn, who has been hired by a young girl (Kim Darby) to track down her father's killer. Although he worked with many talented cast and crew members on these fourteen films, the only person whose work here won an Academy Award was composer Dimitri Tiomkin: Best Original Music Score for The High and the Mighty.
This Essential 14-Movie Collection is recommended for fans of John Wayne and those new to him as it offers a good cross section of his work from this era. They are enjoyable adventures though all are not necessarily essential because of their similarities tom other movies, such as the aviation films Island in the Sky and The High and the Mighty, as well as El Dorado and Rio Lobo being similar to Hawks's earlier film Rio Bravo (not included), which also starred Wayne. But there are consensus classics like Liberty Valance and True Grit that are held in high esteem and other fan favorites.
To dig deeper into some of the movies, read my reviews of Hondo and McLintock!, Joe Garcia III's reviews of The Man Who Shot Liberty Valance and True Grit, and Mat Brewster's reviews of El Dorado, Rio Lobo, and The Sons of Katie Elder.