Pop Culture Ephemera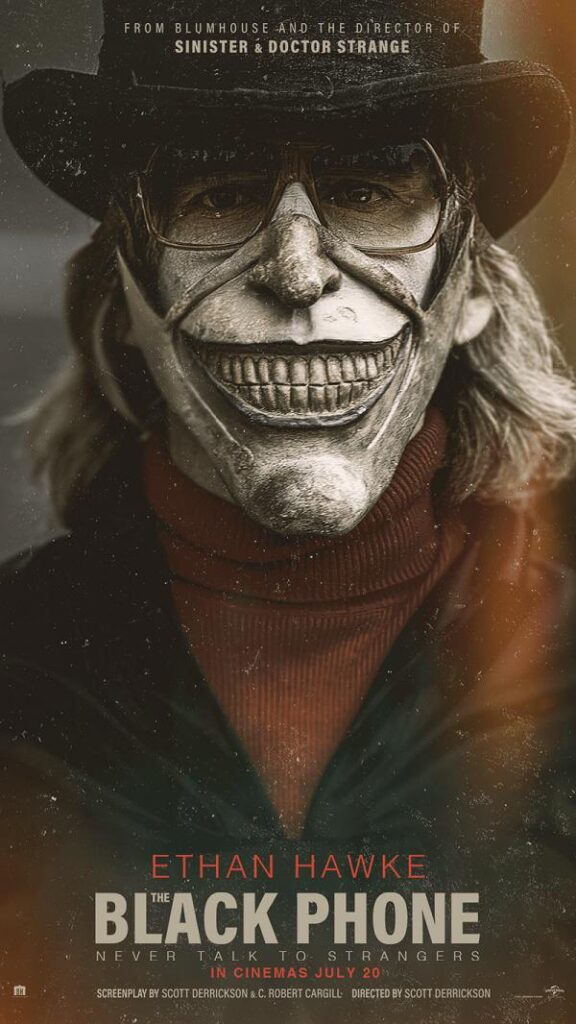 The Black Phone (2021) (Directed by Scott Derrickson): "A man never leaves a friend behind." – Robin. I didn't expect one of the best horror films I watched this October to be from the director of Doctor Strange. Written by Joe Hill (son of Stephen King), there's more than a little in common with the television show based upon his novel NOS4A2. In the 1970's, a town in Colorado is terrorized by a criminal, the Grabber (Ethan Hawke), who kidnaps children. We meet Finney (Mason Thames) and his sister, Gwen (Madeleine McGraw). Finney becomes the next victim of the Grabber and the film bounces back and forth between Finney in the stark basement connecting with previous kidnap victims as he tries to escape and Gwen trying to interpret her visions to solve the kidnapping. That particular character feels duplicated as an older teen in NOS4A2. While Hawke is brilliant as the Grabber, this is about the children. It's about children connecting with children to navigate their world among adults that are either violent or inept. There are different realities that play out in dreams, visually and over the black phone. This film has more levels of messaging than a dozen of the Halloween films. I haven't watched some of his other horror films, but Derrickson might have something here. This Blumhouse Production fits nicely in a world between the A24 art horror and the more mainstream cookie cutter horror films. I want more productions like this.
The Walking Dead – "Warlords" (S.11 E.13) (AMC) (2022): "We're barely holding on." – Lydia. Commonwealth bad guy, Carlson, recruits Aaron and Gabriel to go on a recruiting mission to a new community. It doesn't take a fourth grade education to see through his plan that this is a raiding mission. Unfortunately, they encounter a Dennis Hopper (think True Romance meets Blue Velvet version of Hopper) type of leader. After weeks of building stories around the Commonwealth, this detour feels like a simple break before the upcoming "half season finale". The episode bounces back and forth in time like they have in the past but thankfully this time, we know the timing of each flashback. The reappearance of Negan isn't unexpected that it happened but surprised when it happens. The episode proceeds at a quick pace and is relatively enjoyable except for depending on some pretty random coincidences and forgetting the stories of the past few weeks.
Cat Stevens – "Can't Keep It In" (1972) (from Catch Bull at Four): "I want to spend this time with you / There's nothing I wouldn't do / If you let me know." – Cat Stevens. This wonderful happy song ends Side One of his incredible Catch Bull at Four. I'm five days away from watching my oldest get married and it felt like time for a song of celebration. This is the middle of a run of amazing albums for Stevens that managed to sound mainstream and revolutionary at the same time. His voice rasps these lyrics in a way that exudes happiness to be with the one he loves. That's the best wishes I can put out into the world today, to be with the ones you love or know it's not far away.
Images (1972) (Directed by Robert Altman): "Many men in her life, madness in her dreams, and murder in her love" – movie tagline. Cathryn (Susannah York) suffers from schizophrenia. She has visions of former lovers, hears strange voices, and is never completely sure if what she is seeing is reality. She writes children's books and moves out to the countryside to finish her latest book. Robert Altman's only horror film is in good hands with this master director. It's set in a spooky house in Ireland where the weather always seems gloomy. There are eyes, cameras, mirrors, windows, and constant frames that we see Cathryn through. As she tries to get rid of what she thinks are apparitions, we wonder what is real and what isn't. There are parts of that "did we just see reality or a vision?" that remind me of Don't Look Now. The seamless mixing of different realities mirrors the symbolic two worlds of the writer. The John Williams score adds another level to the important auditory clues behind the story. I had dismissed this film previously for no good reason. Now it's another great addition to the spooky films to recommend to people.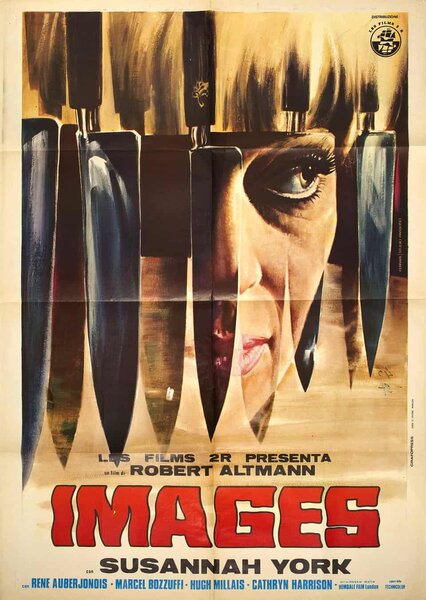 Last House on the Left (1972) (Directed by Wes Craven): "Listen to daddy. I want you to take the gun, and I want you to put it in your mouth, and I want you to turn around and blow your brains out." – Stillo. Based on Bergman's Virgin Spring (1960), this is Wes Craven's debut film and it's not easy to watch. Wes has spoken of the violence being a reaction to the atrocities happening in Vietnam at the time. For such a violent and harsh film, it's more brilliant than it has any business being. Wes Craven can direct without a budget and Sean Cunningham's production understands how to tell the story succinctly. The plot structure is fast and simple. Two girls go to a rock show and when they are trying to buy drugs in the city, they are kidnapped, raped, and tortured. The story leads back to one of the girl's homes and it becomes a revenge story from there. In addition to Bergman, the level of casual violence brings to mind Peckinpah's Straw Dogs (1971). The future of movies like Friday the 13th and The Hills Have Eyes are laid out in this efficient Craven script. The action is non-stop and while difficult to watch at times, there is real talent at work here.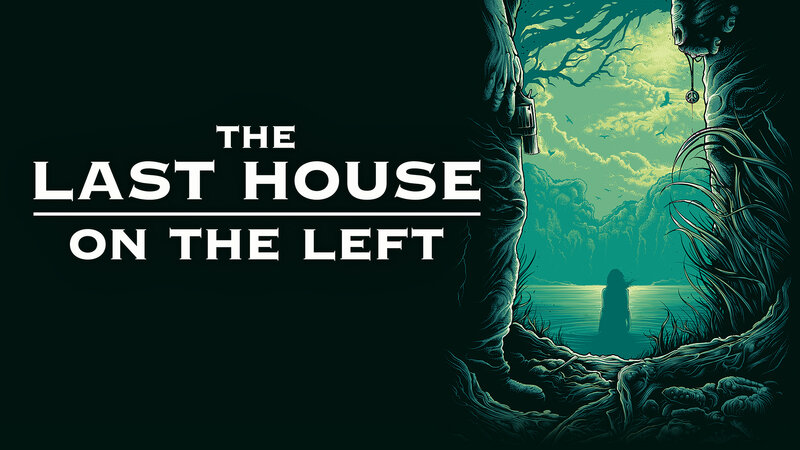 Best of the Rest
Ford of Canada released this seven-minute "mini-movie" that really stretches the idea of a concept ad. The film is beautifully shot and produced. The battle between the old and young mushroom hunters might symbolically represent the gas vs. EV struggles of today. But I'm really reaching with that one. I can't deny that it's a surreal and fun film that might make David Lynch proud.
I'm not a huge fan of the recent seasons of Saturday Night Live, but this gem from a few years ago shows off why they keep inviting Tom Hanks back again and again. The David S. Pumpkins character gives me the giggles.
We can't let the holiday pass without another visit to the Great Pumpkin and the world's most sincere pumpkin patch. Vince Guaraldi's signature tune might be "Linus and Lucy" but few songs place me in autumn more than "The Great Pumpkin Waltz." Hearing this is the same as the sound of leaves crunching under foot, the feel of a soft blanket, and the subtle smell of cinnamon in the home. It lowers my blood pressure and connects my present to my past.
Sunday Morning Tuneage Flashback
On the Sunday Morning Tuneage of 6/10/2007, it was hot in Texas, so what's new. The kids were headed to the pool with grandma and grandpa, and I was going to spend the afternoon in the theaters at Knocked Up. The Spurs were about to win the NBA Championship but the rest of the television week was bunk. I recommended watching a rerun (remember those) of one of my favorite moments of the year.

My Name Is Earl – "Buried Treasure" (S.2 E.13) (NBC) (2007): "In Camden County, the library was also the museum, so you could actually learn stuff there instead of just reading books." I said this was the best episode of the second season of Earl. The first funny thing is that when you Google this episode, the top result is my review of Season Two of the show for Blogcritics. Watching it again, it's a brilliantly written episode. It's a Rashomon-style episode telling different parts of the stolen silverware story and parodying their own show with shows within the show of My Name Is Randy, My Name Is Joy, and My Name Is Crabman. This show isn't held in the same esteem as other shows of its era like The Office but this episode highlights the quality comedy that comes from a stellar cast. Joy (Jaime Pressley) and Randy (Ethan Suplee) are stars and show that they could lead the show too. Earl and Scrubs are the two most underrated shows of this late aughts period.
Flash From The Past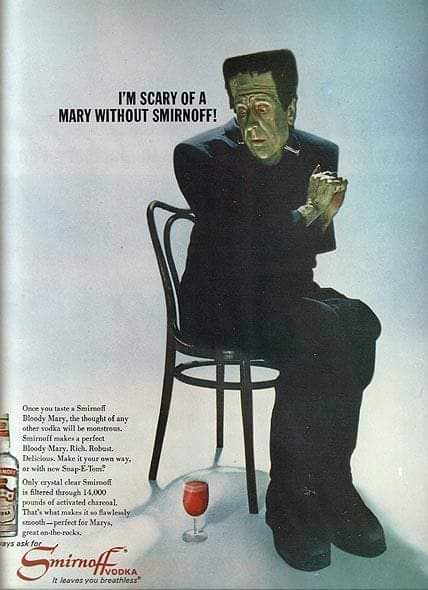 What the Hell Did I Put In My Mouth?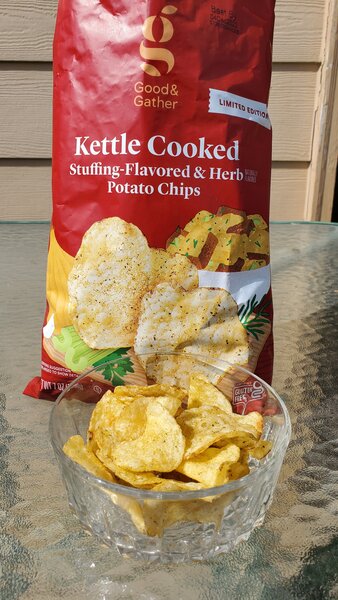 Good & Gather: Kettle Cooked – Stuffing-Flavored & Herb Potato Chips
I have seen this flavor before but never had the opportunity to try it. I know an herb but I'm not completely sure what would make it "stuffing". I get plenty of celery and onion and it's not unpleasant. I rather enjoyed the bag and would consider getting another before Thanksgiving. The crunch of their kettle cooked is very enjoyable.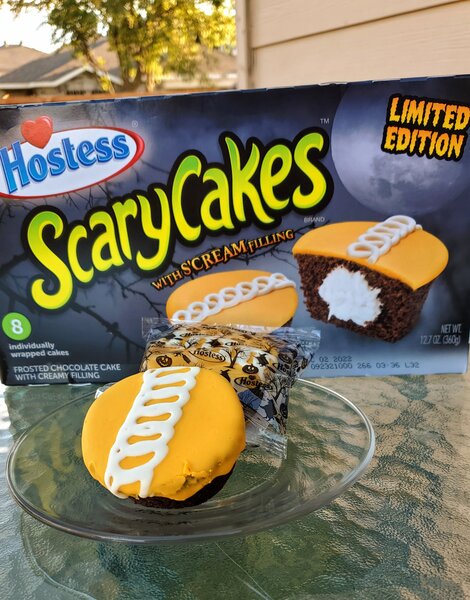 Hostess ScaryCakes
The third of the Hostess Halloween offerings. It's a Hostess Cupcake with S'Cream filling. The dyed frosting doesn't have a flavor so it's no different than a regular Hostess Cupcake. These releases are all essentially the same. The Twinkie is the cake only with S'Cream filling. The ScaryCake has a hard frosting on the top of the cake. And the Ding Dong has hard frosting completely covering the cake. Neither impressed nor disappointed with them.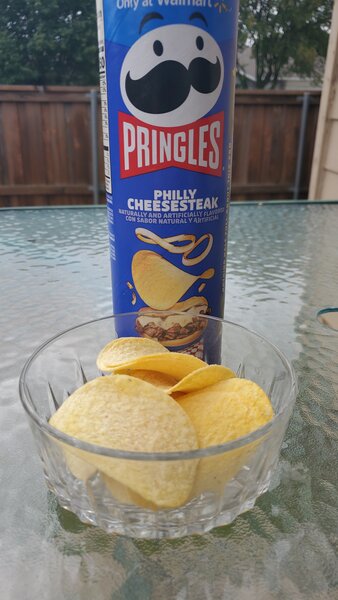 Pringles: Philly Cheesesteak
We're in the middle of an embarrassment of riches in new chips and salty snacks. This should be a time of year for cereal, cookies, and candy. But it feels like we barely got any new chip flavors this Summer when they all typically hit the stores. This flavor is a redo of one that was at Dollar General a few years ago. Meat never seems to translate well to chips. That's a bit of the case here. They are decent but the onion and peppers is the overwhelming flavor palette.
"I want to have you here by my side
Now don't you run, don't you hide,
While I'm with you.
'N I can't keep it in,
I can't keep it in, I've gotta let it out." – Cat Stevens
Stay Hard.
sb