Pop Culture Ephemera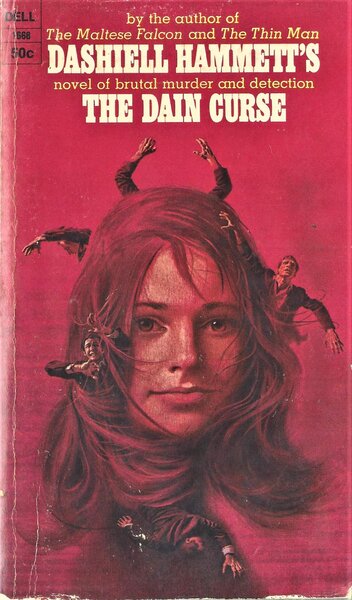 Dashiell Hammett – The Dain Curse (1929) (Alfred A. Knopf): "Anybody who started hunting for evidence of insanity in himself would certainly find plenty." This follow-up to Red Harvest, reads like a collection of stories originally told in the pulp magazine, Black Mask. Turns out it's a collected version of stories originally told in the pulp magazine, Black Mask. The stories feature the return of our favorite insurance investigator, the Continental Op. He's a short, pudgy, middle-aged man who doesn't quite fit our vision of a Jazz Age hard-boiled detective. The three stories are linked by Gabrielle Leggett, who may or may not be cursed. We start with a missing diamonds caper, follow it with a sort of ghost story in a cult temple in San Francisco, and finish with a small town murder. The plot unfolds at breakneck pace and truthfully, it's full of logical dead ends. You quickly learn that the first time a crime is solved, that's not going to be the explanation. I don't love a book that has to take the last 15 pages to explain all the plot twists they didn't mention in the rest of the book. I love the staccato style of Hammett's writing but this is a bit of a mess of a book.
The Flash – "Rogues of War" (S.9 E.3) (CW) (2023): "We got a new speedster in a bat suit, and Batwoman is missing?" – Cecile. It's funny that with all the Wayne Tech stuff being stolen that Barry and Iris determine that the Rogues are trying to build a Cosmic Treadmill. Funny because this season feels like we are running in place. The reveal of who is in the Red Death costume is the worst kept secret of the season for anyone who follows any TV spoiler news sources. This is the point in the season where we collect a series of semi-baddies to help the good guys fight a collection of villains. The arc has a feel of a 12-episode, by-the-numbers storyline. Much like the end of Arrow, Supergirl, and Batwoman, the series doesn't have any of the feel of the original seasons that had a good balance of plot and fights. There's just too much talking that gets nowhere and that feels like a budget issue more than a story decision.
Cat Power – "Stay" (2018) (from Wanderer): "Something in the way you move / Makes me feel like I can't live without you." Cat's voice is so soulful and powerful. There isn't much to the lyrics and yet they tell such a heartbreaking story of wanting to hold on. It's not as much a cover version of the Rhianna song "Stay" from 2012 as a reimagining that changes the lyrics just enough to focus on the need of both parties instead of Rhianna's convincing herself of her decision. This version highlights Cat's ability to convey raw emotions in the quiet moments of the song. Both great versions but this one haunts me.
The Dain Curse (1978) (Directed by E.W. Swackhamer): Originally aired over three nights as a television mini-series on CBS, I didn't watch what would be the full mini-series. I did watch more than the edited two-hour movie version floating around out there on VHS tapes. This slightly condensed version clocked in at just over three hours. James Coburn plays "Hamilton Nash", a private eye. The book stars the unnamed, Continental Op, as an insurance investigator. James Coburn in no way looks like the short, pudgy investigator of the books. He's well cast here though as a Jazz Age gumshoe and bears a not unpassing resemblence to the real life author of the book, Dashiell Hammett. There's an incoherence to the film that mirrors my experience with the book. I don't think that can be blamed solely on the editing of this version. The concept of the three separate mysteries would fit well with a three night mini-series but the execution is just a bit shody. Coburn is great and there's a very young Hector Elizondo as a sheriff and Brent Spiner makes an appearance. Somehow they were able to take a fast-paced novel and make it seem like a slow burn without clearing up any of the confusing plots along the way. Find me if you have the full version of this someday.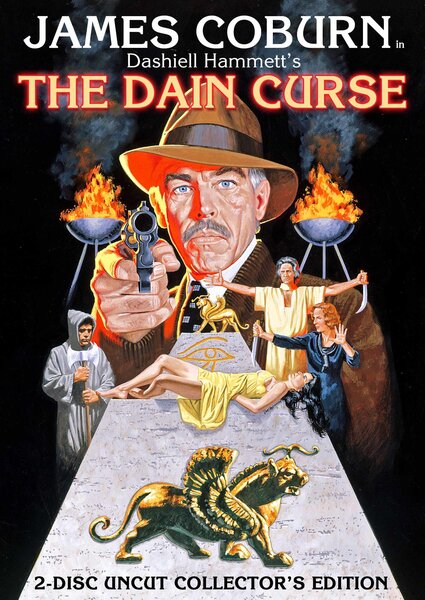 Under The Silver Lake (2018) (Directed by David Robert Mitchell): "There's a message *in* the music." – Allen. The director, David Robert Mitchell (It Follows), isn't Alfred Hitchcock and he isn't even Brian De Palma. But there are not-so-subtle nods to the thematic influences. As we meet Sarah (Riley Keough) and see Sam (Andrew Garfield) react to her, the score recalls musical cues from Vertigo. At one point, Sam talks to some women leaning against a Hitchcock tombstone. The movie starts with Sam watching his topless neighbor with binoculars recalling Body Double. Once Sam discovers that Sarah has disappeared and her apartment is empty, he starts down one conspiracy rabbit hole after another that exposes the underbelly of the music, television, and movie industries. It's one ridiculous puzzle and event after another in a way that recalls the recent Dashiel Hammett books I've been reading and has been compared to David Foster Wallace's writing. You could put this in the neo-noir genre and Garfield could be considered a hard-boiled detective. I'm surprised that this five-year-old film has been off of my radar to this point. The movie definitely has the feel of a film that will find a cult status with young film fans in the future.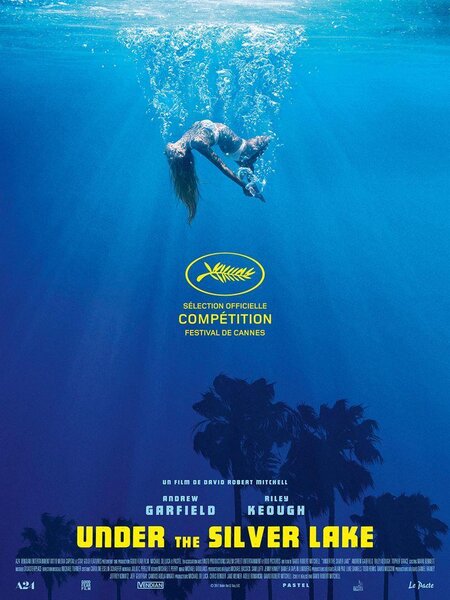 Best of the Rest
"In-Yun. It means providence. Or fate." I'm really looking forward to this film. Is there fate or destiny? From the clouds and shadows, I'm expecting some tears and conflict but like good films, it looks thought provoking.
A snake in the Couch Hole? Of course, it comes to us from Queensland, Australia as most of the scariest of the snake stories do. A 4.5 foot long eastern brown snake slithered into the workings of the family couch. The second most venomous snake in the world just under your bottom while you are trying to find a film on Tubi? No thank you. The snake has been relocated to a Rooms-To-Go in the area where he can find some quality options at warehouse low prices.
I gotta believe that Hard Seltzers have been around for at least six years in the public zeitgeist. In 2023, Bud Light still has to advertise that Hard Seltzer isn't beer. I have not enjoyed any of the previous Bud Light Seltzer releases but I'm intrigued for a Sangria Splash this summer. My biggest complaint (and yes, don't @ me about the beer market) is the sheer number of similar sounding releases that litter the Hard Drink aisle. Good luck, Not Beer Bud Light.
Sunday Morning Tuneage Flashback
On the Sunday Morning Tuneage of 9/30/2007, it was a busy Saturday with Dee winning 3rd place in Miss Little Elm and Christian won his football game with 40 yards rushing. Christian had a double header of baseball on the Sunday. I liked the start of the new season of Heroes and just as the season finale of Doctor Who was airing, Friday Night Lights was starting up. Those two shows made a great Friday night combination. My #89 Best Movie of All-Time was Diabolique (1955). Probably the best Hitchcock film not directed by Hitchcock during his directing career. I might move this film into my Top 75 today. There was a show debuting that I predicted almost immediate failure.

Cavemen – "Her Embarrassed of Caveman" (S.1 E.1) (ABC) (2007): Of all the advertising campaigns turned into television shows, this is definitely one of them. The GEICO campaign of "It's so easy, even a caveman can do it." was hugely popular. I'd have to check to see if there was a show where groups of celebrities yelled "Tastes great!" and "Less filling!" at each other or if they ever were able to get a pilot filmed for "Plop, plop, fizz, fizz. Oh what a relief it is." The sitcom lasted six weeks. That's five weeks longer than I predicted back then. It's often held in the rarified air of Cop Rock as one of the worst shows / show ideas ever. I don't know about that. The series is set in San Diego with three Neanderthals, Andy, the chill dude (Sam Huntington); Joel, the "average dude" (Bill English); and Nick, the cynical jerk dude (Nick Kroll workshopping his The League character), trying to navigate their way through 2007 America. This episode has some moments. It's just funny enough but not hilarious. It borders on edgy without crossing any lines. Put this on FX today and I think you'd have a hit. We just weren't ready for GEICO-based sitcoms in 2007 and that's on us.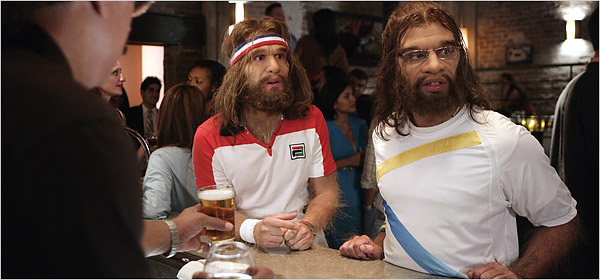 1973 in Review
In 1973, Agatha Christie publishes her last Hercule Poirot story in Elephants Can Remember.
January 7. On The Wonderful World of Disney, a two-part film Mystery In Dracula's Castle airs with Johnny Whitaker, Mariette Hartley, and Clu Gulager.
Fall 1973. Orson Welles' Great Mysteries debuts on ITV in Great Britain to try to recapture some of the magic of Alfred Hitchcock Presents. This show would last 26 episodes and be cancelled in 1974.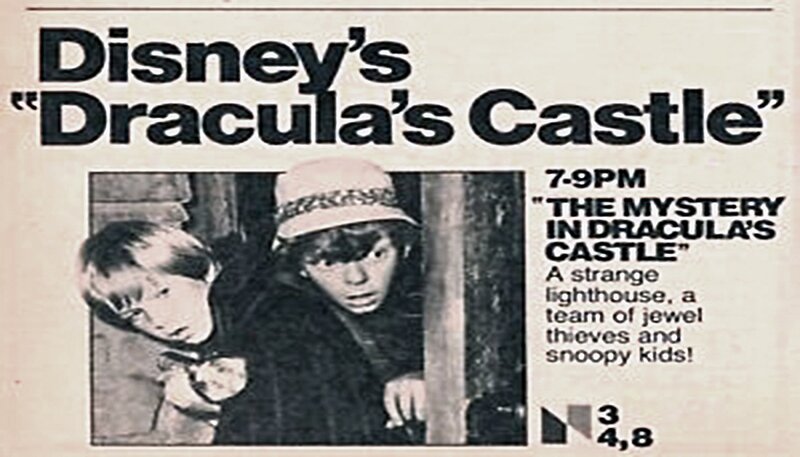 What the Hell Did I Put in My Mouth?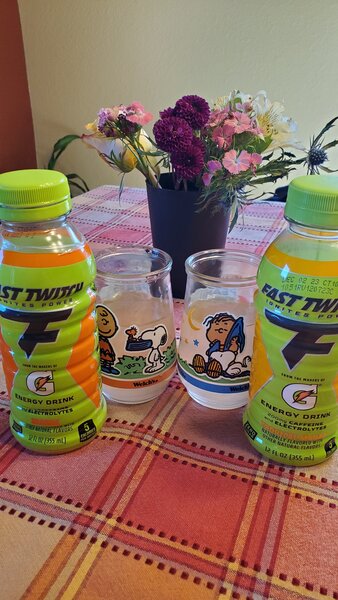 Gatorade: Fast Twitch – Mango, Orange
The Gatorade folks have entered the caffeinated category. A single bottle is on par with two cans of Red Bull as far a caffeine with zero sugar. Marketed as a pre-workout beverage, the flavor isn't strong and there's a "diet" aftertaste for sure. I didn't get a huge caffeine boost and non-carbonated made it go down smoother than a Red Bull. I can't say this is worth the extra cost. Maybe I like carbonation too much that this was just a big "meh".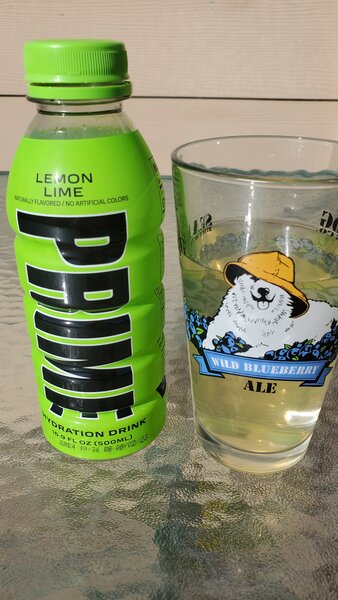 Prime: Lemon Lime
I have been out of the hydration aisle for too long, I guess. It wasn't until I started seeing ads for Prime and realized it was a hydration drink that I noticed what has been one of the best success stories in the category. This is pretty good stuff. It's coconut-water based and while Gatorade is the lemon lime flavor by which all drinks are measured, this one leans into the lime a bit more and it really offsets the coconut water. I could see this denting the Gatorade and Powerade duopoly.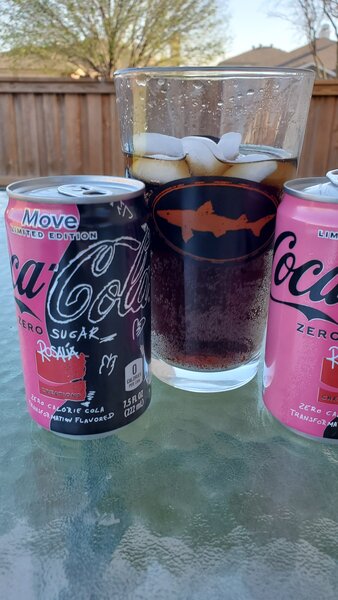 Coca-Cola: Move – Zero Sugar
I don't know enough about award-winning artist Rosalia Break to understand any significance beyond an interesting design on the can. I decided to try the Zero Sugar version of this new Coca-Cola first because so often my opinion is influenced by trying them in the reverse. The popular opinion in the blogs I read is that this is heavy on a coconut flavor. In the Zero Sugar version, I don't get that at all. I am tasting a strawberry and heavy vanilla aftertaste. Maybe I'm still in love with the Dr. Pepper Strawberries and Cream. There is a bitter aftertaste that is common to the Zero Sugar sodas with me. I'm curious to sample the sugar version to see if that holds up.
"Funny you're the broken one
But I'm the only one who needed saving
When you finally see the light
It's hard to know which one of us is caving" – Cat Power
Stay Hard.
sb