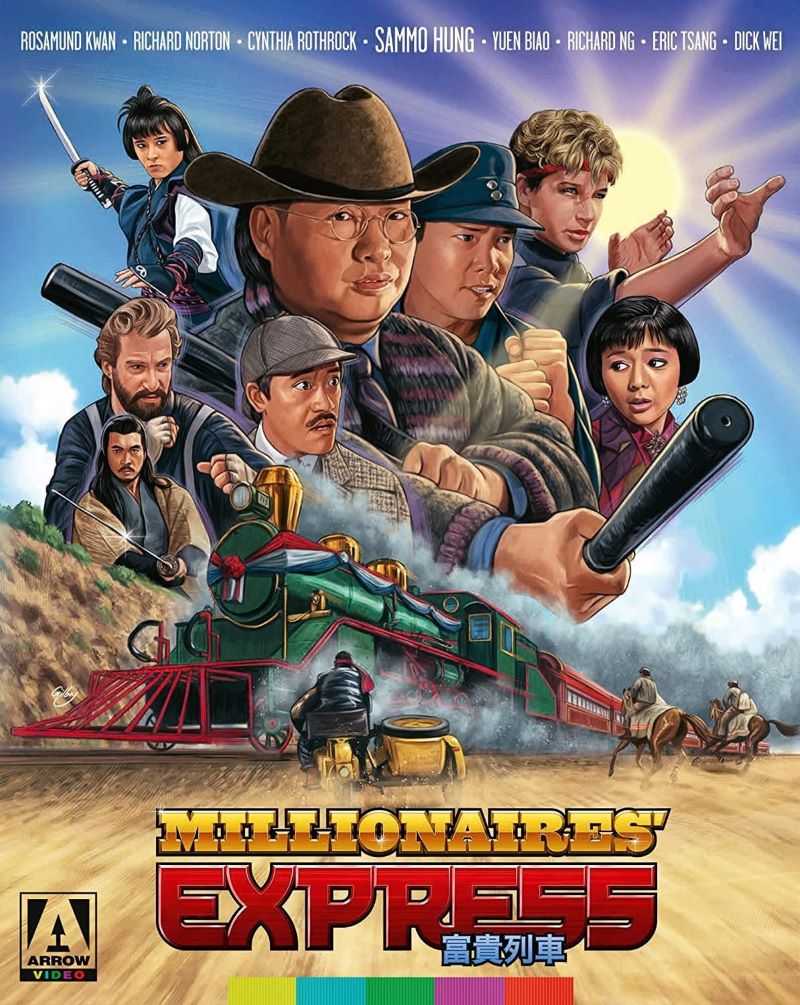 After shining a light on the rise of the Hong Kong film industry with their phenomenal Shaw Brothers box sets, Arrow Video is now diving into the works of the legendary Sammo Hung. Long before he was the lead of his own CBS TV series, Martial Law, he was a pioneering Hong Kong actor and director known for his comedic action. He even cast new Oscar-winner Michelle Yeoh in her first two film roles nearly 40 years ago. While Yeoh doesn't appear in this film, it's packed with top talents in the industry including Shaw Brothers icon Jimmy Wang Yu (One-Armed Boxer) and U.S. action star Cynthia Rothrock in one of her earliest roles.
Hung stars as a reformed outlaw named Ching Foon-tin who hatches a ridiculous plot to make amends with his hometown by derailing a posh new express train so that its wealthy passengers will be forced to spend their money in town. He's not the only person looking for trouble, as a gang of cowboy bank robbers are looking for a treasure map being guarded on the train by three Japanese samurai. The film is ostensibly set in early 20th century China, but with so many conflicting cultures and fashions intersecting in the frontier town, it feels like an anachronistic melange that is more a product of imagination than history.
Of course the setting and historical accuracy take a back seat to the insane action Hung and his stunt team dream up. Much like last year's Bullet Train, all types of baddies descend on the train and battle it out for supremacy, throwing logic out the window in favor of crowd-pleasing action.
Hung has a gift for comedic action and makes the most of it as both star and director. Bone-crushing stunts and thrilling showdowns such as Hung vs. Rothrock ensure that there's never a dull moment. Unfortunately, the nonsensical story is assembled in such a scattershot manner in every cut that it's best to just enjoy the ride rather than attempt to figure out where it's going. It feels more like an assorted selection of action set pieces rather than a cohesive narrative, and while there is a satisfying destination, it's hard to care much about it due to the overall minimal plot development.
The new 2-disc Blu-ray is packed with an astounding four different cuts of the film, with a total differential of about 15 minutes. The cuts are the original theatrical version, extended version, export cut, and new "hybrid" cut that combines footage from both the theatrical and extended cuts to create the longest version. All four cuts look and sound great thanks to new 2K restorations by original studio Fortune Star, so feel free to choose your ideal version.
The bonus features are largely comprised of archival and new interviews with key talent. Sadly, there is no recent interview with Hung, but he is featured in two archival interviews. Rothrock has both archival and recent interviews, and she proves to be highly entertaining in her recent recollections of her fascinating time in the Hong Kong film industry. She also provides select scene commentary for one of the commentary tracks, with other critics handling commentary tracks on other versions of the film.