Pop Culture Ephemera

Gerald's Game (2017) (Directed by Mike Flanagan): "This monster was real, real as they come. As real as the cuffs, as the dog. As real as the eclipse." – Jessie. This was always going to be one of the more difficult Stephen King adaptations. Not because of the handcuffed (mostly) naked woman at the center of the story but because every important theme of the novel is moved by internal monologue. At the base of the story is panic. Pure panic is hard to act for 90 minutes. Film has a built-in distance in the eye of the camera that writing does not. The book isn't my favorite but it is successful in conveying the backstory and the panic that Jessie feels as the day and night progress. Carla Gugino is a good choice for the role but director Flanagan has to make some hard choices. The total eclipse plays an important part in the story as it does in Dolores Claiborne. The film tries to short cut some of the flashbacks with the addition of Angel/Devil voices in the room with her. The book's ending was a disappointment and that translates to the film. Flanagan has to cut some items but he doesn't want to change the basics of the story. Interesting film but not one that you would recommend to King fans. Luckily, this was just a warmup for Doctor Sleep (2019).
Welcome to Wrexham – "Dream" / "Reality" (S.1 E.1 / 2) (FX) (2022): "I feel like I know those people. I am one of those people." – Rob. The docuseries about the purchase of the Wrexham A.F.C. by Ryan Reynolds and Rob McElhenney starts strong. Instead of spending a majority of the show on Rob and Ryan's experience, the show takes time to introduce the players and the people of the town in Wales. Wrexham is playing in the National League which as comparison might be even below A level baseball in our Minor League system. I love documentaries about sports that are about people. This show is about working folks and small towns in a way that is really relatable. Sports are just a microcosm. I love the wholesomeness of these first couple episodes.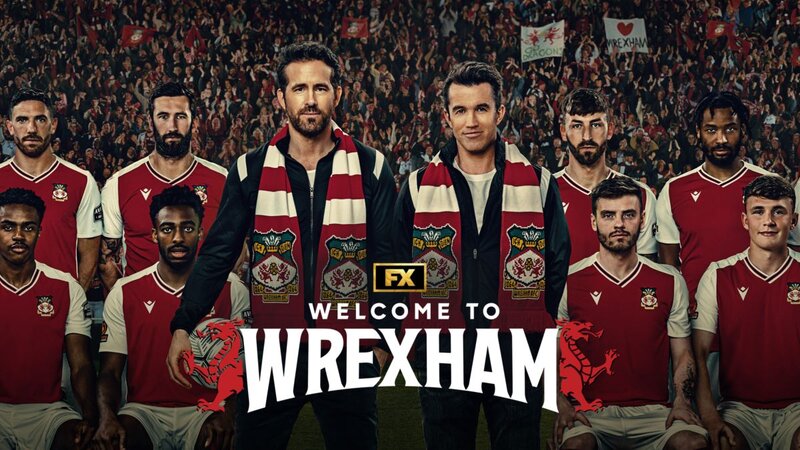 Edward Sharpe & The Magnetic Zeros – "Home" (2010) (from Up From Below): "Do you remember that day you fell out of my window?" / "I sure do, you came jumping out after me." – Edward Sharpe. Some songs just feel wholesome. I included this live version because of the chemistry between Alex Ebert and Jade Castrinos at this moment. Her smile is contagious. And most whistling songs are the same. At the time, it felt like this happy song was everywhere in films, commercials and television shows. I remember it on Community. "Home" is one of the most powerful words in our language and here that connection between two humans is palpable. I can't describe why but it has an end of summer feel to me and felt right for this time of year. "I scream it to nothingness / There ain't nothing that I need."
Midnight Mass – "Book IV: Lamentations" (S.1 E.4) (Netflix) (2021): "Maybe my brain releases a flood of DMT. It's the psychedelic drug released when we dream, so… I dream. I dream bigger than I have ever dreamed before, because it's all of it." – Riley. There's this speech that Riley (Zach Gilford) gives about dying to Erin (Katie Siegel) about the "dream" of death. And Erin laments the death of her baby from a religious perspective. Both have their own validation and are ways of dealing with what has happened in their lives. It's powerful in the way that neither explanation is held above or below the other but as circumstances that can coexist. There are a fair number of jump scares through the episode but at the heart, Flanagan is using religion and non-religion to symbolize daily problems. So much of the show is about addiction. There's a shocking ending that confuses where I thought this show was going but I trust that Flanagan has an overreaching vision. This man should be making Stephen King mini-series, not limited to film length.
It Comes at Night (2017) (Directed by Trey Edward Shults): "The red door, it's the only way in and out of the house. That stays closed and locked all the time." – Paul. This horror film isn't what I expected. It starts with a shocking death. The world, we learn (kinda), has been decimated by a disease that wipes out people quickly with signs like black eyes, odd bruises, and eventually puking blood. There aren't monsters or zombies from this disease. The horror of this film is loss. Loss of predictable life and mostly loss of trust. This is released in the same time period as a similar themed A Quiet Place (2018). But while that has a monster lurking, here the monster is everywhere in each trip outside and behind each closed door. Despite some exterior scenes, this is a claustrophobic film. It has even more impact when viewed symbolically against the Pandemic. The two fathers of the film are the acting stars. Paul (Joel Edgerton) has put together strict rules to keep his family alive. Will (Christopher Abbott) is younger and is scrappier but no less sincere about the safety of his family. This has the feel of a much older horror film of decades past. It looks wonderful and it will stick with me for days.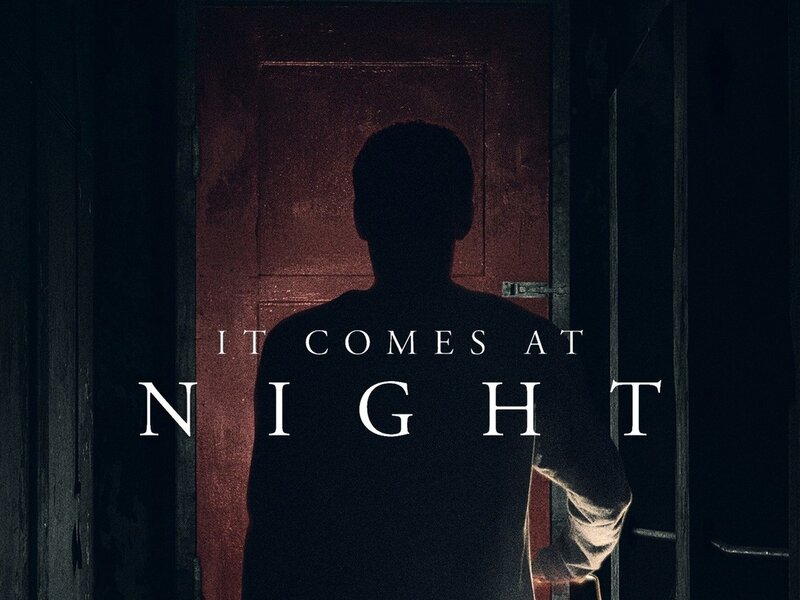 Best of the Rest
Blade Runner 2099 limited series a go at Amazon. That's the type of hard hitting news that floats to the top of my feed. And I'm not mad at all. Ridley Scott is going to be an Executive Producer. With Amazon Prime money behind the project, I'm convinced that this franchise could find a wider audience. The films provide a great base to work from for a series. Before this starts, I'll need to catch up with Blade Runner: Black Lotus (2021) from Adult Swim.
Ryan Reynolds and Rob McElhenney increasing the awareness of colon cancer and the benefits of a colonoscopy. These two have some incredible comedic chemistry and just the right level of comedy/seriousness for this important health notice. These guys are straight up classy.
It's only been out a few weeks and I'm trying to work my way through Stephen King's latest. But before the ink is dry, Fairy Tale is already set to have a film adaptation. Paul Greengrass (he of the Bourne trilogy) is attached to direct and a hundred or so pages in so far, I don't see the connection but I can tell we are going to get to some action. In Stephen King adaptation news, I'm mostly excited about Mr. Harrigan's Phone coming out on Netflix in October and Salem's Lot getting a third adaptation with a bigger budget in April 2023.
Bonus Ad. I'll bring this out again in a couple months but it fits thematically this week. Touching and funny. Circa 2016.
Double Bonus Ad. Old home movies make me want to buy insurance. Circa 2011.
Sunday Morning Tuneage Flashback
On the Sunday Morning Tuneage of 5/13/2007, I was coming off a long week of buyback and a 14-hour day of Graduation. The Summer Projects were starting for my children and I had assigned Dee the Beatles Revolver and little did I know it would lead to us seeing Ringo Starr a couple days ago. Television was winding down to Heroes and a few specials like American Experience: Alexander Hamilton and a Walter Cronkite tribute. There was another special that had me excited.

Bob Barker: A Celebration of 50 Years on Television (CBS) (2007): It was a prime time show that was part episode of The Price is Right and part retrospective of Barker's television career. Scenes from Truth or Consequences put me right back in my grandparents' home where the game shows seemed to run all day long. The prime time episodes had a much larger budget including trips and cars at almost every turn. The concept of the tribute special feels like a concept that faded very quickly after this era. That's too bad. Clip shows are fun.
Flash From The Past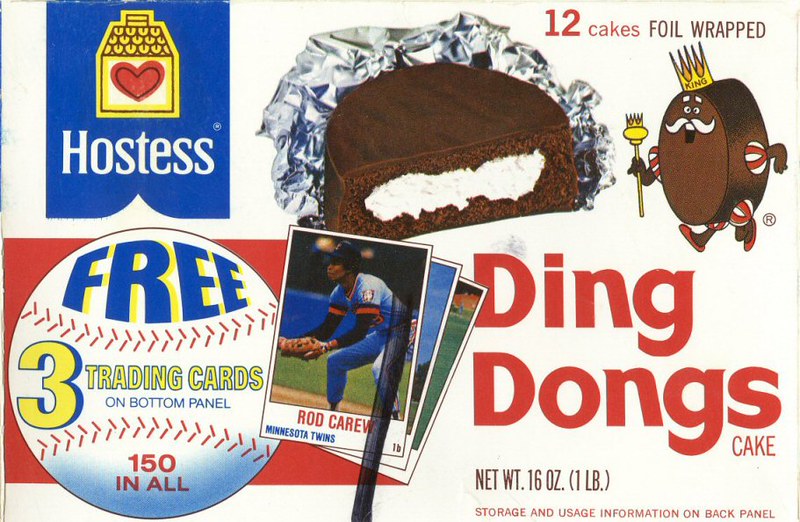 What the Hell Did I Put In My Mouth?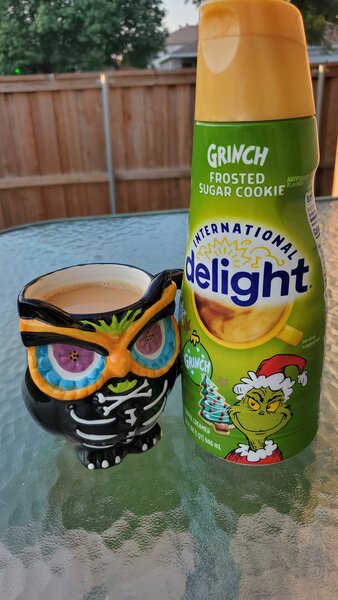 International Delight: Grinch Frosted Sugar Cookie
The Monster Cereals (see below) are one sign of fall. But International Delight's release schedule puts these on the shelves for the last three months of the year. My absolute favorite coffee creamer flavor is a special treat on the weekends for the fall months. The holiday seasons of Halloween, Thanksgiving, and Christmas are in the air when this is in my coffee mug. Happy guy!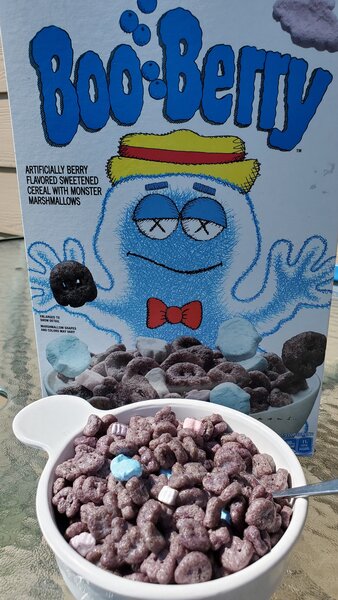 Monster Cereals: Boo-Berry (KAWS Edition)
The second entry into the Monster Cereal marathon each Halloween season is usually Boo-Berry. The 1973 creation should get a big 50th anniversary release next season. Boo-Berry was difficult to find even before the 2010 switch to only seasonal releases. My instinct is that the flavor has adapted a bit to a less blueberry sugar taste but it's still a close second to Count Chocula. The KAWS design this year is spooky and wonderful. I love his hat and bowtie.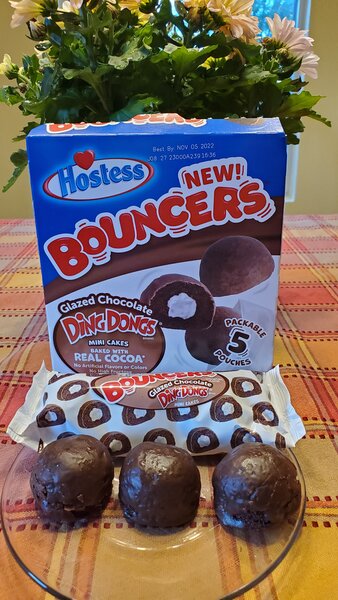 Hostess Bouncers: Ding Dongs
This week in "ball-shaped snacking" news . . . Mostly I'm confused at the naming of these bite (two-three bite) size snacks. They are mini-versions of a Ding Dong but the ability to bounce is really in question. My educated guess would be that they would splat before any type of bounce. Making a Ding Dong mini doesn't accomplish much other than making it a bit too sweet. The Ding Dong is a perfect size for the Ding Dong type of snack. Fun but unnecessary.
"Well, hot and heavy, pumpkin pie
Chocolate candy, Jesus Christ
Ain't nothing please me more than you
Oh, home, let me come home
Home is wherever I'm with you" – Edward Sharpe & The Magnetic Zeros
Stay Hard.
sb