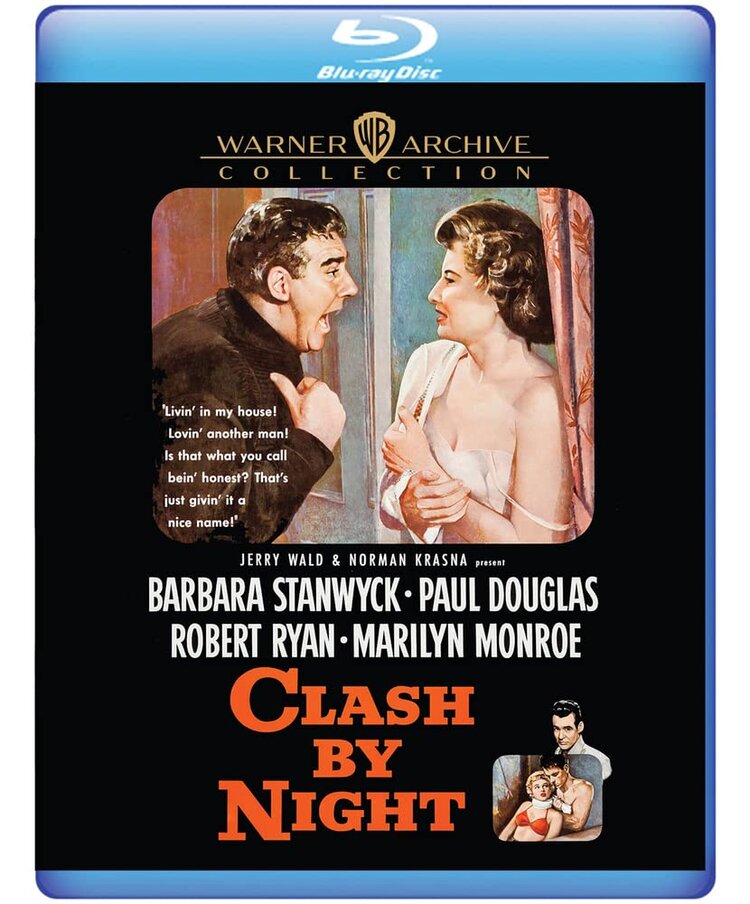 In Clash by Night, a former good-time girl, Mae (Barbara Stanwyck), returns home to Monterey, California. Done with her drifting ways, she marries a dim-witted bear of a fisherman (Paul Douglas). Things bubble up, though. His best friend, a married movie projectionist (the always great Robert Ryan), has the hots for Mae. And she likes him, too.
So, I wanted to see this flick because it's directed by Fritz Lang, the maestro behind such indubitable classics as M, Metropolis, and The Big Heat. The cast tries hard. But the material, based on a play by Clifford Odets, is second-rate Tennessee Williams by way of John Steinbeck's Cannery Row. (Odets inspired the Coen Brothers' film, Barton Fink—Fink, a self-important playwright who specializes in the "theater of the common man.") It's so keen on giving us realism that the dull, overheated verbal jousting of the characters has nowhere to hide.
The Robert Ryan role could have used the animalistic presence of a young Marlon Brando. Even so, Ryan brings a cold-eyed intensity to the part. If it weren't for him—and an early, very much in-her-own-skin Marilyn Monroe, who plays a cannery worker—Clash by Night would be altogether forgettable. The actors save it.
In the end, Lang generates a glum, moody atmosphere (like you're stuck in a shitty backwater). But the movie is hard to believe. It wants to take a hard look at sad, hard lives, yet the dialogue isn't campy enough to work on its own stagey, stylized terms. It's so obviously 'written' that I kept wondering if a cinematic flourish by Lang would fire the film to life.
That moment never came.
The Warner Archive Collection Blu-ray features audio commentary by filmmaker Peter Bogdanovich with audio interview excerpts of Lang. The theatrical trailer is also available on the disc.