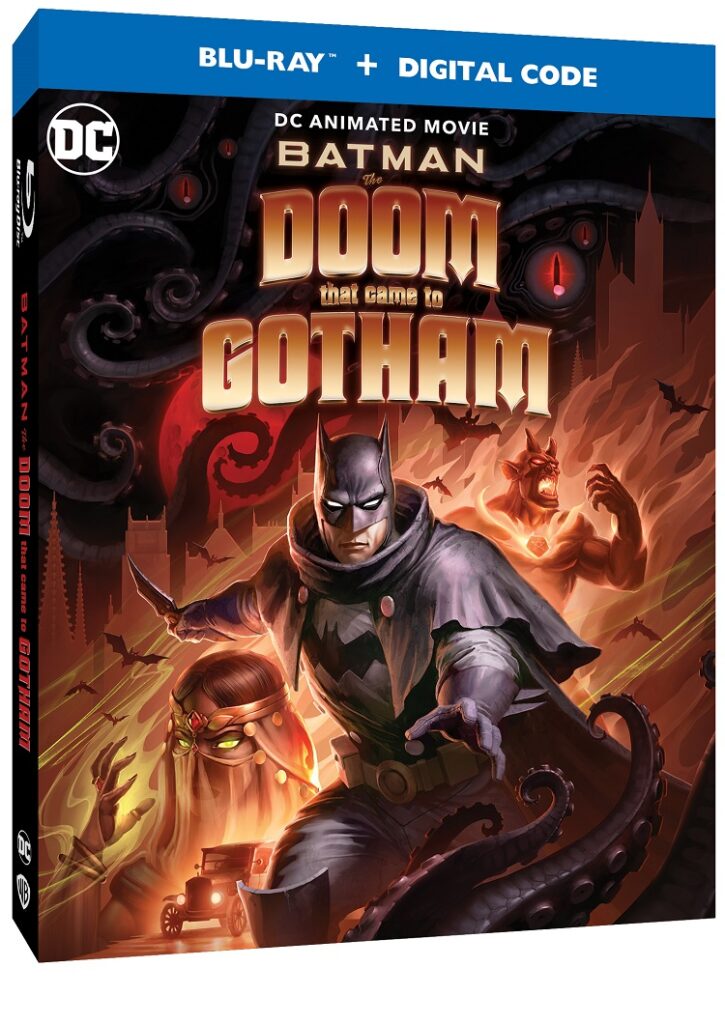 Based on the Elseworlds miniseries of the same name written by Mike Mignola and Richard Pace, Batman: The Doom That Came to Gotham places Bruce Wayne et al. in 1920s Gotham for a compelling tale of Lovecraftian horror. While the movie will not be for all superhero fans, the story presents a unique take on Batman.
Investigating an Anarctic expedition led by Professor Cobblepot, Bruce Wayne (David Giuntoli) and his team discovers almost everyone dead, except Grendon (David Dastmalchian), although he's close to it as his body is like that of a zombie. Before Bruce found him, Grendon went mad and cut his eyes out in order to serve a monstrous creature from beyond. Bruce interacts with this supernatural creature and decides it's time to return to Gotham after a 20-year absence.
Talia al-Ghul (Emily O'Brien) and her cult seem to serve the same monster as Grendan. She seeks the resurrection of her father in order to open a portal for the creature to come to Gotham. Familiar characters appear to both help and hinder Bruce on his mission. A man of science, Bruce must accept mystical help, from Green Arrow's (Christopher Gorham) weapons to Oracle's (Gideon Adlon) paranormal gifts which reveal unexpected Wayne family secrets.
Having not read the comic, I can't make any comparisons, nor am I knowledgeable about Lovecraft's work and how well aspects have been adapted. Seeing the material with fresh eyes, I appreciated this genre mash-up. On occasion, it felt like some characters are more of an Easter egg than being integral parts to the story as they aren't given enough to do. For example, the story doesn't require three wards for Bruce.
The video has been given a 1080p/MPEG-4 AVC displayed at an aspect ratio of 1.78:1. The color palette is understandably dark for this gothic horror tale. Inky blacks fill the night skies and make up the shadows. The colors are seen in subdued hues. Objects appear with as much detail and depth as animators drew. Image looks free from defect or artifacts. The audio is available in DTS-HD Master Audio 5.1. Dialogue sounds clear. The effects blend moody ambiance with direct effects. The subwoofer supports the action and music with a solid bass rumble.
The Special Features are:
Audio Commentary – A join discussion with producer/co-director Sam Liu, writer Jase Ricci, DC creative director Mike Carlin, and producer Jim Krieg.
Batman: Shadows of Gotham (13 min) – A behind-the-scenes featurette of the making of the movie.
Previews – Not sure "Preview" is the right word as we have already reviewed Batman: Gotham by Gaslight (8 min) and Superman: Red Son (11 min).
From the DC Vault – The two-part "The Demon's Quest" from Batman: The Animated Series was adapted from "Daughter of the Demon" from Batman #232, June 1971, and "The Demon Lives Again"from Batman #244, September 1972, both by Denny O'Neil and Neal Adams. With the antagonists being Ra's al Ghul and daughter Talia, including these episodes make sense,but it's disappointing for those who bought last year's Batman and Superman: Battle of the Super Sons, which also included them.
For those who enjoy or are open to trying supernatural horror stories, Batman: The Doom That Came to Gotham is well worth investigating. The Blu-ray delivers a satisfying high-definition experience although it's a bit light on extras, especially for DC Animated Movie collectors.