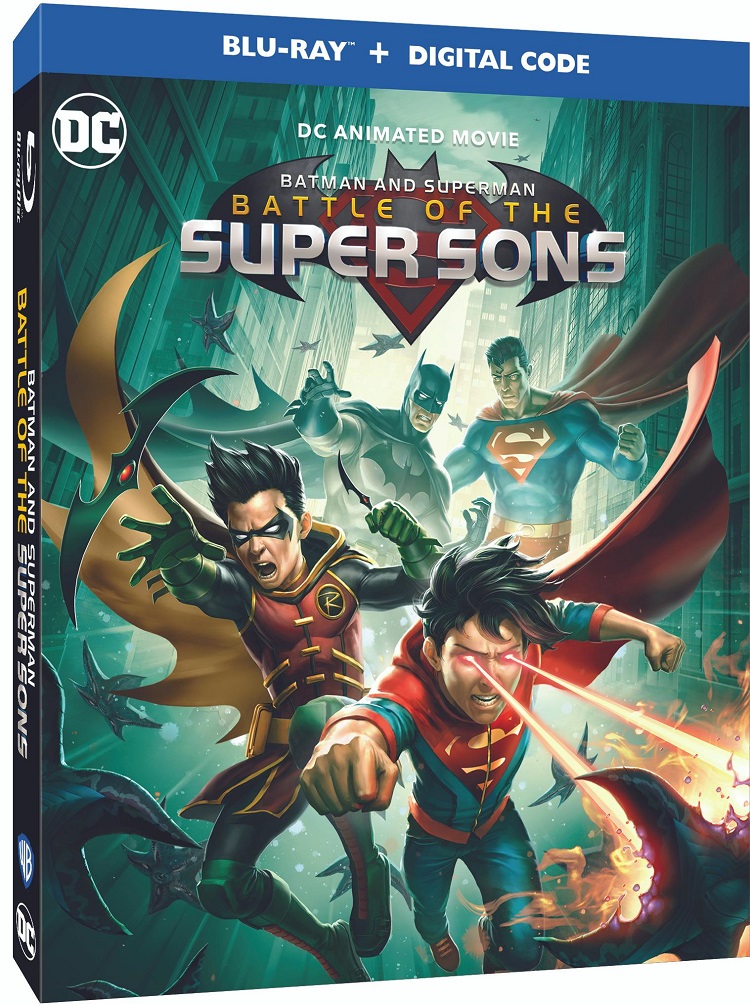 Batman and Superman: Battle of the Super Sons is a standalone film in the DC Animated Movie franchise. The titular Super Sons are Damian Wayne, son of Bruce Wayne and Talia Ghul, the daughter of Batman nemesis Ra's al Ghul; and Jonathan Kent, son of Clark Kent and Lois Lane. Their abilities and powers are similar to that of their respective fathers. With its focus on the kids, the film seems more geared toward a younger audience than most of the DC Animated Movies.
The two main characters are opposites. The Kent family lives on a farm in Smallville. It's not until Battle that Jonathan learns about the secret identity of his father and about his own powers, which are slowly manifesting in stressful moments. Damian is the latest Robin and works with his father fighting crime in Gotham. He was raised by his mother and grandfather to be an assassin and Bruce is trying to curb that instinct. That darkness within clashes with Jonathan's sunny disposition.
Battle opens with Superman's origin story slightly altered as a starfish attaches itself to baby Kal El's rocket ship before it leaves Krypton. The ship's velocity causes the starfish to lose its grip in space before Kal El lands on Earth. It will eventually evolve into a giant creature that can control the minds of other beings infected by parasitic starfish. It makes its way to Earth and slowly begins infecting the Justice League, including Batman and Superman, and other humans. This leaves Damian and Jonathan to fight against Starro and save their fathers.
The story by Jeremy Adams is a good combination of superhero antics and family drama. Of the two sons, Jonathan has the more interesting story. He has an absentee father whose job takes him away and later has to come to grips with who his dad is as well as his own burgeoning powers. His first adventure as a hero isn't a simple one, either. This is no super-powerless burglar hiding in an abandoned building like Peter Parker had to deal with. Starro is a mind-controlling alien, who easily defeated his father, the Justice League, and the Teen Titans, orbiting the Earth on the JL's satellite.
Damian is too much a jerk at the outset. I understand the reason for him to be very different from Jonathan, but he is so cavalier and unlikable that he isn't much different from a villain, and it's hard to believe Bruce allowed him to become Robin. Damian pushes Jonathan into a Batcave crevasse to force his flight powers into action, but had it not been for Superman, Jonathan would have died. The character softens as the film progresses, but his personality still grates in the final sequence
The last action against Starro references an earlier scene and shows Jonathan's growth. However, it comes off as silly. Also, it's not clear why Clark knew Jonathan would know what he wanted. This moment is one of the reasons the movie feels intended for children.
The video has been given a 1080p/MPEG-4 AVC encoded transfer displayed at an aspect ratio of 1.78:1. The colors across the spectrum pop in bold hues, reminiscent of a comic book. Blacks are inky and whites are accurate, which helping deliver a strong contrast. Some backgrounds have been blurred to create a sense of depth.

The audio is available in DTS-HD Master Audio 5.1. Most dialogue is clear, but when Starro speaks, his vocals are purposely distorted. The score by Kristopher Carter, Michael McCuistion, and Lolita Ritmanis fills the surrounds, and demonstrates both ends of the dynamic range, depending on the scene. Objects pan across channels. The track rattles to distortion during a POV shot flying across the erupting Krypton.
The Special Features are:
Rival Sons: Jonathan and Damian (15 min) – The movie's making-of featurette explores the characters and the production.
From the DC Vault: Batman: The Animated Series: "The Demon's Quest" – This two-part episode adapts "Daughter of the Demon" from Batman #232 and "The Demon Lives Again" Batman #244 in an story where Batman must team up with then fight against Ra's al Ghul in their first encounter.
Batman and Superman: Battle of the Super Sons is an enjoyable, all-ages superhero story that succeeds more than it stumbles. The Blu-ray's high-definition presentation should leave viewers content. The Special Features offer background on the characters but no previews of what's to come from the franchise. It is also available as a 4K Ultra HD Blu-ray Combo Pack and on Digital.