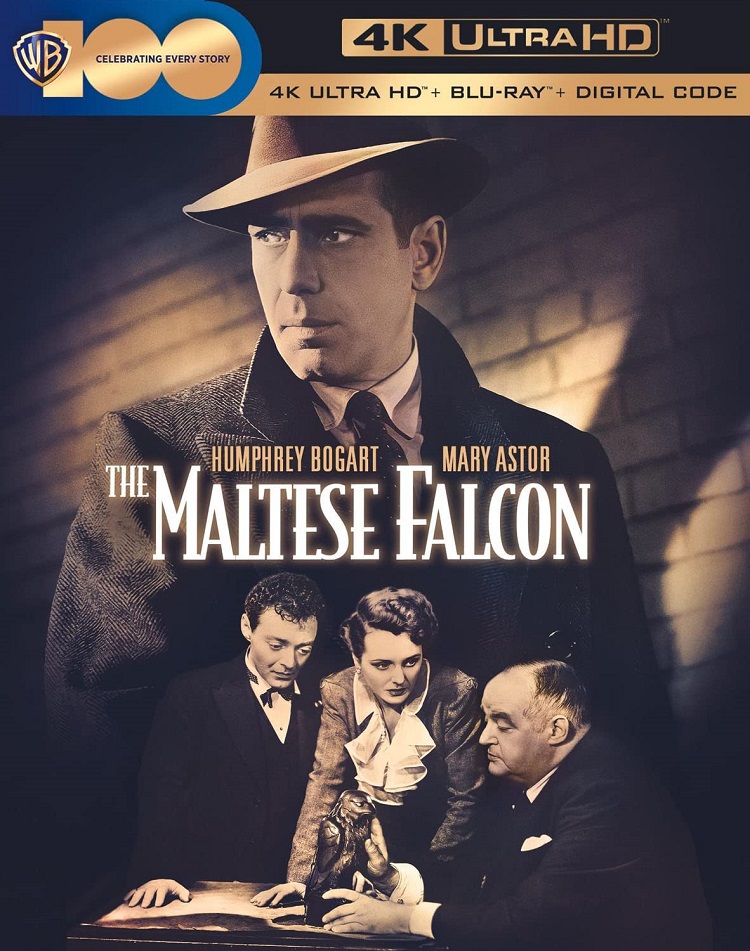 Sam Spade, Ruth Wonderly, the Fat Man, Joel Cairo, Wilmer, and Effie are timeless characters that inhabit The Maltese Falcon, John Huston's legendary 1941 film noir masterpiece and adaptation of the celebrated Dashiell Hammett novel. However, there's nothing much else I can say about the film that hasn't been already said. It's perhaps the epitome of noir, a landmark film of the 1940s, and basically one of the greatest movies ever made. The Falcon at the center of the obsession of many of the characters is the stuff of movie lore (besides Dorothy's ruby red slippers of course), and creates an eponymous and famous "MacGuffin" (a famous term for many Hitchcock plots) that movie lovers still discuss to this day.
There have been two previous iterations of Hammett's novel, the original 1931 version (starring Richard Cortex and Bebe Daniels) and the 1936 dull Bette Davis vehicle Satan Met a Lady, but the 1941 Huston film blew past those two and is now a noir staple.
Bogart (in perhaps his most iconic performance, at least before Rick in Casablanca) plays Sam Spade, a tougher-than-nails private detective who is swept up in crime and intrigue when his partner is murdered and gets involved with mysterious femme fatale, Ruth Wonderly (Mary Astor), one who is a part of the group of high-living lowlifes who will do anything to get their hands on a jewel-encrusted falcon.
Whether you care for the plot or not isn't important; it's the twists and turns of the entire thing that take the audience for a ride. You also get one of the most iconic final lines in film history, "The stuff that dreams are made of." This is a solid film that should be one of the essentials to watch if you want to get into classic cinema.
Making its 4K UHD debut this week, the special features aren't new, and there's a few missing features (including the two previous adaptations I mentioned earlier), but the ones that are here are still kind of fun. They consist of a commentary by Bogart biographer Eric Lax; The Maltese Falcon: One Magnificent Bird featurette; Breakdowns of 1941 blooper reel; makeup tests; Becoming Attractions: The Trailers of Humphrey Bogart; Warner Night at the Movies short subjects gallery; and three radio adaptations. [Read Kent Conrad's review for more]
Other releases:
Cool Hand Luke (Warner Bros.): the new 4K UHD release of the 1967 classic prison drama starring the great Paul Newman in one of his iconic roles as Luke Jackson, a laid-back Southern man who is sentenced to two years of hard labor in a rural prison, but absolutely refuses to conform.
Midnight Run 4K UHD (Shout Factory): Robert De Niro and the late Charles Grodin star in this classic 1988 crime comedy as Jack, an ex-cop turned bounty hunter, and Jonathan, the sensitive accountant who stole $15 million, gave it to charity, and then jumped bail. If Jack can deliver Jonathan from New York to L.A. on time, he will get a cool $100,000. But the road to wealth is paved with nails as both the F.B.I. and the Mob are after them.
Aftersun (A24): A young girl reflects on a holiday she took with her father (Paul Mescal) twenty years earlier. During this time, she tries to reconcile the father she knew with the man she didn't.
Keane (Grasshopper Film): Damian Lewis stars as Keane, a mentally unbalanced man who roams the Port Authority Bus Terminal in New York City, looking for his missing daughter. When he's not roaming the streets, he uses his meager savings to stay in a cheap hotel. From there he meets Lynn, a single mother with a daughter, Kyra, almost the same age as Keane's missing child. As he grows closer to Lynn and Kyra, he starts to see the young girl as instrumental in deciphering his own loss.