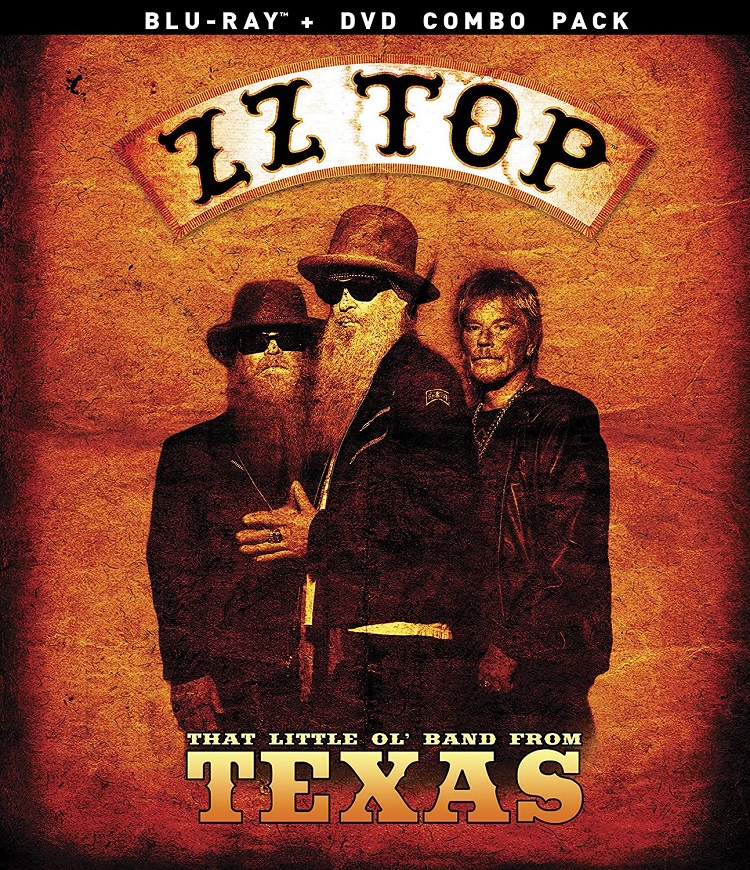 ZZ Top: That Little Ol' Band From Texas is a documentary that tells the story of the band, from their origins through to 1983's Eliminator, their eighth and most commercially successful studio album. Guitarist Billy Gibbons, bassist Dusty Hill, and drummer Frank Beard sit for separate interviews until finally being gathered together for the final few minutes of the film. Throughout, there's a lot of cool archival footage and famous fans such as Billy Bob Thorton, Josh Homme, Steve Miller, and Dan Auberach also share their thoughts.
Dusty Hill, an Elvis fan, grew up in Dallas. While kids, he started singing and playing bass with his brother Rocky, who recruited Beard as their drummer. The two clicked as a rhythm section, but Dusty got burnt out and quit. Beard with wife and baby in tow headed to Houston where he learned of Gibbons.
According to Gibbons, the band 13th Floor Elevators, with their psychedelic sound, influenced the whole Texas music scene. His band, The Moving Elevators, had a hit song with "99th Floor" and opened for bands such as the Jeff Beck Group, The Doors, and The Jimi Hendrix Experience. After the Hendrix tour, a couple band members were drafted, so the remaining guys formed a trio and renamed themselves ZZ Top.
Gibbons claims the organist left for a TV show being pitched called Mork & Mindy, which seems about 10 years too early, so it's not clear if he's joking around. The drummer also left and soon after, Beard found Gibbons and coerced him into jamming. Beard says they played for hours but Gibbons says he was impressed immediately. Beard suggested Hill and they jammed on a shuffle in C, allegedly for three hours.
They toured incessantly, but manager Bill Ham was strict, not allowing interviews, TV appearances, or working on other people's records. The audience gets to briefly learn how they worked in the studio creating their sound. "La Grange" broke them big on the radio, and they they got to open for the Rolling Stones in Hawaii.
Two years later, they went out on their Worldwide Texas Tour, bringing the Lone Star to masses. Afterwards, they needed a break and the initial three months off turned into two years. During that time, Beard, who honestly speaks about the pleasures he got from drugs in addition to the problems, went into rehab to get sober. Hill has a similar experience related to fame and to get grounded, he took a job working at an airport under an alias. Gibbons explored Europe.
When they reunited, Gibbons and Hill had grown their beards and the band began to expand their musical palette. This led to them making an album that was considered a departure from their sound but they wanted to experiment and stuck to their guns, and were proven right with the release of Eliminator, which was buoyed by videos that played on MTV.
Oddly the story pretty much ends there with just brief mentions of their Super Bowl halftime appearance and Rock and Roll Hall of Fame induction. Surely, the remaining 36 years have more story to offer, but it isn't to be told here.
The video is available in a 1080p/MPEG-4 AVC encoded transfer in an aspect ratio of 1.78:1. Modern-day footage looks sharp with accurate colors. The archival footage is in varying degrees of quality. The audio is available in LPCM Audio and DTS-HA Master Audio. Dialogue is clear and the music sounds robust. Hill's bass lines have power and your can hear the intricacy of his riffs on "I'm Bad, I'm Nationwide."
The bonus material features include four songs recorded for the documentary at "Gruene Hall" (18 min): "Shuffle in C / Fannie Mae", "La Grange", "Brown Sugar", and "Blue Jean Blues". From the "Ham Estate Archive" (17 min) are performaces are concert performances of "Thunderbird", "Tush" from 1976, "Beer Drinks & Hell Raisers", "I'm Bad, I'm Nationwide", and "Manic Mechanic" from 1981.
Available on Blu-ray, DVD, and digital download, ZZ Top: That Little Ol' Band From Texas serves as a very good introduction to the band and their music, painting them in a very positive light regardless of how accurate that may be. It will definitely make you want to listen to more of their blues-influenced rock music and appreciate the fellows who made it. Thankfully, the bonus material allows for that.