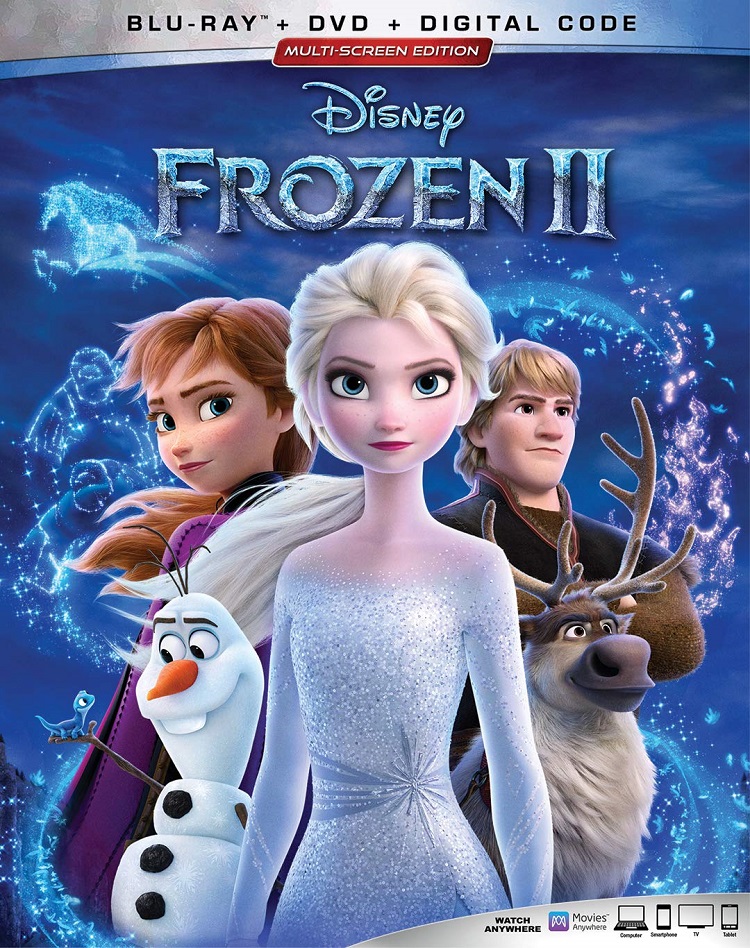 Frozen II represents a new pinnacle in feature film animation, with dazzling artistic and technical prowess, a surprising and engaging story, and the total mastery of its returning cast, directors, and songwriters. The only possible explanation for its absolutely shocking omission from the list of Oscar animated film nominees is lingering Frozen fatigue six long years on from the original blockbuster phenomenon, even though two other franchise sequels made the cut and the far inferior Toy Story 4 took the prize.
Returning screenwriter and co-director Jennifer Lee has crafted a rewarding tale that kept me intrigued to the end. While she could have been content just letting her creations sing and dance around the familiar snowy kingdom of Arendelle, she instead settled on a fascinating autumn quest of discovery for Queen Elsa that takes all of the principal characters into the unknown magical northern wilderness populated by a mythical tribe of isolated people. Once there, Elsa continues even further north in a solo attempt to discover the meaning of her powers, an adventure that leads to a total change in her direction in life.
Meanwhile, Princess Anna's boyfriend Kristoff is trying to find the right time to propose to Anna, while snowman Olaf does his Olaf stuff for comic relief. Anna is really the only main character that doesn't get utilized to her full potential, as she's along for the ride but doesn't expand her own story in a meaningful way. While that seems like a bit of a missed opportunity, there's just so much focus on Elsa's journey that it takes up the bulk of the film's generous run time.
As for the songs by returning songwriting duo Robert Lopez and Kristen Anderson-Lopez, they're lyrically strong with some catchy melodies, but nothing reaches the once-in-a-lifetime heights of "Let It Go." While many songs got discarded during the long development process, one clunker unfortunately made the cut: a dreadfully out-of-place power ballad by Kristoff (Jonathan Groff) and a chorus of reindeer (also all Groff). Idina Menzel shines in her two big Elsa showcase numbers, while Kristen Bell delights in her numbers as well. Josh Gad mostly entertains as the borderline abrasive Olaf, while new arrival Evan Rachel Wood surprises with her strong vocal chops in a flashback as Anna and Elsa's mother. The songs are great and well above any other movie musical numbers released last year, although at times they play just a bit too theatrical for a film, as to be expected due to the lengthy musical theatre background of the songwriters.
The film is a technical marvel, with the gorgeous fall scenery rendered in incredible detail and a big improvement in lighting that particularly favors the characters, making their skin appear almost translucent. There's a point in the bonus features where the directors point out that the look of their fall forest scenes was directly inspired by Sleeping Beauty, and while it's meant as a compliment, the contrast of the original hand-drawn animation to this film's total refinement of the art form is jarring and a strong reminder of just how far animation has advanced.
The bonus features include incredibly revealing looks at the multiple scenes and full songs that were dropped from the final film, giving fans the chance to see and hear what might have been. Each item is introduced by co-directors Jennifer Lee and Chris Buck, providing further insight into their process in ultimately omitting them from the film. Of special note is an alternate opening prologue that further develops the story of Anna and Elsa's parents, an exciting take that would have been a fine start for the film. The deleted songs are fun, but wouldn't have done much to move the story forward.
Other bonus features include an alternate sing-along version of the film, some funny outtakes from the voice recording studio, an in-depth look at the creators touring Nordic countries for inspiration for the film's scenery and spirits, music videos by Panic! At The Disco and Weezer, early CG and hand-drawn test footage for the air effects of Gale the wind spirit, "Into the Unknown" sung in 29 languagues, a peek inside the score recording studio, and some interesting trivia pointing out Easter eggs scattered throughout the film. It's a dizzying and wholly satisfying array of bonus content that makes this release a dream come true for collectors.