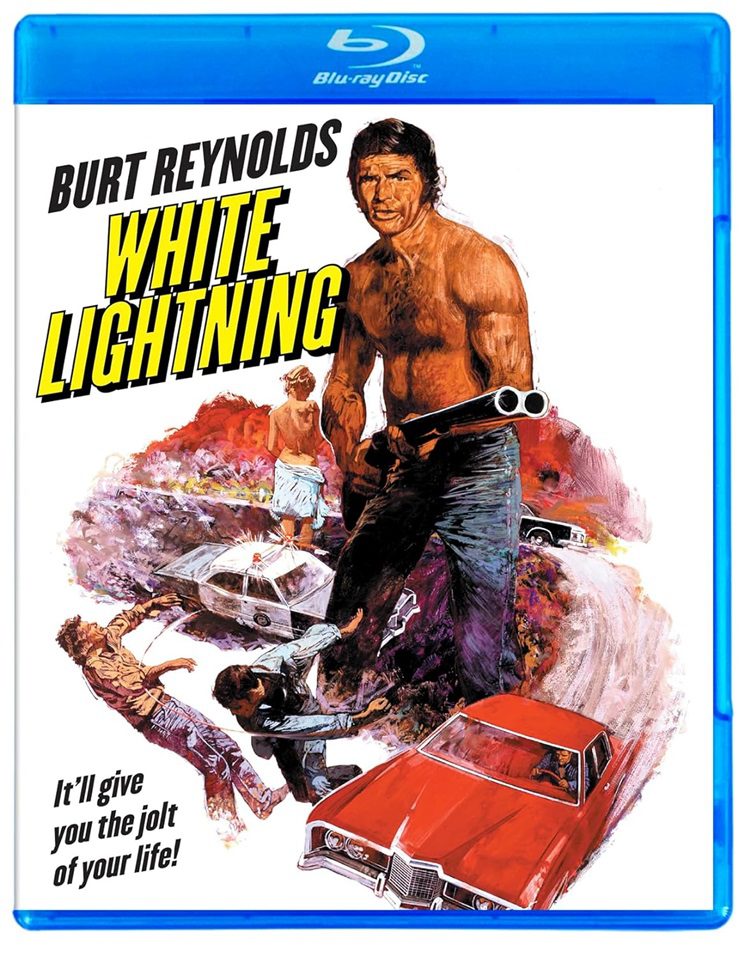 Burt Reynolds ruled Hollywood in the 1970s. Starting with Deliverance in 1972, he made a string of hits and remained one of the top box-office draws for the remainder of the decade. In 1973, he starred in White Lightning as an Arkansas moonshiner. It was a huge hit and helped create the rascally, Southern charmer persona he'd stick with for most of his life. It also was the first of many movies he'd make in the South.
White Lightning is a swaggering, sweaty, redneck film full of bootleg whiskey, car chases, pretty girls, and murder – call it "hicksploitation." Except it is also strangely meditative. I mean it isn't a Tarkovsky film or anything but for a 1970s film called White Lightning in which Burt Reynolds plays an Arkansas moonshiner racing around in a hot rod automobile, it spends a lot more time just hanging out with its characters than you'd imagine.
Reynolds plays Bobby "Gator" McKlusky, a man who begins the film doing a four-year stretch in the state penitentiary for running bootleg whiskey. When he learns his brother has been murdered, he tells the feds he can help them catch the corrupt sheriff (Ned Beatty) of Bogan County, Arkansas on his illegal finances because he's the one who most likely ordered his brother's murder. It is a lot of fun. It is more of a hang-out movie than an action-packed exploitation flick, and it is all the better for it.
This is a film where early in its runtime Gator cruises into his hometown and heads toward his parent's house. Along the way, a couple of pretty girls holler out to him. Gator slows his ride down, but never comes to a complete stop (irritating the cars behind him). The girls walk beside him and they all flirt for a few minutes. We never see those girls again, and nothing they say moves the plot forward. It is just a nice little moment, allowing Gator's and the film's personalities to shine through. I wish more films took the time to do this sort of thing these days.
He then visits his parent's farm where we learn his mother was upset over his incarceration and begs him to stay out of trouble. His father is more upset over the fact that he's now going to work with the Feds than he was over Gator's time in jail. We never see them again either; it's just another character beat.
The plot finally gets rolling when Gator comes to Bogan County. There, he meets Dude Watson (Matt Clark), a local stock car racer and moonshine runner who is being forced by the Feds to cooperate with Gator. They do some running, and play some pool, and slowly, Gator is introduced to all the local players in the bootleg-whiskey market. But first Gator; Dude; and Dude's girl, Lou (Jennifer Billingsley) spend a little time out at Dude's secluded cabin on the lake where Gator and Lou find a little time to themselves.
Did I mention this movie takes its time moving along? But it is never slow. The characters are interesting, and I enjoyed hanging out with them. Also, there are car chases and shootouts. The Feds give Gator a sporty-looking Ford LTD and the film treats us to numerous racing scenes. The moonshiners are bad dudes and once they learn Gator is working for the Feds, they all try to kill him. So, yeah, this isn't some kind of slow cinema where nothing happens, it just isn't action scene after action scene. It allows us to live in this world alongside Gator and spend time with him in between the action scenes. That makes the film so much more interesting than if everything was high-octane all the time. We'll see more of what that looks like in the sequel.
Extras on this Kino Lorber blu-ray include an archival interview with Burt Reynolds, audio commentary from historians Steve Mitchell and Nathaniel Thompson, TV spots, and trailersB