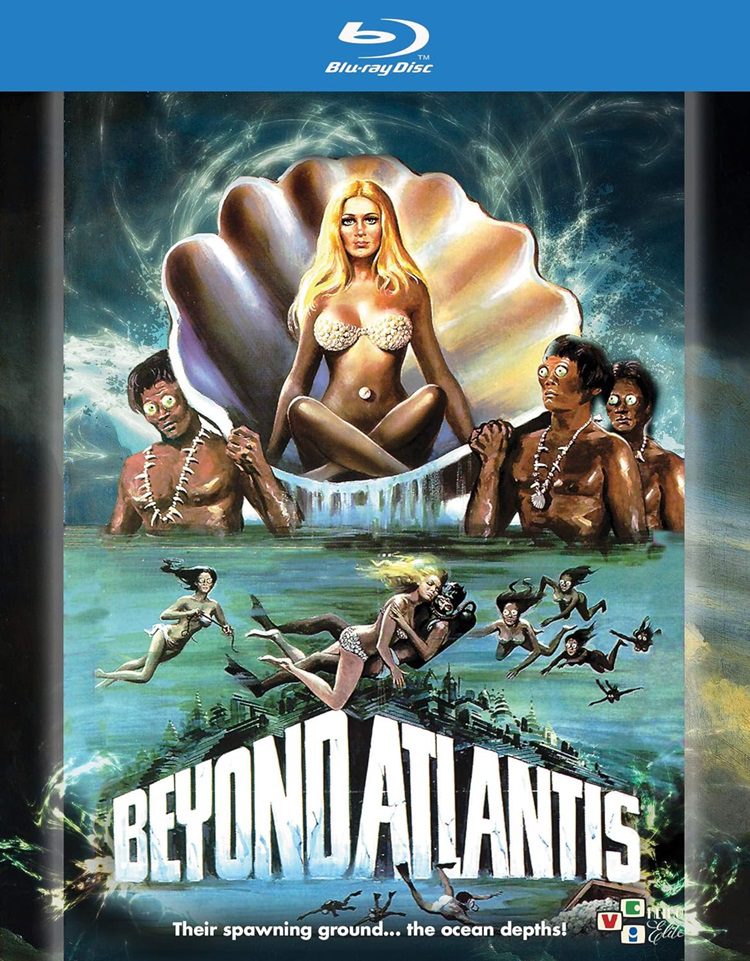 John Ashley and Patrick Wayne team up with Sid Haig to hunt rare pearls in Beyond Atlantis (1973). There's thrilling action and adventure while sexy women clad in fur bikinis perform a beautiful underwater ballet among the beautiful coral. There's chills as the half-human, half-fish sea people defend their island home against all outsiders but they do seek one special male to mate with their gorgeous heir to the throne. It's beyond bad but it's also entertaining as all get out. So don your best Jacques Cousteau accent and come along as we explore the underwater ode to The Treasure of the Sierra Madre that is Beyond Atlantis.
Diver/hustler/degenerate Logan (Ashley) finds himself in need of money and East Eddie (Haig), a local pimp/crime boss has a proposition for him. Eddie has come into possession of some very rare pearls and has access to more but he needs help getting them. Vic Mathias (Wayne), local diver, former "frog man," he owns a boat and equipment, so he's lassoed into the search for the white gold. As the three plot their endeavor, a monkey wrench in the shapely form of scientist Dr. Kathy Veron (Lenore Stevens) gets thrown into the works. The good Doctor Kathy believes the pearls may be connected to the fabled inhabitants of Atlantis. She is also a major help when looking for East Eddie's connection to the pearls, because as we find out she's able to speak slowly while making a circular motion with her hand that enables her to be understood more easily by the locals. 
After locating and slapping around the fisherman (the always amusing Vic Diaz) who brought Eddie the pearls, our adventurers get the info they desire and set sail for the mysterious island locale where the precious pearls can be found. Once the island is spotted, the real fun ensues as they encounter a whole race of fish-eyed "half humans" (bad pearl/clam shell goggles with a hole poked in them) who want no intruders to their tropical home. These mutants who can hold their breath extremely well underwater are led by a Poseidon-like pure human (George Nader) and his super sexy blond daughter cleverly named Syrene (Leigh Christian). She needs to take a mate in order for her whole race to survive and she chooses Vic. Too bad Vic's already fallen for the lovely doctor. This love triangle not only sets the plot on a different course but sets off the little mermaid's jealous streak which leads to the adventure's explosive, deadly climax. 
Filmed in the Philippines by director Eddie Romero, Beyond Atlantis is an action/adventure movie with a somewhat misleading name as I expected to see more of the lost city of Atlantis elements and some cool sci-fi stuff. What we get is a reworked, mangled Treasure of Sierra Madre at sea as the three adventures get caught up in greed and stupidity as they round up pearls. Its alternate title of Sea People is way more fitting but way more lackluster as well.  These Atlanteans have long lost any fancy technology they may have possessed and live like primitive islanders in reed huts, who eat with spoons made from seashells. They do make some pretty fierce-looking long knives and spears from the local materials though.  
Continuity errors are as abundant as palm trees throughout which detract from the movie, making it hard to watch at times let alone take seriously. Ashley's got a good growth of beard in one scene and gone the next only to reappear in the following. It's a bright morning on the beach but dark as midnight 100 yards away in the open air temple. The action and special effects are mediocre as well, and coupled with the weak plot explain why there's so many of those underwater ballet scenes set to decent music. I like to think that Mr. Cousteau would be amused to watch the stunning Miss Christian and the bikini-clad Lenore Stevens, along with the other attractive young swimmers, frolic past beautiful coral and exotic sea creatures in imitation Busby Berkeley fashion. Hubba. Hubba. 
Truly though, those two foxy '70s cuties who make underwater whoopie to the ever cool Patrick Wayne, are pretty much the high point of this maritime adventure. Not to take anything away from Sid Haig as he turns in a fine performance as likable baddie East Eddie and Ashley does well as he plays against type as the hustler that goes insane, "Daffy Duck in Ali Baba Bunny" style at the end. Also one can never overlook the ubiquitous Vic Diaz, aka "the Filipino Peter Lorre" as he does his big-eyed, good-natured, slow-witted, slightly creepy, goofball thing. 
The audio commentary by Howard S. Berger and Andrew Leavoid is an informative look at the history of Filipino/Pinoy films of the late '60s/early '70s. These two really know their stuff when it comes to the films in that genre. It's interesting to hear about the work of director Romero and others like him who have had more than a few films pretty much lost to time now and only possibly survive on obscure VHS copies somewhere. They cover many of John Ashley's movies and how he got involved with the Filipino film world. There's lots of fun facts and anecdotes offered as they dive deeper into the subject and the movie. Their commentary is filled with good stories about Wayne and the other cast members as they detail how they got their parts in this movie and some of their others that they were involved in around the same time. An amusing note is that Ashley believed the film would have been better if they could have "gone harder," adding topless scenes and gaining an R rating instead of the PG that Patrick Wayne insisted upon before joining the cast. 
This edition from VCI Entertainment and MVD Visual is dubbed the "Su-Pearlative" combo as it comes with both a Blu-ray and a DVD. Both have the same special features with slightly different menus and backgrounds. 
Bonus features include
2018 Commentary by writer and filmmaker Howard S. Berger and Pinoy film historian Andrew Leavoid
Liner notes/essay by Howard S. Berger
Video interview conducted by director Mark Hartley featuring Eddie Romero, Sam Sherman, Patrick Wayne, Peter Tombs, Eddie Garcia, Gloria Hendry, Sid Haig, Jan Merlin, and others…
Original theatrical trailer and TV spots
Beyond Atlantis is that great example of a movie that's both bad and actually kind of good that I'd for sure spend another 91 minutes and watch this again some day. Okay, well maybe not exactly good but definitely enjoyable for what it is: a low budget, B grade, adventure picture with a decent cast, exotic tropical locales, plenty of beautiful women swimming around in a wonderful underwater ballet, and not one but two gorgeous featured foxes.