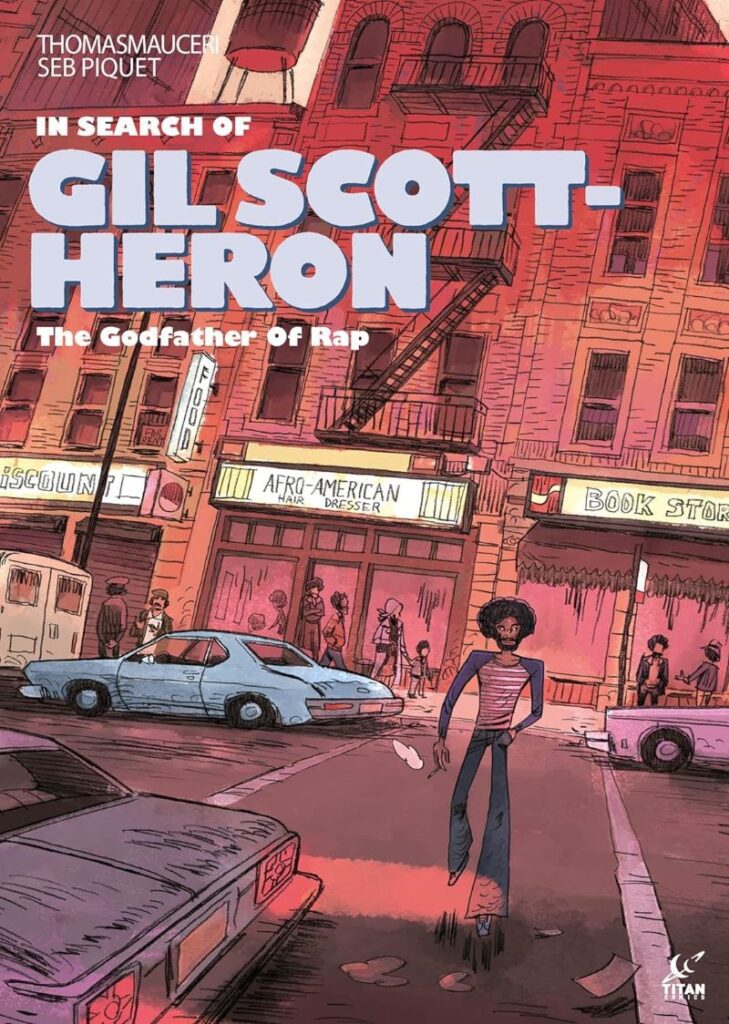 Less a biography than a MacGuffin hunt, writer Thomas Mauceri details his years-long quest to track down and interview the elusive and seminal musician in this intriguing graphic novel. Artist Seb Piquet provides loose, free-flowing artwork suitably matched to the subject of the work.
Poet, singer, raconteur, crack addict, ex-con, Scott-Heron packed a lot into his abbreviated life. While widely regarded as the godfather of rap due to his spoken word tracks in the 1970s, most famously "The Revolution Will Not Be Televised", he actually considered himself a bluesman and was uncomfortable with his association with hip-hop. As Mauceri recounts his attempts to connect with and understand the iconic artist, he skips around through Scott-Heron's history to shed some light on his remarkable career. However, he stops well short of pursuing a true biographical approach, only doling out tidbits of Scott-Heron trivia as bread crumbs to keep us following his quixotic quest to meet the man.
Mauceri longed to create a documentary about Scott-Heron, but bumped up against the painful reality that his subject was incredibly hard to nail down. In the later stages of his life, Scott-Heron was a drug addict, perpetually broke, constantly moving, and completely unreliable, making Mauceri's dream increasingly unlikely. Even when Mauceri finally arranged to meet him after a comeback concert in Paris, he was waylaid by train delays that forced him to miss the show, only to find that Scott-Heron also hadn't made it to the show due to customs issues in the U.S. We watch as Mauceri makes attempt after attempt to find someone, anyone, who can possibly get him in touch with Scott-Heron, only to come away disappointed when every potential lead comes to naught. 
Mauceri ended up being one of only two people who knew that Scott-Heron's health issues were terminal, coming within two hours of being on hand at his death bed and playing a key role in informing family members of his passing. Mauceri's series of near misses are heartbreaking, but also make for a fascinating look at the lengths one man will take to attempt to realize his dream. In a particularly moving passage near the end, he describes how he had hoped to film Gil Scott-Heron as Obama entered the White House, only to find himself finally starting filming without his subject eight years later as Trump took over. While Mauceri and friends cried over election night coverage in a restaurant, he was shocked to find a full club next door of patrons in their twenties partying to the latest hip-hop hits, totally uninterested in the election. "Two rooms. Two atmospheres. The godfather of rap, the enemy of television, must have been spinning in his grave".
Piquet's artwork isn't conventionally attractive, but is kinetic and expertly laid out. At first glance, readers might consider the art messy, with lines and colors escaping their panels and character models resisting any attempts at uniformity. Coloring is also haphazard, with panels and pages sometimes seeming like Piquet just grabbed whatever drab color was closest to slap on each panel. However, the more the pages fly by, the more his approach reveals itself to be perfectly matched to document the chaotic existence of Scott-Heron and Mauceri's futile attempts to find him. Scott-Heron's whole life was messy and colored outside of the lines, so Piquet's unique take ultimately benefits the work.
The Titan Comics edition comes in a sturdy hardcover with glossy paper. For readers feeling shortchanged by the lack of biographical information within the main story, there's a richly detailed 8-page discography that walks through all of his notable releases including production notes and reception.