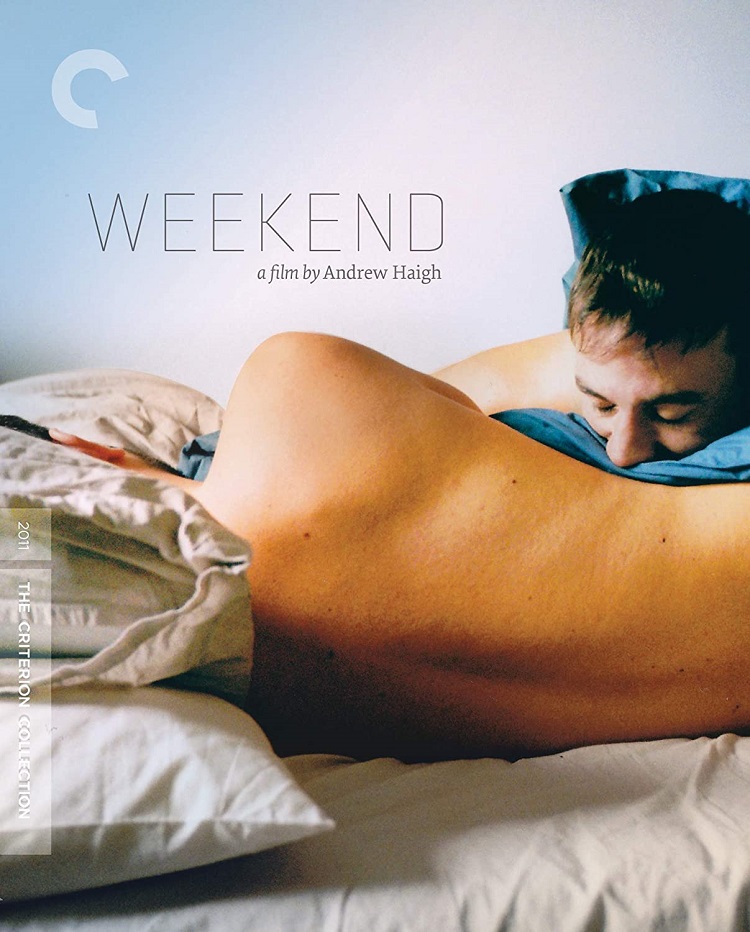 Weekend is a quiet, but candid, glimpse of how a seemingly fleeting attraction between two people with distinct identities can develop into a life-changing emotional bond if sincerity and openness are the instruments used to connect. Our pair in question, Russell and Glen, played by actors Tom Cullen and Chris New, share a fondness for hipster facial hair and a sense of fearlessness with regard to recreational drugs, but the manner in which they carry themselves, live their lives, and love their neighbors couldn't be more different. Russell is discreet, cautious, and somewhat conservative in relationships, whereas the antagonistic Glen, who uses his artistic temperament as his armor, has fully embraced his careless phase following the end of a long-term relationship.
The two meet at a gay bar, where Russell retreats after politely excusing himself from his best friend's house party. He seems out of sorts amongst his straight friends, but not fully comfortable at the bar, either. Dancing alone as though all he can hear is the friction audible only in his mind, he spies Glen looking on across the way. A cat-and-mouse scene ensues, but at the end of the night Russell is forced to make do with Glen's runner-up—an overly affectionate easy catch. In the morning, however, it's clear that Russell did end up getting what he was after.
You'd think it was a setup for a chain of events a bit trashier in nature than what actually transpires, but thankfully, writer/director Andrew Haigh is far cleverer and more thoughtful than that. Through a combination of dialogue that never sounds scripted and heartbreakingly genuine performances, the characters become unique and interesting people with pasts that shape, and sometimes mar, their present.
Haigh's masterful use of space creates a backdrop against which Russell and Glen can come into their own as individuals and as a couple. The private space, oftentimes provided by Russell's apartment, becomes a confessional where the men ultimately come out to each other in an emotional sense after mutual interrogation allows each to let down his guard. The public space, whether in a bar, or on a train platform, is where they're forced to negotiate their conflicted feelings with the reality that surrounds them—the difficulties of living in a straight world and of mixing with other gay people who, in spite of being lumped together as a single stereotype, assume widely varied lifestyles.
This is, indeed, a film about two gay men—and they do have a brief debate about gay marriage and divulge to each other when they were first caught in the act, as it were, exhibiting a preference for men—but it's mostly a story about how quickly love can flourish and what a struggle something so profound can be. What takes places over an autumn weekend in Nottingham, England, has the depth of something months in the making.
Certainly make it a point to watch the special features after viewing the film. In "Weekend," Haigh explains how the cinematography, and how contracting a female cinematographer, lent an element of tenderness to the story, making its storyline and appeal more universal. He also addresses criticism surrounding his characters' use of drugs, arguing that when a director makes a film about straight people, the options for character types are vast; but if the film is about gay people, the director is expected to represent the entire gay community—"which is impossible," he says.
In addition to the making-of documentary, the special features include Haigh's discussion of Weekend's sex scenes; Tom Cullen and Chris New's audition tapes; candid footage shot by New, and whomever else got a hold of the camera; a talk with Irish photographers Quinnford + Scout (Colin Quinn and Oisín Share) about their inspiration for the look of the film; and two short films (one featuring Dakota Blue Richards from the third series of Skins UK) by Haigh that clearly illustrate his progression as an auteur.
Weekend, new to The Criterion Collection, is out now.