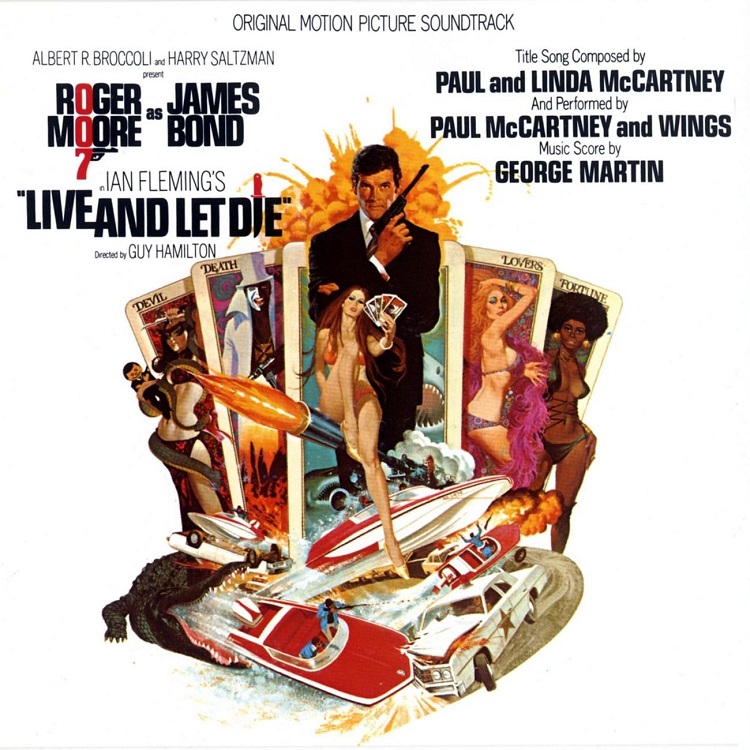 James Bond films are known for many things, especially the gadgets, the girls, and the music. John Barry's "James Bond Theme" from Dr. No has gone on to become one of the most iconic pieces of music in the history of cinema. The theme songs from the films have become so popular the announcement of the performer has become big event in entertainment news. Many of the biggest artists of the day are usually involved from Duran Duran to U2, from Madonna to Adele. Paul McCartney was asked to create the theme song for Live and Let Die, the debut of Roger Moore as James Bond. The song rose to #2 on the charts, and nearly 40 years later, it still regularly appears in McCartney's setlists. "Live and Let Die" is a favorite of a few Sentries, who offer their their thoughts on it.
Kit O'Toole
Few James Bond theme songs are remembered long after the movies end, but Paul McCartney and Wings' "Live and Let Die" is one of those rare instances. Long after its 1973 debut, the song remains a rock classic, a staple at McCartney concerts, and the subject of covers by everyone from Stan Kenton to Guns 'n Roses. Peaking at number two on the Billboard pop charts, it became one of McCartney's biggest hits. It also reunited McCartney with Beatles producer George Martin, who also arranged the song's orchestral elements.
Before the screenplay was finished, producers Harry Saltzman and Albert R. Broccoli asked McCartney to write the theme song for the next James Bond film.  They sent McCartney a copy of Ian Fleming's Live and Let Die novel, and McCartney penned the track from Fleming's story.  Recorded during sessions for McCartney's album Red Rose Speedway, "Live and Let Die" mimics the action in a typical Bond movie.  The song starts in a gentle tone, with McCartney crooning the introductory lines: "When you were young/ And your heart was an open book/ You used to say, 'Live and let live'."  But as the strings quiver and the horns gently enter the tune, the suspense builds until McCartney sings the title phrase.  Drums and cascading strings and horns echo explosions, painting an audio picture of Bond fighting his enemies. 
As he reaches the bridge, McCartney's voice takes on a rougher edge while virtually yelling the lines "What does it matter to ya/ When ya got a job to do, ya got to do it well/ You got to give the other fella hell!"  The horns and orchestration imitate previous Bond themes, recalling the retro sound of Goldfinger and other '60s Bond films.  Overall "Live and Let Die" contains all the bombast expected of an action film, not to mention a James Bond adventure; even so, the track endures beyond the movie.  From Wings days to his current tours, "Live and Let Die" continues to be a highlight of any McCartney concert.  When the fireworks explode at the appropriate moments and fans pump their fists in the air during the chorus, it's clear that "Live and Let Die" stands as one of the great Bond theme songs and an outstanding slice of pure rock. 
General Jabbo
"Live And Let Die" is my favorite James Bond theme song. While there have been other good ones, there have been some really bad ones as well (Madonna's "Die Another Day" anyone?) BBC listeners seem to agree. The track was recently voted the number one James Bond theme song of all time by BBC Radio 5 Live and Radio 2 listeners.
I am a second-generation Beatles fan who loves most things Fab Four-related, so it should come as no surprise that I love this song too. That being the case, I'm no blind loyalist either. Paul McCartney's written his share of schlock and not all of his soundtrack work equals this, as one listen to "Spies Like Us" will attest.
"Live And Let Die" has it all though. From the traditional McCartney ballad intro to its rocking main riff to its reggae-infused bridge to its classical music interlude, McCartney and Wings cover multiple genres with a fluidity matched by few others. The track also reunited the ex-Beatle with his former Producer, George Martin, who produced and arranged the strings. The song remains a staple in McCartney's live shows, with its bombast and explosions. What's not to like?
Mary K. Williams
During some of my teen summers, my family would rent a smallish cottage for a week or two on Cape Cod. As we grew a bit older, my parents decided to upgrade a large house, right on the water. It was a two-story ramshackle place, and must have had four or five bedrooms. You wouldn't describe it as "grand," at least not in the state we saw it in. It was structurally serviceable, but it was no beauty.
But to us, it was heaven.
A huge wraparound farmer's porch, opening to a large living/family room. Funny, I don't remember much about the kitchen. That's about how hand's on I was with the cooking. I think the floor was the standard, ugly, worn linoleum. The rest of the flooring was hardwood, scarred but still much more hip than the wall-to-wall suburban carpeting we had at home. And there was a chaise lounge! And a piano! And other exotic trappings of a real Cape beach house like an outdoor shower and thorny wild roses in the shrubbery.
Some of my most favorite memories come from those summers, especially in '73 and '74. As the nature of memories work, they come to me in flashes. My friend Lynn, an indispensable character in the story of my life, the two of us jazzed out of our minds at this chance to spend so much time with each other. And more memories come. In scenes, either a frozen tableau, or little film shorts of some sort of significant dialogue from that summer haze. My brothers, treating us as their equals, rare but genuine; my parents, finding some real relaxation amidst the stress of being responsible for kids plus friends.  And of course, the integral basics for any teen summer, beach, bonfire, and beers. And sometimes, there was a special boy or two.
In 1973, the James Bond film Live and Let Die had been released, and the theme song was getting a good amount of airplay, turning it into one of those "summer songs" The catchy tune performed by Paul McCartney and Wings was definitely popular at our place. And one of my warm memories involve this song, and a rather pathetic experiment to catch a covert buzz.
I think we had some family friends visiting us, and some of our group prevailed upon the older siblings to snag us some beer. I remember being on that fantastic porch, with the Bond song in the background, making a kind of lunatic cocktail of coke and beer. Not with one chasing the other, but the two beverages mixed. In one glass. Not shaken, only awkwardly stirred. Gross! But it didn't matter. We were agents 000: Licensed to Swill. Emboldened by McCartney's entreaty to "Live and Let Die" we were giving a mild-mannered F.U. to the establishment, and it felt good.