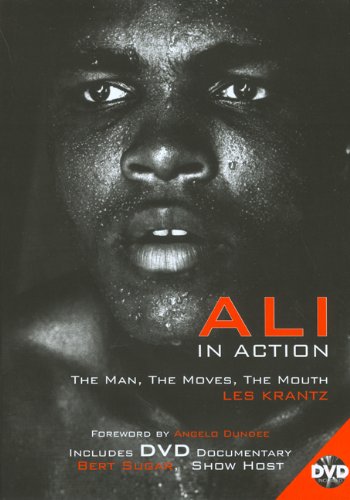 Ali: The Man, The Moves, The Mouth is full of the same content we have seen in every other documentary on Ali. Nothing new here.
There is no question that Muhammad Ali was the greatest fighter of the 20th century and his personality endeared him to a generation, but did we need another documentary on his career? Having Bert Sugar involved certainly makes this project more attractive, but relegating this legendary writer, sportscaster, and boxing historian to narrator rather than allowing him to regale the audience with insightful stories was a simple waste of resources.
This latest release which became available on July 24th 2012 from Facts That Matter studio is certainly not without merit. It is a well-paced and enjoyable documentary on the life and career of Muhammad Ali. The challenge is that much, if not all, of the material has been seen before. There is virtually no acknowledgement of Howard Cosell, who appears in a few segments, but the failure to mention him or his involvement with Ali and his career is distracting as one is left to speculate as to the reason for the exclusion. At only 60 minutes, the film is far too short, and as it rushes through the end of Ali's career and feebly attempts to bring the audience up to date on the life of the champ, it appears that perhaps the producers ran out of money or time, and left us with an incomplete story.
Where the documentary succeeds and distinguishes itself from other projects is in the early years of the champ's life with footage of Ali in Golden Gloves competitions and the Olympics. The true fan will be thrilled by the sight of a youthful and energetic Cassius Clay sporting his gold medal with pride. Where the documentary fails is in providing us with the insight that Bert Sugar obviously possesses, and by providing more detail and footage of the end of the champ's career and life after boxing.
The documentary looks and sounds great, but contains no bonus material.
Recommendation: Where is the other disc with the rest of the material!? This release is incomplete. If you've never seen a documentary on the career of Mohammad Ali, you could certainly do worse, but, if you are looking for new material and insight, finding it here will be as challenging as trying to connect with Ali in the ring.