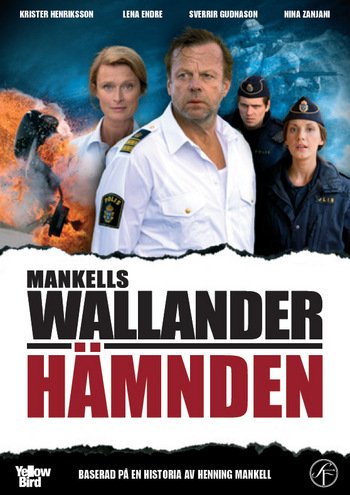 Believe it or not, Stieg Larsson didn't corner the market on Swedish crime fiction with his Dragon Tattoo (aka Millenium) series. In fact, author Henning Mankell's Wallander character has a much more storied and extensive bibliography and filmography. Now Wallander is venturing onto U.S. film screens in this premiere installment of his latest Swedish series. Even better, while much of the character's previous filmed output has been based on Mankell's original novels, here Mankell himself contributes an entirely new story exclusive to the screen.
That story opens with a fantastic setup when the moderately sized town of Ystad, Sweden, is plunged into total darkness and near helplessness in the aftermath of a presumed terrorist attack that blows up the local power substation. With residents and authorities scrambling to return to some semblance of normalcy, they're further rocked by the news of a brutal execution-style murder of a prominent figure at his home. By the time the sun rises the following morning to shed some light on the still-disabled community, the police are floored by five car bombs that demolish abandoned cars in the area.
Enter Wallander, the curmudgeonly, rumpled chief investigator still recovering from a drunken housewarming celebration at his new seaside residence. He immediately starts putting the pieces together to determine the origin and nature of the apparent terrorism, but not before two more seemingly unrelated people are murdered in exactly the same manner. The brilliant and persistent Wallander eventually discovers the common thread between the murders and the terrorist acts, leading to a showdown involving a hostage situation and a top government official. Mankell makes effective use of ongoing Western fear of Middle Eastern terrorism to color and toy with perceptions, while also ratcheting up the action to a frightening epidemic scale befitting its theatrical presentation.
The Wallander stories succeed not just because of the plot but because of the ongoing exploration of his character. Here he's 62 years old, starting to wind down his professional career and transition to his dream seaside home but still just as dogged in his pursuit of bad guys. He's troubled by the addition of a pretty young female officer to his department, especially after being called out by her to face his own old-school sexism. He's also enticed by the addition of a new neighbor woman near his home, a dear old friend he ponders turning into something more. But mostly, he's a driven career cop who gets his most satisfaction out of fully turning himself over to his cases, setting aside all other concerns including his own health until he reaches successful resolutions. Actor Krister Henriksson embodies the role perfectly, and it's refreshing to see his somewhat less misanthropic take on what is generally an almost entirely unsympathetic, hard-charging character.
When reviewing a Wallander project, it's important to identify the specific incarnation of the heavily used character. This film is not part of the original Swedish theatrical film series from '94-'07 or the ongoing BBC TV series. Instead, it's a new continuation of the original Swedish TV series that previously ended in 2006 after 13 episodes. The series returned to the air in Sweden in 2009 with this, the first of 13 new feature-length episodes starring the same principal actors as the original run.
In addition to a brief U.S. theatrical release beginning this Friday, June 1st in New York and expanding to LA on June 8th at Laemmle's Music Hall in Beverly Hills , this and the rest of the latest episodes are now available on DVD and digital download via iTunes, Amazon and Vudu. As of this writing, this film is entirely free on both iTunes and Amazon. For more information and a trailer, visit the Music Box Films website.