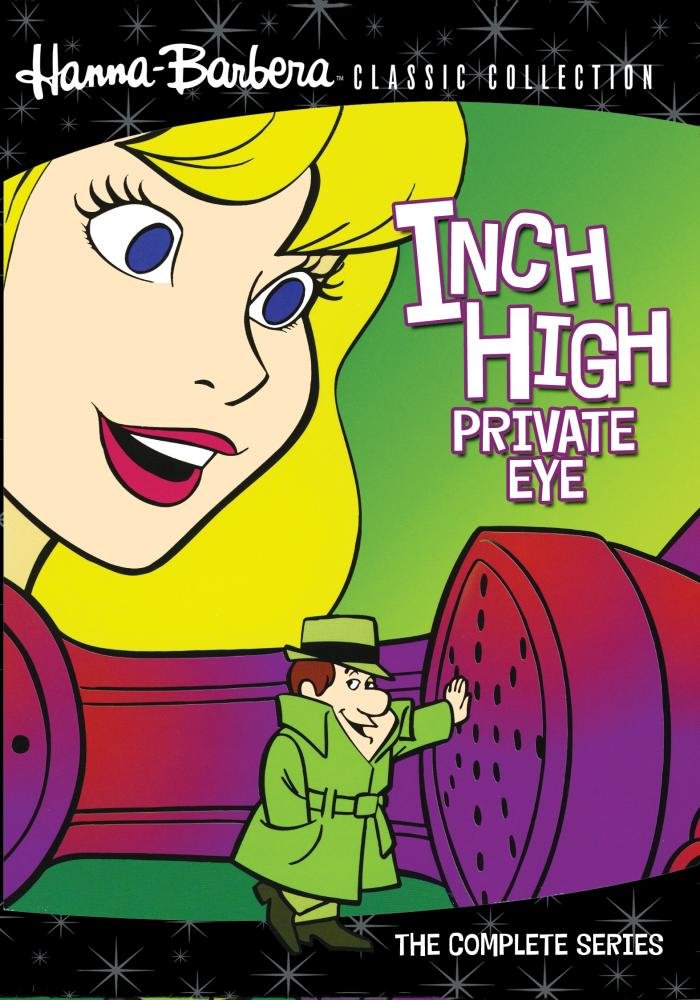 Once again, it's time for us to dive into another vintage Hanna-Barbera classic from the folks at Warner Brothers. While not as famously known as its brethren Scooby-Doo Where Are You? or The Flintstones, the '70s cartoon Inch High, Private Eye has achieved its own following over the years. Lasting only one season, the NBC morning kiddie show originally ran from 1973 to 1974, and brought us the amusing exploits of a bumbling private detective known as Inch High. His name is an appropriate one, too: Inch is literally only one-inch in height.
Though he is employed at the Finkerton Detective Agency, his boss — one Mr. Finkerton (hence the name) — is not exactly thrilled by Inch's (or should that be "inches"?) overall job performance. In fact, he would love to do nothing more than can his diminutive heinder from the company altogether — since Mr. High's intelligence quota is about as small as his physical stature in the world.
Alas, despite his (ahem) "shortcomings" (sorry, I had to say it), Inch always gets his man, woman, beast, or child — a string of successful assignments that are mostly attributed to dumb luck and the assistance of his partners: his niece Lori, her dimwitted muscle-bound master-of-disguise Southerner boyfriend Gator, and their loyal canine Braveheart. Cruising around in their super-stealthy Streamline car called the Hushmobile — which makes no noise (something that surely must have angered car manufacturers in the '70s) — the Inch High gang handle one case of hijinks after another in this 2-Disc DVD-R set that delivers all 13 episodes of ass-kicking good Hanna-Barbera fun.
With a theme song provided by Joy Curtin (The Flintstones, The Smurfs), Inch High, Private Eye starred the memorable voice talents of veterans Lennie Weinrib (best known for his voiceover work as both H.R. Pufnstuf and Scrappy-Doo), Kathy Gori, John Stephenson, and Don Messick. Sadly, not everyone has been exposed to the delights of Inch High, Private Eye, so it's a good thing the Warner Archive Collection has made it at long last possible for members of all generations to enjoy this classic on DVD-R.
The quality of this set is pretty nice considering it probably wasn't great to begin with (Hanna-Barbera's hand-drawn animation of the '70s is a far cry from the 3D computer graphics of today — but of course, that's one of the things I like about it!), not to mention its age. The release boasts an English mono soundtrack and there are no special features to be found here, but that shouldn't dissuade you from enjoying this classic cult series.