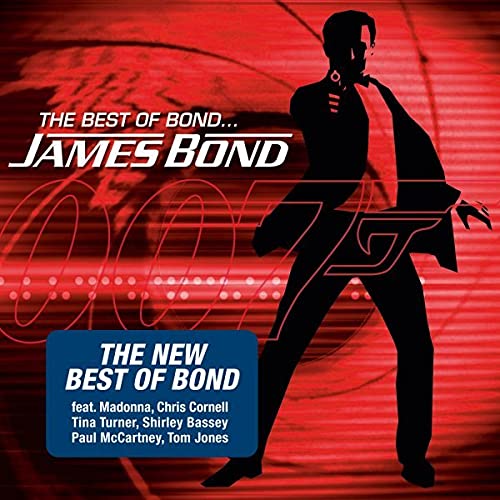 Written by Chris Smits
James Bond films are among my favorites. I consider myself more than a casual fan but not maniacal when it comes to the adventures of Mr. Bond on the screen. Among many highlights of these films are the opening credit sequences. At their best you get amazingly stylish visuals involving the silhouettes of naked women (which felt like I was getting away with seeing something naughty when I was a kid) matched up with fantastic theme songs. At their worst, wannabe visuals and a throwaway song.
The Best Of Bond…James Bond collects these themes and, by default, also gives you an overview on the good, the bad, and the more forgettable entries in the Bond franchise. Depending on which camp you fall into as far as who your favorite representation is, Connery or Moore, you're probably going to have a warm spot for some songs and not others. I'm a Connery man myself, but that doesn't take away from the fact that the Roger Moore films had some of the best theme songs in the series, including "Nobody Does It Better" by Carly Simon and Sir Paul's "Live and Let Die." Listening to this CD from start to finish encapsulates the entire history of Bond flicks and audibly tells you where the stinker ones are.
Just like the films with Sean Connery, the tracks get off to a great start. Stylish and of a time where the spy game seemed to be more romantic and grand in movies, the John Barry Orchestra slides in with the "James Bond Theme," using horns as lead instruments and not just the over-the-top accentuations they've gone on to become in movie scores. This sets up a great run of tracks with "From Russia With Love" to "You Only Live Twice." These songs are the template for all Bond themes, whether they know it or not. Even the newest themes still try to throw in nods to the arrangements and styles of the songs from back then. Call it an homage or a modern interpretation, there's a certain romanticism in the classic tracks that cast a huge shadow over any newer stuff.
Mirroring the films themselves, the themes start waning when the movies do. It's a noticeable decline right where Roger Moore hung it up and Timothy Dalton came on board. Moore's last film has Duran Duran's "View To A Kill" and Dalton gets A-Ha's "The Living Daylights." Ever heard an A-Ha song other than "Take On Me"? Exactly. Your ears are letting you know the franchise is slowing down right there. "Goldeneye" reflects the change from Dalton to Brosnan, better but not necessarily as good as past glories. Prefacing the last change in the role, Madonna's "Die Another Day" is a pretty sad entry in this context. It's like a last gasp, it's an all right dance song for clubs, but a fairly sad statement as a James Bond theme.
With the reinvention of the films with Casino Royale and bringing Daniel Craig on in the lead, the theme song "You Know My Name" by Soundgarden/Audioslave singer Chris Cornell reflects "Goldeneye." It's better, not the best, but it's going back in a better direction. With the internet leak of Jack White's theme for the upcoming Quantum Of Solace being even better, it kind of amazes me why they're not holding off on this CD for a minute so they can include his duet with Alicia Keys as the final track. All in all though, this is a great collection of wonderful themes, and really made me enjoy being a fan of these films.
Editor's Note: The review copy only had the music on it.