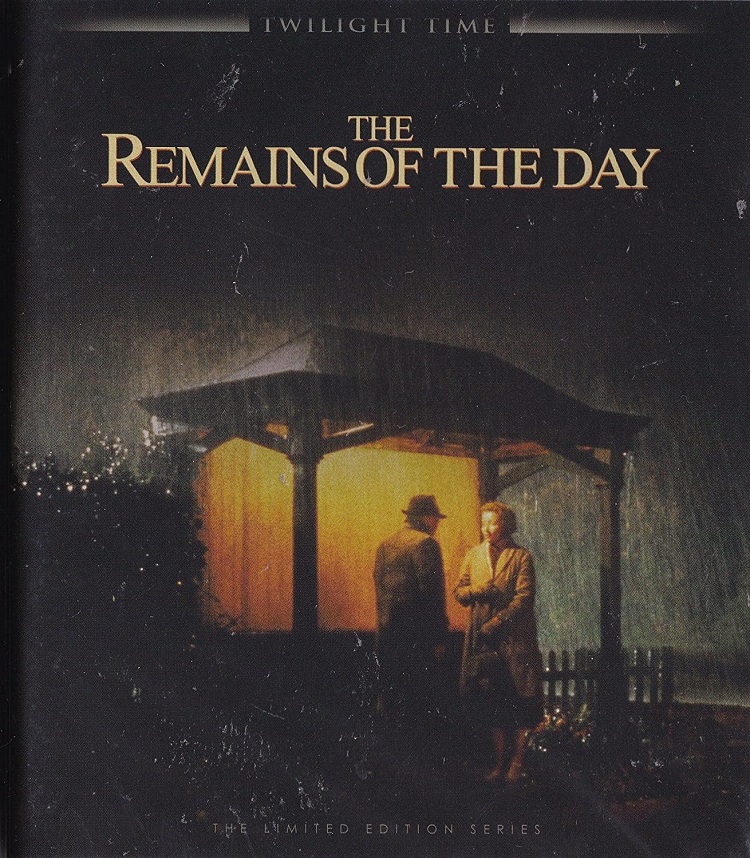 In addition to re-releasing two previously sold out titles to Blu-ray in brand new 4K transfers, Twilight Time has also been unleashing a lot of drama on us lately. And I don't mean that in a "fanboys are heating up on forum and Facebook posts about Night of the Living Dead again" sense, mind you; I am referring to the fact that the ever-expanding niche label has picked up pound of positively sterling drama flicks – many of which hail from that world of pound sterling itself, the United Kingdom. Of course, no good deed is left unpunished, so there have also been a few musicals making their rounds to Blu-ray for the first time added into the fray. And then there's that Zardoz movie, which no one can truly account for no matter how hard they trip.
But let's get back to the basics. Basics as only the famed collaboration of Ismail Merchant and James Ivory knew how to do. Sure, one of 'em was a Yank and the other was born in India, but this dynamic duo of filmmaking has nevertheless become somewhat synonymous with American audiences as British drama gurus. But I guess that's what happens when you set a movie in Britain, film a movie in Britain, hire mostly British actors as the leads, and, well, you get the idea. And in The Remains of the Day, Merchant and Ivory sell the idea that some people simply don't know how to convey their feelings to one another like never before, with the great Anthony Hopkins (fresh from terrorizing young and old alike in The Silence of the Lambs) taking the lead.
Here, Hopkins plays Stevens, the diligently steadfast servant of Lord Darlington (James Fox), and part-time would-be lover of the Lord's housekeeper, Miss Kenton (Emma Thompson). A letter from Miss Kenton several years following World War II invites Stevens' flashback upon us, wherein we bear witness to his repressed relationship with his co-worker, as well as the fallacious actions of his former employer, who mistakenly thought that Hitler guy was an OK fellow. Christopher Reeve co-stars as a retired American congressman living abroad, Peter Vaughn, French great Michael Lonsdale, and young versions of Hugh Grant and Ben Chaplin co-star in this adaptation of the Kazuo Ishiguro novel, as scripted by Ruth Prawer Jhabvala.
Twilight Time presents this epic of missed opportunities and lost loves in a stellar new 1080p HD transfer with a 5.1 DTS-HD MA soundtrack and English (SDH) subtitles, complete with all of the (mostly 480i) bonus features from the ol' 2001 Special Edition DVD (which consist of an audio commentary with director James Ivory, producer Ismael Merchant, and actress Emma Thompson; three behind-the-scenes/making-of featurettes, a collection of deleted scenes with optional commentary, and two trailers), all of which have been provided by the people at Sony for this limited edition release. Twilight Time's own addition of the Richard Robbins' music score in an isolated DTS-HD MA 2.0 track is accompanied by the usually-superb set of liner notes by resident historian Julie Kirgo.
Two years after Stevens swept The Remains of the Day under the corner of the rug, hoping no one would notice, another UK/US production presented audiences with an adaptation of a different sort. Although Shakespeare's work had been turned into motion picture dramas many, many times before (usually in severely bastardized form), there was nevertheless a buzz about for Bard yarns at the time, and that Kenneth Branagh guy (who was married to Emma Thompson at the time) was adding so many notches on his Early Modern bedpost, that somebody had to do something about it. And so, Britain's then-as-yet-to-be-recognized-in-America actor Ian McKellen and still-not-recognized-for-squat director Richard Loncraine devised their own re-telling of Richard III.
To say this dynamic offering paved the inevitable way for tripe such as the modernized Romeo + Juliet and the unforgivably pretentious Titus (with Anthony Hopkins) is putting it mildly, but we have no alternative than to forgive and forget; they knew not what they were about to unleash. (And let's not forget, thanks to this movie, we also have Tromeo and Juliet to contend with. But at least there is some small amount of solace we may seek there, in that Troma videotaped Kenneth Branagh's less-than-enthusiastic reaction to the marketing sheet of their 1996 atrocity at Cannes.) Thankfully, the makers of 1995's Richard III more than make up for it with an inventive photoplay set in an imaginary fascist version of Britain during the 1930s.
A chain-smoking Sir Ian portrays the classic villain to the extreme, having been performed in a similar style to much success on-stage. For this lavish big-screen production, many famous landmarks are transitioned into more nefarious settings, relocated to new settings and fused with many Nazi Germany traits. Americans Annette Bening and Robert Downey, Jr. – both of whom would face-off against each other four years later in the disappointing supernatural thriller In Dreams – portray Queen Elizabeth and Rivers, respectively; Jim Broadbent, Maggie Smith, and Kristin Scott Thomas – future co-star of what could very well have been the best received British drama ever (on either side of the Pond), Four Weddings and a Funeral (with Hugh Grant) – also star.
Special features for this particular Twilight Time offering are a rather limited affair. Apparently, even after all these years, MGM/UA still has no faith in this one, and could only dig up the movie's original theatrical trailer to accompany Twilight Time's isolated DTS-MA HD 2.0 track, which highlights Trevor Jones' score. Fortunately, Julie Kirgo is always able to pick up the pieces, and once more she delivers a set of liner notes worthy of a king's ransom (ha-ha, the funny). Meanwhile the presentation of this neo-classic itself gets a de-lovely 1080p/5.1 DTS-HD MA makeover. And yes, just inc case you're wondering, there are English (SDH) subtitles included with this release. You know, just in case spoken Early Modern English doesn't register with your speech recognition receptors too terribly well.
And now, just like the two movies we've already covered did, it's time to turn the clock back a bit, kids. Twenty years before Sir Ian McKellen's take on Richard III, French New Wave pioneer François Truffaut brought us this account of Adéle Hugo's (daughter of Victor) secret, sordid diaries. Essentially, The Story of Adele H. is a movie about a stalker, from the stalker's point of view. But in a far less creepy sort of way, of course. And I should explicitly point out that by "stalker" in this case, I mean "young woman in love", as the two can sometimes be confused with one another. Although, I must admit, if Isabelle Adjani were in love with me, I don't think I would refuse her advances. (Especially if she was rockin' that hairstyle she had in Luc Besson's Subway!)
But I digress. The Story of Adele H. takes place during the American Civil War. More specifically, immediately before both France and England became involved in the confrontation (something US history teachers occasionally tend to leave out of their lessons). Set in Nova Scotia (that's where that pre-packaged smoked fish comes from, my fellow Americans), the film finds Ms. Adjani – as gorgeous as ever – arriving to inquire and subsequently "pursue" a young British soldier (Bruce Robinson) whom she once had a fling with. Alas, that brief liaison has turned into something much more substantial in her eyes, and, starting with her very first love letter to the officer, she becomes closer and closer to creating an epic medication sculpture just like Audrey Tautou in He Loves Me, He Loves Me Not.
Truffaut's award-winning movie receives a glorious new transfer from the MGM archives, which presents the mini-masterpiece in 1080p High-Definition with a DTS-HD MA Mono soundtrack that goes between French and English dialogue. Naturally, there are English (SDH) subtitles for this release, and the short (but nevertheless admirable) list of special features consist of an alternate DTS-HD MA 2.0 audio option highlighting Maurice Jaubert's triumphant music score, the film's original theatrical trailer, and an audio commentary by Twilight Time's main front-people, film historians Nick Redman and Julie Kirgo. The aforementioned Ms. Kirgo returns with her own (not stalky) love letter to Truffaut, his cast, and his work in the included liner notes.
Attention: This is your two-sentence warning. Musicals and Zardoz are discussed next.
We begin with a movie featuring the one and only Pat Boone. Oh, that Pat. You truly never know what kind of trouble that guy is going to get into, do you? How about that time he appeared in black leather to promote an album he made that was a group of hard rock songs covered in self-conscious paradoxical lounge form? Or the time he was 86'd by his gospel/Christian pals for appearing in black leather, because they ironically don't get the concept of irony? And let's not forget that time he crawled down to the core of the planet with James Mason just to to sing with a poor doomed duck. But here, in 1957's April Love, we witness a young Mr. Boone as a (gasp!) rebellious juvenile delinquent (of the cleanest-cut, whitest-bread variety, mind you) stealing cars for joyrides with his fellow bad kids! Say it ain't so, Pat!
So, after being sent to live with his aunt and uncle on a horse farm in Kentucky (a diabolical form of punishment if I ever heard of one). There, young Nick Conover (Mr. Boone) encounters an aunt (Jeanette Nolan) and uncle (Arthur O'Connell) who are each dealing with the loss of their only son during the Korean War in their only different repressed way, a local tomboy (Shirley Jones) and her firecracker older sister (Dolores Michaels), horses, jalopies, drag races, and songs, including a #1 hit theme song no doubt concocted solely to sell records for this remake of the 1944 flick Home in Indiana. Interestingly, the always well-mannered Mr. Boone didn't kiss Ms. Jones on camera so as not to upset his wife. What a guy. Director Henry Levin would guide Pat through his Journey to the Center of the Earth two years on.
Twentieth Century Fox gave Twilight Time the best-looking print they had on this one, folks, and I can't say it's the kind of presentation that will have your bottom jaw touching the floor. That said, though, it's still good (well, for a Pat Boone musical, I suppose), while the accompanying 5.1 DTS-HD MA soundtrack is far more likely to wow you. In fact, itis quite excellent. The film's music score is offered up as a DTS-HD MA 2.0 track, and there's even an audio commentary produced by Twilight Time featuring Shirley Jones herself, who reminisces about the film with host Nick Redman. The original theatrical trailer and Julie Kirgo's liner notes round up this release, the first of two musicals outings from this particular batch of releases that occasionally had me eyeing the ceiling for cobwebs.
The other title? Well, that would be The Fantasticks – Michael Ritchie's 1995 film adaptation of the record-breaking off-Broadway Tom Jones/Harvey Schmidt production that wasn't released until 2000 in an abridged form, where it earned a whopping $50k at the box office. No doubt still reeling in from the massive bludgeoning to his career that was 1994 (wherein he directed not only The Scout with Albert Brooks, but Cops and Robbersons, too!) poor Michael Ritchie was obviously desperate for any sort of project when he signed on to do The Fantasticks. He even had to lie to himself and his public by saying he was a huge fan of the original play. Sure, Michael. Sure. (But I kid. I really do. Hell, I reassembled a Jerry Warren film from five different sources one time, so I know all about pet projects.)
Here, the fathers of two different households, Amos (as played by Joel Grey – the musical world's Ron Rifkin) and Ben (Brad Sullivan), decide their children should fall in love, and begin to employ reverse psychology in order to get Matt (Joey McIntyre) to woo Luisa (Jean Louisa Kelly). And then, a carny and an old Shakespearian guy enter the story. And we're supposed to be OK with that. But we weren't: the film was shelved when audiences started examining the ceilings for cobwebs, and it wasn't until Francis Ford Coppola trimmed out over twenty minutes of footage five years later that The Fantasticks finally saw a limited theatrical release and a slightly more publicized home video debut (which I don't even recall having rented at the video store I used to work at because it was that popular).
And it is that latter-day "Coppola" cut that is presented here on Twilight Time's Blu-ray, with the original version included as a bonus in Standard-Definition (the original master of that one no longer exists, according to sources). The widescreen HD presentation of the film looks like it was shot yesterday, and offers both a 5.1 and 2.0 DTS-HD MA soundtrack to infiltrate your aural organs with. A rare 5.1 DTS-HD MA isolated score accompanies the main feature, as does an assortment of audio commentaries: one with Michael Ritchie (recorded for the original DVD release); one with Jean Lousia Kelly, as hosted by the one and only Bruce Kimmel; and a third with journalist/fan Chris Wellman, which is hosted by Nick Redman. Julie Kirgo once again supplies the unique liner notes for this unique offering for unique individuals.
Speaking of things that are unique, we have now left the realm of musicals for something far less normal. A place "Beyond 1984, Beyond 2001, Beyond Love, Beyond Death." I refer to, of course, John Boorman's ultra bizarre, 1974 hallucinatory science fiction film, Zardoz. While it was just as unusual for studios to let filmmakers experiment back in the '70s (bear in mind that absolutely no one had any confidence that Star Wars would make its money back) as it is now (see: the latest earnings for Furious 7), John Boorman nevertheless received a hell of a lot of slack to do whatever he wanted after the ginormous success of Deliverance in 1972. So, he experimented. It's also entirely possible he experimented with more than just film, and one solitary viewing of Zardoz should wholeheartedly convince you of that.
Set in a post-apocalyptic future, the film finds Sean Connery in his second public outing after his departure from the 007 franchise. It's also his first worst public costume outing, as Zardoz has some truly unique outfits going for it. But it was the '70s and everyone was on drugs, right? Here, Connery stars as Zed, an exterminator in the service of the god Zardoz, who travels about the countryside in a giant flying stone head. As it turns out, his god is a false one. In reality, "Zardoz" is one of many immortal, bored humans doomed to go on living time after time thanks to their own experiments in extending life. Things only get weirder from there. Charlotte Rampling, Sara Kestelman, Niall Buggy, and John Alderton co-star in this mind-altering cinematic substance, which was one of those films that had to wait for home video to receive the acclaim it enjoys today.
Surely the pick of the litter for cult movie aficionados, Zardoz arrives on Blu-ray courtesy 20th Century Fox in a presentation that is quite possibly the film will ever look. The 1080p transfer boasts a DTS-HD MA 2.0 soundtrack, an isolated score (also in DTS-HD MA 2.0), and audio commentary with John Boorman, and a second commentary with film historians Jeff Bond, Joe Fordham, and Nick Redman. Additional bonus goodies are well worth the price of admission just to hear how the marketing people at Fox tried to sell something they had no way of describing: the original theatrical trailer, and a collection of rare radio spots for the film narrated by Mr. Rod Serling! Julie Kirgo once again supplied the liner notes for this release, the only one out of the lot limited to 5,000 copies (the rest being limited to 3,000 pressings).