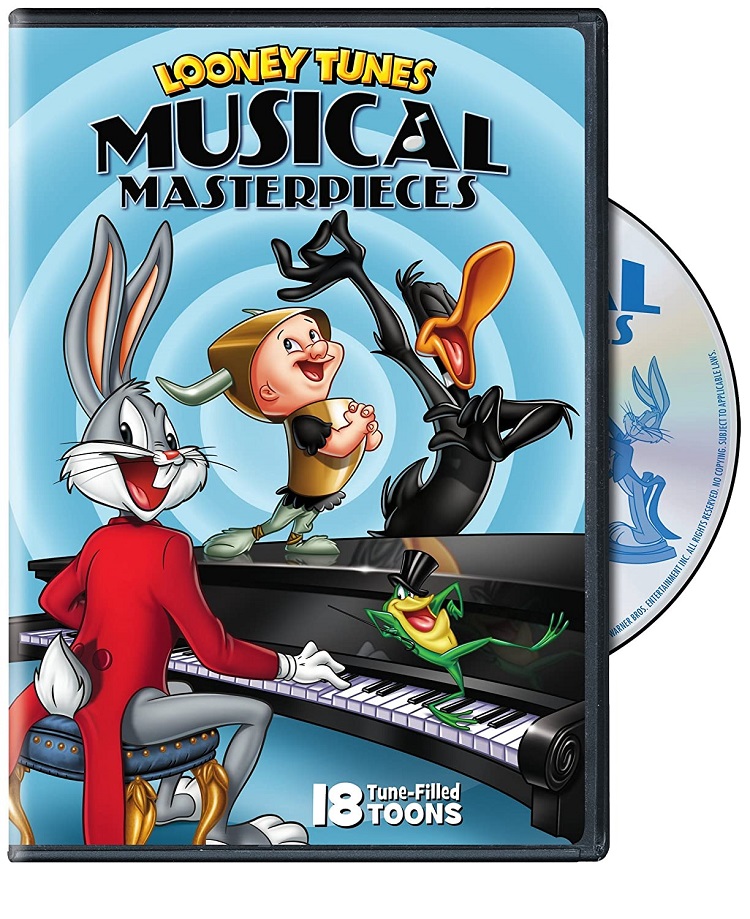 Looney Tunes Musical Masterpieces, a recent release from Warner Bros. Home Entertainment, is a fun-filled musical romp through classic cartoons. In fact, while watching the eighteen shorts on the DVD, viewers may come to realize that their knowledge of classical and American popular music may have originated with Bugs Bunny and his looney friends. Many of these cartoons have been previously released on the Looney Tunes Golden Collections, so this compilation is of interest to the more casual collector, or folks who just want to focus on the music. Fan-favorite characters like Bugs Bunny, Elmer Fudd, Sylvester, and Porky Pig are here, as are some other older, harder-to-find Merrie Melodies cartoons.
Highlights include What's Opera, Doc? (Kill the Wabbt!") and Rabbit of Seville, both featuring Bugs Bunny. Also fun are two variations of the Three Little Pigs nursery rhyme, Three Little Bops and Pigs in a Polka. And who doesn't remember being introduced to the wonderfully frustrating Michigan J. Frog of One Froggy Evening …
"Hello! ma baby, Hello! ma honey, Hello! ma ragtime gal.
Send me a kiss by wire, baby my heart's on fire!
If you refuse me, Honey, you'll lose me, then you'll be left alone;
Oh baby, telephone and tell me I'm your own."
The DVD has a running time of a little over two hours and includes the following animated classics:
Corny Concerto – Elmer Fudd leads an orchestra in this Fantasia parody.
Page Miss Glory – A country bumpkin bellboy dreams of Glory.
Rabbit of Seville – Bugs tricks Elmer into joining him in a comical music spoof of The Barber of Seville.
Katnip Kollege – Some adorable swingin' cats.
One Froggy Evening – Michigan J. Frog just loves to sing …
High Note – The most abstract toon on the disc, as a rogue note goes on the lam.
Rhapsody Rabbit – Bugs is trying to play Franz Liszt's "Hungarian Rhapsody No. 2," that is, if a little mouse will let him.
Pigs in a Polka – A musical version of The Three Little Pigs.
What's Opera, Doc? – Wagner never sounded so good – Kill the Wabbt!"
Three Little Bops – A jazzier rendition of The Three Little Pigs.
Hillbilly Hare – Who knew square dancing could be so violent? Bugs Bunny, of course.
Rhapsody in Rivets – "Hungarian Rhapsody No. 2" again, this time at a construction site.
Pizzicato Pussycat – Mr. and Mrs. Jones have some very talented animals under their roof …
Back Alley Oproar – Sylvester's singing is keeping poor Elmer awake at night.
Nelly's Folly – A giraffe in a rags-to-riches-to-rags story, complete with a tragic love affair!
Holiday for Shoestrings – A cute take on The Elves and the Shoemaker fairy tale.
I Love to Singa – An adorable little owl just wants to singa – a la Al Jolson.
Lights Fantastic – New York City's brightly-lit billboards come to life in this clever cartoon.
Animation aficionados will enjoy seeing the work of Chuck Jones, Friz Freleng, Bob Clampett, Tex Avery, and many more. Bugs Bunny fans can see their favorite wascally wabbit in just four cartoons, but don't despair, some of the older, less frequently seen toons are worth a look too. Especially fun are the jazzy Katnip Kollege and Pizzicato Pussycat.
There are some nice "Behind the Tunes" bonus features, too:
"Merrie Melodies: Carl Stalling and Cartoon Music"
"It Hopped One Night: The Story Behind One Froggy Evening"
"Wagnerian Rabbit: The Making of What's Opera, Doc?"
"Sing-a-Song of Looney Tunes"
Looney Tunes Musical Masterpieces is a fun compilation that will make you want to sing along with Bugs Bunny and check out some other, older Merrie Melodies offerings, too. The DVD is in Dolby, Full Screen, and Subtitled.