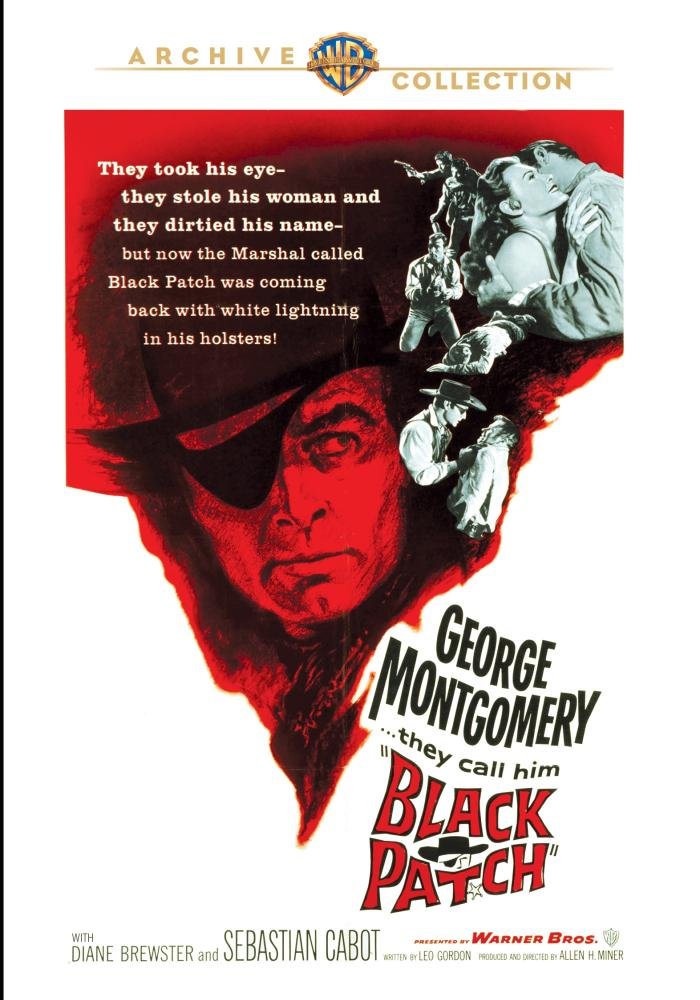 Every now and then, something or someone comes along that simply surpasses all of your expectations and prompts you to ask "Where have you been all of my life?" Usually, one begs such a rhetorical inquiry of a person. Or a pet, perhaps (hey, it's possible). But in the case of the average cinephile, that sort of a question is occasionally reserved for the (re-)discovery of one of yesteryear's forgotten motion picture offerings. Being an old B movie aficionado, this means I have to wade through a lot of movies in order to find something that truly makes me want to shout "Yes, yes, this is good." It doesn't happen terribly often, that's for sure – especially when I find myself sifting through the annals of vintage B westerns for a little pure cinematic gold.
And then I found Black Patch, a 1957 low-budget Warner Bros. western from TV director Allen H. Miner and part time screenwriter (and full time actor) Leo Gordon. While its copyright year suggests little more than a simple "oater" is afoot, the good Mr. Gordon – a regular heavy on-screen and quickie script maker for Roger Corman off – obviously put a lot more heart and soul into this surprisingly deep and gripping drama that was filmed on the old Monogram lot (after it had been purchased and renamed Melody Ranch by Gene Autry). The aforementioned Leo Gordon himself opens the film as a former hell raiser who has since settled down, but who still has a card up his sleeve. Drifting into the dusty confines of Santa Rita, NM, Hank Danner (Gordon) has come to not only meet his wife, Helen (Diane Brewster), but to catch up with their old pal, Clay Morgan (top-billed George Montgomery, whose production company also made the picture).
As it turns out, the war-torn, one-eyed Morgan is the sheriff of Santa Rita. He's also the ex-boyfriend of Helen, having left her behind to fight in the Civil War – a descent into darker days wherein he lost more than just an optical organ. Thus, Sheriff Morgan doesn't take too kindly to strangers. Or shenanigans. So when some lawmen come-a-callin' looking for his old friend Hank, whom they have fingered as the perpetrator of a recent (big) robbery, well, let's just say it complicates things considerably – especially once the town's resident sleaze-artist Frenchy De'vere (Sebastian Cabot, who is both debonair and skin-crawling at the same time) gets wind that there may be a cache of ill gotten cash laying around somewhere, and begins scheming up a dastardly plot of his own.
Meanwhile, young Carl (Tom Pittman, future star of High School Big Shot) – whom all of the locals call "Flytrap" – is the proverbial picked-on kid. Barely 18, Carl is so determined to be a feared gunslinger, that he's willing to die for it. And he may get his chance soon enough, especially after he gets a chance to inherit a fallen idol's weaponry, and the entire town – Frenchy included – learn of his amazing fastdraw skills. The underrated House Peters, Jr. co-stars as Sebastian Cabot's giggling psychopathic henchman, Jorge Treviño is Mr. Montgomery's lazy Mexican helper (of course!), while Lynn Cartwright, Peter Brocco, and the still unmined talents of Strother Martin, Ned Glass, Stanley Adams, and Dan Blocker also appear in this dynamic western that features the very first film score by Jerry Goldsmith!
Indeed, Black Patch was surely way too complex of a movie for its time. It's characters, from Leo Gordon's own small role up to the emotional roller coaster of a part brought to spine-chilling life by doomed actor Tom Pittman (a young man who idolized James Dean, and who ironically died in a high-speed car crash just over a year later) all carry a certain amount of depth and despondency – as well as a bit of lunacy – you could swear Black Patch is what might happen were David Lynch to travel back in time to the late 1950s, make an entire one-season television show according to the standards of the era, and then re-edit the whole thing down into one short 82-minute feature to sell to European cinemas solely just to create the Spaghetti Western movement of the '60s. I can think of no better way to describe it that that.
And you should think of no other B western to track down than Black Patch. Thankfully, the rarely-seen gem is now available on DVD-R from the Warner Archive Collection. Presented in a matted widescreen transfer that would be beautiful to behold even to Clay Morgan's one good eye. The mono English soundtrack delivers admirably here, and the cover makes good use of the film's original, wonderful (if misleading) three-color poster artwork. Sadly, there is no trailer to accompany the feature film here, but when it's a movie as genuinely fantastic as Black Patch, I will certainly not be the first person to complain over a lack of bonus materials for a Manufactured-on-Demand release. I am most grateful that I have had the opportunity to discover this genuinely magnificent, forgotten B western. Where have you been all my life, Black Patch?
Highly recommended.