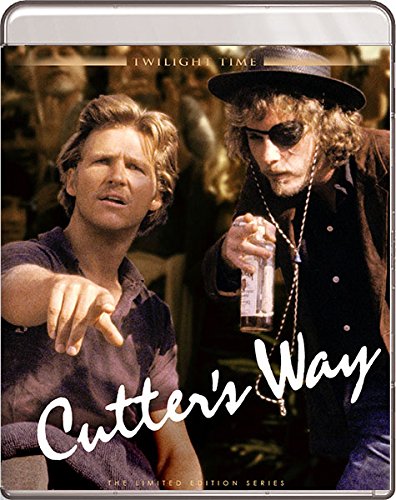 In a previously penned piece, I published my admiration of Michael Winner's Chato's Land (1972), which saw a recent Blu-ray debut via Twilight Time. It was just one of six titles from the label released in April of 2016, along with five more motion pictures, each sporting their own similar feelings towards not only love and war, but the rules we break in order to win one or the other. In Chato's Land ‒ an allegory to the Vietnam War ‒ Charles Bronson's halfbreed huntsman only takes to killing once his adversaries take their little cat and mouse game off of the battlefield and onto his doorstep. They are no longer playing by the rules anymore, so why should he? The same applies to Ivan Passer's Cutter's Way (1981).
Based on Newton Thornburg's 1976 novel Cutter and Bone, Passer's modest neo-noir thriller focuses on a small group of outcasts in Santa Barbara: a freeloading gigolo aptly named Richard Bone (young Jeff Bridges), alcoholic Maureen "Mo" Cutter (Lisa Eichhorn), and her shell-shocked, batshit crazy drunk husband Alex (John Heard, in one of his best performances), who ‒ thanks to the war in 'Nam ‒ has been left with one eye, one arm, and one leg. But that doesn't stop Alex from smashing up his neighbor's car with his own when he comes home plastered in the middle of the night and finds only to find it blocking his driveway. It also doesn't stop Cutter from becoming plagued by an obsession belonging to his buddy, Bone.
When Bone's car breaks down in a dark, rain-soaked alley one evening, he unknowingly witnesses a killer dumping off the body of a high school-aged in a garbage can. After the police rule him out of the equation, Bone gets a good look at local business tycoon J.J. Cord (Stephen Elliott), whom he thinks may have been the murderer in question. Alas, conscientious objector Bone doesn't want to start another war. The abrasive and unapologetic Cutter, on the other hand, has positively nothing (more) to lose, and is is ready to finally finish one ‒ even though there may not actually be one. Arthur Rosenberg (Cujo) and Ann Dusenberry (who I was surprised to see get that close to the water again after Jaws 2 and all) co-star.
All but shelved by United Artists following the disastrous debut of Heaven's Gate (which also starred Jeff Bridges), Cutter's Way still struggles to find an audience 35 years later. It's a darn shame, too, as it is a well-made picture (if it prompts my 16-year-old son to put down his phone, it's doing something right). Fortunately, Cutter's found his Way to Blu-ray via a 1080p transfer from MGM. A DTS-HD MA Mono soundtrack comes through perfectly, and two additional audio options are provided: an isolated Jack Nitzsche score in DTS-HD MA 2.0, and a commentary from Twilight Time's Nick Redman and Julie Kirgo. A theatrical trailer wraps things up nicely ‒ something I hope Bridges' Bone does when he's on the job.
Speaking of burning Bridges, April 2016 saw another release starring he who achieved cinematic sainthood after The Big Lebowski and True Grit. Previously released by the same label in 2014, Thunderbolt and Lightfoot gets the Encore Edition treatment from Twilight Time. The fun 1974 crime flick ‒ wherein we can almost see the birth of the buddy picture, as spawned in Big Sky country from a bromance between Clint Eastwood and Mr. Bridges ‒ was helmed by the aforementioned Michael Cimino himself, and features George Kennedy and Geoffrey Lewis (all of whom we recently lost, sadly). This Encore Edition sports the exact same video/audio/special features as the previous (out-of-print) release, but sports different artwork.
Returning to the "in love and war" aspects of our recurring theme here, we stumble onto another film which ‒ much like Cimino's Heaven's Gate ‒ was subjected to studio interference prior to release. A Prayer for the Dying, from director Mike Hodges (Flash Gordon) and producer Samuel Goldwyn, Jr., may seem like high-grade art when compared the crime dramas they crank out to fill up the Redbox kiosks today. Back in 1987, however, the Jack Higgins adaptation was disowned by Hodges and star Mickey Rourke (yes kiddies, he was popular once) after Goldwyn's studio made a few alterations to the original cut. And while we may never see Hodges' director's cut any time soon, I can't say this movie doesn't have a Prayer.
In fact, I thoroughly enjoyed it. Of course, that may be 100% attributable to a memorable scene wherein the late Bob Hoskins ‒ who plays an ex-soldier turned priest here (something everyone found to be too fanciful in '87) ‒ flat-out kicks the tar out of several hoodlums in a scene that I can only pray inspired Peter Jackson when he was writing his 1992 zombie horror classic Braindead (aka Dead Alive). Story-wise, A Prayer for the Dying centers on Martin Fallon (Rourke, employing an 85-90% effective Irish accent), who once served in another sort of army altogether: the IRA. Disillusioned by his bloody past and the innocent lives it removed from the face of the Earth, Fallon has been hiding out in London, where he waits for a miracle.
When someone sings the classic "If you do this one last hit for us, we'll hook you up with cash, a passport, and a ticket to the U.S." song, Fallon reluctantly takes the job (for he has no choice). Naturally, things go wrong, inasmuch that local priest Michael De Costa witnesses Fallon commit the bloody deed. But Fallon is unable to add another innocent life to his list of kills, making things complicated for the mortician ganglord (Alan Bates, in one of his meatiest roles ever) who ordered the hit, which eventually leads to our godless anti-hero watching over the Father De Costa and his blind niece (Sammi Davis). A still-unknown Liam Neeson, Alison Doody (Indiana Jones and the Last Crusade), and a beautifully psychopathic Christopher Fulford add to the (wobbly) fun.
Twilight Time's Blu-ray of this enjoyable little relic sports a better-than-average 1080p HD transfer from the MGM/UA vaults, presenting the theatrical cut of the flick in a 1.85:1 aspect ratio. The DTS-HD Master Audio 2.0 soundtrack delivers well enough for even a majority of the Dying to adequately hear (especially when chain-smokin' Mickey pumps his organ or blows his top), and English (SDH) subtitles are on-hand in case his accent sounds too perfect to your ears. A secondary DTS-HD MA 2.0 track gives us an isolated score by Bill Conti (with some effects). Additional extras include the original theatrical trailer, and two new interviews (in 1080p) with Mike Hodges and DP Mike Garfath (respectively), who reminisce about the making of the film.
Our next feature film subject also centers on reminiscing. Fred Zinnemann's 1977 drama Julia ‒ a fine example of the sort of motion pictures that were manufactured before the world of cinema really went nuts over that whole Star Wars thing ‒ is based on a chapter from Lillian Hellman's controversial novel Pentimento. While the late Ms. Hellman was no stranger to the subject of notoriety (see: the 1936 Samuel Goldwyn film These Three), Julia presents an entirely different storm altogether, seeing how no one has ever been able to confirm any of the supposedly true tale's events, to say nothing of a certain bit of outrage which erupted and ensued when the film won an Oscar during the 50th Academy Awards in early 1978.
When the film's' titular character, played to the hilt by second-billed Vanessa Redgrave, accepted her Oscar for her work in Julia, she uttered something about "zionist hoodlums" during her speech. Needless to say, it didn't go over well. And once that whole Star Wars thing really did take off, Julia all but vanished from the minds of the general public. And it's a pity too, since the (apparently almost entirely fictional) picture is a good'un, with every pro-Vietnam War supporter's favorite actress, Jane Fonda, takes center stage as Lillian Hellman. Frustrated with her own writing career and her rocky relationship with mystery writer Dashiell Hammett (Jason Robards, at his subtle best), Lillian is ready for a change of cards. And scenery.
And she gets just that when she takes a trip to Europe, during which time her old childhood friend, Julia, contacts her through third parties to smuggle a large quantity of money through Nazi Germany; money from Julia's own estate which will help fight against the growing menace of Hitler. Lillian's dramatic (if completely fake) tale darts back and forth from old age to childhood, with many familiar faces popping up along the way, including Maximilian Schell, Hal Holbrook, Rosemary Murphy, Meryl Streep (I'm sure everyone who saw the film in '77 thought "She'll never go anywhere after this!"), John Glover, and the lovely Lisa Pelikan (from the Carrie-inspired snake horror cult classic Jennifer), who plays young Julia in flashbacks.
Julia hits Blu-ray for the first time via a gorgeous HD transfer from 20th Century Fox. The main audio track is presented in DTS-HD MA Mono, with two supplemental soundtracks in accompaniment. The first of these is an audio commentary, hosted by Twilight Time's Nick Redman, who is joined by the legendary Jane Fonda herself. Mr. Redman knows precisely what to ask his honored guest, and Ms. Fonda is more than eager to talk about something other than the runaway success of Monster-in-Law for a change. The second aural bonus is an isolated DTS-HD MA 2.0 track, featuring Georges Delerue's score along with some sound effects. An added theatrical trailer features a glimpse of a scene which apparently didn't make the final cut.
Lastly in our lineup, we have the only film here that outright focuses on the subject of love. 1962's In the French Style shows us a part of life which many a feature film (and short subject, particularly those 8mm stag loops my dad had) devoted to what the French call "amour." Here, the lovely Jean Seberg stars as an American art student living in Paris (France, not Texas), who gets an education in more than stroking paintbrushes once she begins to meet men. The film, a series of vignettes devoted to Seberg's various stages of her dating life, begins with inexperienced Philippe Forquet; with our doomed starlet's tastes in men gradually mature and change as the years fly by, including an international journalist (Stanley Baker) and a physician.
Though directed by American-born Robert Parrish and written by fellow Yankee Irwin Shaw (who adapted two of his own stories into this one screenplay), In the French Style is essentially one of those European coming-of-age dramas wherein nothing really happens. Nevertheless, between Parrish's early work as a film noir director and the cool French New Wave photography courtesy Michel Kelber, the film gets an A+ for its almost Fellini-like atmosphere if nothing else. Plus, the flick also features Claudine Auger and a scene-stealing supporting role by Addison Powell as Jean's very concerned father, who flies over to see why his daughter is still living in Paris after her "Year to Learn the Language" is long up.
Straight from the Columbia Pictures vault, In the French Style hits BD via a transfer most fitting for the likes of Jean Seberg and New Wave/Noir photography. Audio options include a main DTS-HD MA Mono selection, Joseph Kosma's score (with some sound effects) in DTS-HD MA 2.0, and an audio commentary with Lem Dobbs, hosted by Nick Redman and Julie Kirgo. The original US trailer ‒ which really tries to sell the sex ‒ is also included. The aforementioned Ms. Kirgo also provides the liner notes for this and all other titles from this wave of classic feature films, all of which are limited to 3,000 pressings.