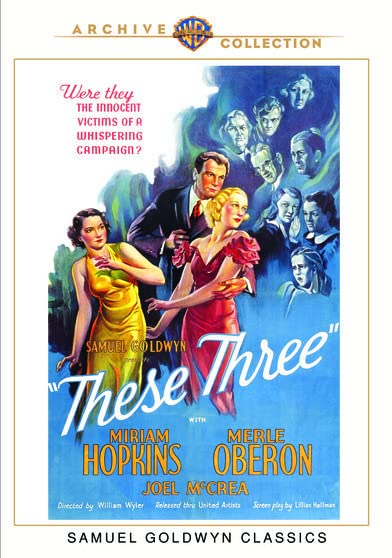 Even before the Hays Office began enforcing the content of motion pictures in 1934, certain things just weren't permitted to be said aloud in public. One such topic was that of homosexuality (the more things change, the more they stay the same, eh?), which was completely illegal to mention in public when playwright/screenwriter/activist Lillian Hellman's play The Children's Hour first debuted on Broadway in 1934. Due to the critical success of the stageplay, however, local authorities in New York City decided to be lax regarding their own law (again, some things never really change, do they?). Alas, the story's subject matter meant the title would be all-but-blacklisted when it came to a Hollywood adaptation, which meant no one wanted to take the risk.
Producer Samuel Goldwyn had other ideas. After purchased the film rights, he hired Ms. Hellman to adapt her own screenplay, "homogenizing" it as needed to sneak past the Hays Office (though most of the story remained unchanged), who started enforcing their strict moralistic code upon Tinseltown roughly around the same time The Children's Hour premiered. The result was These Three (1936), starring the drop dead gorgeous pairing of Miriam Hopkins and Merle Oberon. Here, our lovely ladies are cast as Martha Dobie and Karen Wright, two well-mannered college graduates (this is back when ladies were raised to be ladies, ladies) who venture to a small Massachusetts town where the latter has a rundown farm.
With the help of a funny, very handsome, and very able young physician named Joseph Cardin (this is back when men were groomed to be men, men) ‒ portrayed by The Most Dangerous Game's own Joel McCrea ‒ our feminist protagonists turn the location into a boarding school for girls. Their idea set firmly in place, their very ticket to ride is practically written for them once a chance encounter on the road introduced them to local wealthy socialite Amelia Tilford (Alma Kruger), who eagerly enrolls her troubled granddaughter Mary (Bonita Granville) and actively promotes the school.
Soon after, things appear to be as fine and peachy as one could hope for. The school is built, the rooms are full, and a blossoming romance betwixt Karen and Dr. Joe forms. Alas, poor Martha is dying on the inside due to an unyielding one-sided crush on the handy doctor. She also has her hands full from all of the lovely blonde locks she's been ripping out over her flaky and over dramatic actress aunt Lily (Catherine Doucet), who arrived without invitation to "help" out. To make matters worse, young Mary ‒ who is a personification of pure evil that would be best left to room with Rhoda Penmark in hell ‒ boots up an early, family-friendly PG tween version of Wild Things by starting a rumor regarding the school's proprietors (kids say the darndest things!).
Soon, just like America's latest growing trend of ignorance itself, Mary's falsehood spreads like wildfire from the very home of their illustrious (and, let's face it, bored) benefactor, destroying more than just the school in the process. Though a bit slow at first, These Three kicks into high gear once the cold, calculating Bonita Granville starts bullying her faithlessly faithful minions (most notably the delightful Marcia Mae Jones, in one of her first credited roles) into going along with her lies. Sadly, Ms. Granville's performance ‒ though quite effective ‒ was not enough to garner her the newly-added Best Supporting Actress award that year. Instead, that honor went to movie newbie named Gale Sondergaard (The Return of a Man Called Horse).
Interestingly, the aforementioned Ms. Sondergaard, despite having nothing to do with the film in question, shares some coincidental relations to it. She would later be blacklisted during the great Red Scare along with Lillian Hellman herself, and was the initial choice to play the Wicked Witch in The Wizard of Oz ‒ a role which ultimately went to These Three co-star Margaret Hamilton, who plays Alma Kruger's no-nonsense, scene-stealing maid (watch out, Mary)! The one and only Walter Brennan also has a part in this film as the community's one and only taxi driver (and who does a darn fine job of swiping the scenes he's in himself) in this compelling drama from yesteryear, highlighted by a wonderful cast and all-too-believable storyline.
Remade in 1961 with Audrey Hepburn, Shirley MacLaine, and James Garner (this time with its original title and lesbian rumor bit intact, though without the grace of the original from what I've read), These Three managed to hit VHS and LaserDisc in the past, this barebones Warner Archive Collection release marks the official (if subtle) digital debut of William Wyler's mini-masterpiece. And while the film has aged better than mankind's destructive inability to live and let live, there are still a few instances of imperfections present in an otherwise fine transfer for a movie that should serve as a stellar example as to why I hate your evil rotten little kids, people (he said, possibly in jest).
Highly recommended.