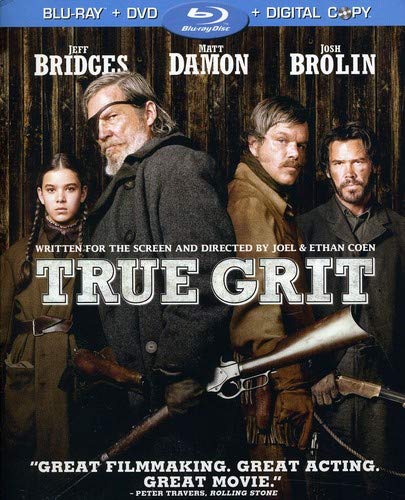 Mattie Ross (Hailee Steinfeld) hires Marshal Rooster Cogburn (Jeff Bridges) because of his reputation for having grit and reveals that at the age of 14 she did also. The Coen Brothers possess the same trait as well, evidenced by their ignoring those who scoffed at the notion of their remaking a well-known film, which featured an iconic performance by an iconic actor, and created another classic in their oeuvre.
Most of True Grit is told in a flashback as Mattie (Elizabeth Marvel) reflects on the time she left home to avenge the death of her father at the hands of Tom Chaney (Josh Brolin). In Fort Smith, Arkansas, she quickly proves herself a smart, shrewd young woman as seen when dealing with Colonel Stonehill (Dakin Matthews), whom she flusters and out-negotiates.
When the law refuses to chase after Chaney, who is riding with "Lucky" Ned Pepper's (Barry Pepper) gang, because they lack jurisdiction in Indian Territory, Mattie hires Cogburn, a one-eyed drunkard who seems long past his prime, for $100. Also on the trail of Chaney is Texas Ranger LeBoeuf (Matt Damon) because Chaney killed a Texas state senator a few months back. LeBoeuf offers to partner with them in apprehending Chaney, but their clashing egos and different plans for Chaney make their relationship difficult and sporadic.
The Coen Brothers assembled a very talented team that realized this story with brilliance at every turn. The script presents compelling characters in a story about honor, justice, and sacrifice. It also blends drama and humor, the latter restrained rather than the zaniness seen in many Coen films. The cast is outstanding. In her first feature film, Steinfeld is a revelation. Not sure why so many organizations had her mischaracterized as supporting actress when she was obviously the lead. Bridges takes Cogburn out from John Wayne's shadow and makes the character his own with mumbling speech. Roger Deakins' cinematography looks glorious in its use of light, shadow, and framing.
The Blu-ray's video has been given a 1080p/MPEG-4 AVC encoded transfer at an aspect ratio of 2.35:1. The clarity is amazing as rich details and textures are on display throughout the film. It is evident in the fabric on different clothing, the hair on heads and faces, and the weathered buildings that help give a sense of time. I was impressed by how well I could see the outlines of the blades of grass and fallen leaves on the ground. The beauty of Deakins' artistry is preserved. The colors are strong, tending towards earth tones, but not bright. Blacks are flawless and never crush.
The DTS-HD Master Audio 5.1 audio delivers an impressive experience. Dialogue is clear and understandable even when Cogburn mumbles and LeBoeuf suffers damage to his mouth. The track has a wide dynamic range from the loud bangs of gunfire to the LeBoeuf 's softly jingling spurs. Very good ambiance puts the viewer within the scene. Bullets can be heard whizzing through channels, front to back.
The Blu-ray comes with extras that focus on different cast and crewmembers. Hailee Steinfeld gets a well deserved featurette all to herself in "Mattie's True Grit" (HD, 5 min). The young actress, who I believe we'll be seeing a lot of in the years to come, talks about preparing for the role and working with the Coen brothers. Costume Designer Mary Zophres talks about the styles and reasoning behind her choices in "From Bustles to Buckskin – Dressing for the 1880s" (HD, 8 min). Jeff Bridges, Matt Damon, and Barry Pepper discuss their costumes.
Prop Master Keith Walters talks about consulting the source material to help assemble the items he uses to make the experience authentic to the period in "Colts, Winchesters & Remingtons: The Guns of a Post-Civil War Western" (HD, 5 min). "Re-Creating Fort Smith" (HD, 11 min) shows what the crew did to transform modern-day Granger, Texas into Fort Smith circa 1875.
"The Cast" (HD, 5 min) talks about the film and working with each other. "Charles Portis — The Greatest Writer You've Never Heard Of…" (HD, 31 min) is a biography about the author with different writers raving about him and his work. One even compares him to Mark Twain. "The Cinematography of True Grit" (HD, 3 min) is a way-too-short piece about Roger Deakins. He should have recorded a commentary track to talk about all his exquisite work.
Thankfully, the high standards set by True Grit the film have been maintained by those responsible for creating the Blu-ray. It deserves a spot on year-end lists and in home-video libraries.