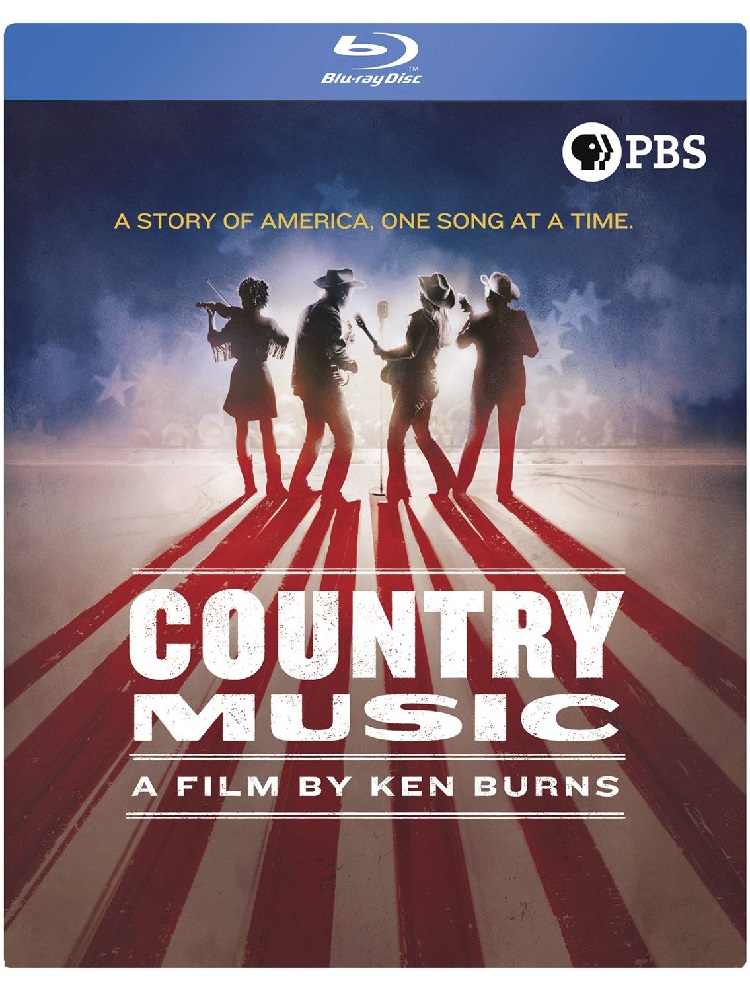 Ken Burns's latest examination of the fabric of the United States sees him focus on another musical genre, Country Music, in an 8-episode, 16-hour documentary airing on and streaming through PBS. The story is narrated by Peter Coyote and supplemented by a wealth of interviews ranging from country artists, giants in the business like Dolly Parton and Kris Kristofferson to lesser-known artists; from those who lived through it like session musicians and radio DJ Ralph Emery to the children and grandchildren of beloved musicians. Much like Shelby Foote served as a frequent contributor to Ken Burns's The Civil War, Marty Stuart performs the same role, sharing stories, offering opinions, and even playing instruments. Episodes One through Five have previously been reviewed.
During this era, the country found itself in a turmoil not seen since the Civil War and that turmoil affected everything, including country music. But as some were facing division within the business, others were coming together and uniting.
Old time acoustic music had been brushed aside by country radio as it embraced the slick Nashville Sound, but young folk-music fans were discovering bluegrass. Flatt & Scruggs, who had resisted doing The Beverly Hillbillies theme, earned a #1 county hit with it, which was unheard of for a bluegrass song at the time. Then, their "Foggy Mountain Breakdown" appeared in Bonnie & Clyde.
Singer George Jones comes onto the scene and would begin touring with Tammy Wynette. They fell in love while she was married, and after each having divorced twice, they gave it another go with each other, but only part of their story is covered here.
Though episode's titles list years, they aren't limited to those time frames. Session player Charlie McCoy speaks of visiting New York and causally joining a session with Bob Dylan for "Desolation Row," which led to Dylan going to Nashville where he recorded Blonde and Blonde and John Wesley Harding. But the NY session was recorded in 1965 and the albums recorded and released in 1966 and 1967, respectively. But it could just have been a preface to talk about the other rock and folk artists who followed, like The Byrds, who with new member Gram Parsons recorded Sweetheart of the Rodeo. Now considered a seminal album that launched country rock, neither country or rock radio had any interest upon its release.
Johnny Cash was an enormous success during this era. He followed up Folsom with a live album from San Quentin prison, which contained what would be his biggest hit "A Boy Named Sue," played big arenas, and hosted a TV variety show. And did it his way, defying TV executive objections, with musicians from all genres, including Pete Seeger, and he sang a gospel song every episode. Dylan returned to Nashville for what became Nashville Skyline. Cash came to studio to record some songs, and Dylan returned the favor by appearing on Cash's show to play "Girl from the North Country." The brief pairing was significant as these popular artists from different genres worked together.
As the Vietnam War raged on, it was naturally going to be reacted to by artists. Loretta Lynn's "Dear, Uncle Sam" was from a wife who lost her husband in the war. Jan Howard sang "My Son" about losing her son in the war, which happened. Mel Tills wrote "Ruby, Don't Bring Your Love to Town" about a paralyzed vet pleading with his wife not to leave him and go out for the night. Earl Scruggs, his sons, and Charlie Daniels performed at the in DC during protests to end the Vietnam War. Merle Haggard got right into the middle of the cultural fight with what became his biggest hit "Okie from Muskogee," which looked down on anti-war protesters and hippies. While "folks don't smoke marijuana in Muskogee," it was well known by Nashville musicians, but not by his fans, that Haggard did.
Kris Kristofferson came onto the scene as a songwriter, though he started as a janitor at a recording studio. "Me and Bobby McGee was inspired by Fellini's La Strada, and while Roger Miller was the first to record it, Janis Joplin had, posthumously, turned into it a #1 record. Willie Nelson and Larry Statler think Kristofferson is best lyricist in all music. Cash sang "Sunday Morning Coming Down" on his TV show and Kristofferson made his performance debut there.
The question asked in the episode title "Will the Circle Be Unbroken?" was answered in 1972 when the Nitty Gritty Dirt Band, who Roy Acuff called "a bunch of long-haired West Coast boys," created an iconic album of the same name. The band brought in and paid tribute by playing in support of country/bluegrass legends like Acuff, Maybelle Carter, Doc Watson, and Earl Scruggs in an effort to keep the music alive.