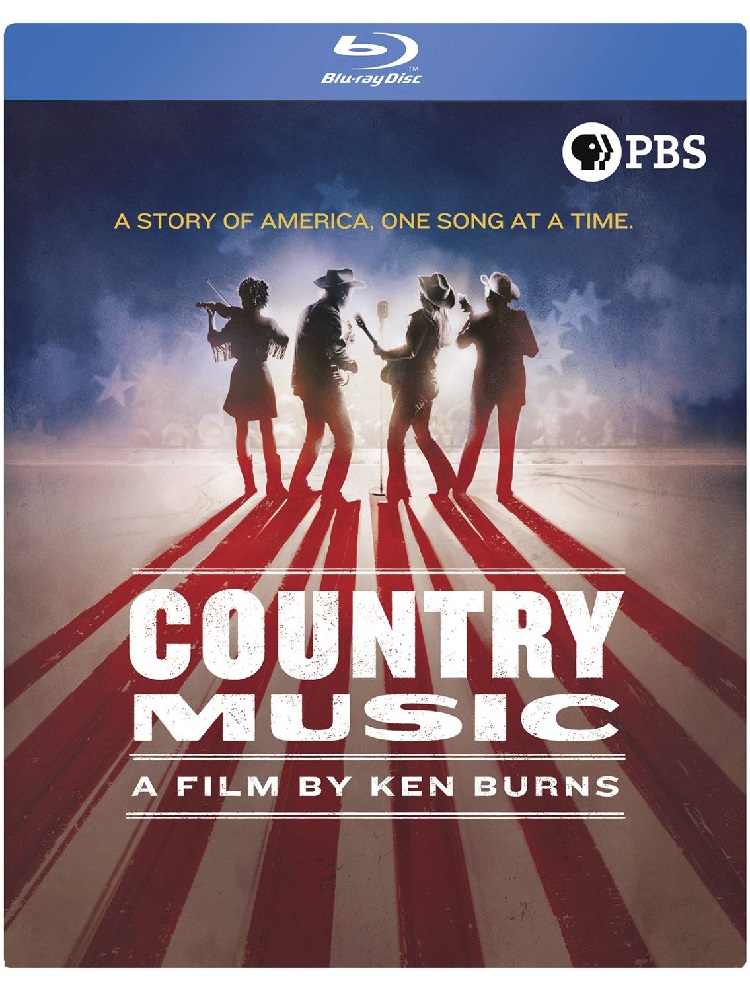 Ken Burns's latest examination of the fabric of the United States sees him focus on another musical genre, Country Music, in an 8-episode, 16-hour documentary airing on and streaming through PBS. The story is narrated by Peter Coyote and supplemented by a wealth of interviews ranging from country artists, giants in the business like Dolly Parton and Kris Kristofferson to lesser-known artists; from those who lived through it like session musicians and radio DJ Ralph Emery to the children and grandchildren of beloved musicians. Much like Shelby Foote served as a frequent contributor to Ken Burns's The Civil War, Marty Stuart performs the same role, sharing stories, offering opinions, and even playing instruments. Episodes One through Six have previously been reviewed.
In this episode, we see the biggest stars of this era are the folks who got successful doing things their way and expanding the genre's perceived boundaries. The Grand Old Opry expanded as well as the Ryman Auditorium was just too small to stay and too old to fix up. They moved to a new location, Opryland USA, adding TV broadcast capabilities. The last night at the Ryman a bunch of artists attended and paid tribute. The Carter Family's "Will the Circle Be Unbroken" was the last song of the night and a circular piece of the stage was cut out and installed in the new one.
By 1974, Dolly Parton had been on Porter Wagoner's syndicated TV show for seven years and her cover of "Mule Skinner Blues" earned her first Top-10 hit. As talented as she was as a singer, she was even more so as a songwriter. She outgrew Porter's shadow and career, but he tried to hold onto her. After a fight they had, she wrote "I Will Always Love You" in response. He was moved deeply when he heard it and to let her go if he could produce the song. Parton was too big a talent to be contained, going onto became a pop star and a movie star.
There were other male and female duos, like Kenny Rogers and Dottie West, and Loretta Lynn and Conway, but the most notable was George Jones and Tammy Wynette. Fans felt they were getting the inside story of a relationship, which may have resemble theirs, through songs and headlines. Their work was as memorable as their relationship was tumultuous, especially with his serious drinking problem. In 1973, Wynette filed for divorce, reconciled and made another album together, but then went ahead with the divorce two years later. Their solo tours were not as popular. Producer Billy Sherrill would occassionally get them together for duet albums. In 1980, after a long drought from the charts, Jones recorded "He Stopped Loving Her Today" about a man who pines away for a woman until the day he died. Jones thought it was too morbid but it became a hit.
Though not heard much on radio, acoustic and bluegrass music still had its fans and new blood playing it. At age of 13, Marty Stuart went to Nashville and began playing mandolin with Lester Flatt at Grand Old Opry. When he was six, Ricky Skraggs played with Bill Monroe. Vince Gill's band got called in last minute to open for KISS. It predictably didn't go well.
Countrypolitan was a new term, but it was basically the same Nashville Sound strategy producers had been using for years, polishing country songs so they would appeal to the widest base possible, hoping to cross over to the pop charts. Olivia Newton John's pop songs were being played on country radio, and she and folk-pop singer John Denver were winning CMA awards.
Some musicians didn't want to be pop stars. They were content being artists, such as a group of Texas singer/songwriters who followed in the steps of Kris Kristofferson. Folks like Guy Clark, Rodney Crowell, and Townes Van Zandt, who was too much like his hero Hank Williams with the way he abused his body. By 1975, Van Zandt had recorded six albums. None too successful but he became a cult favorite. Another Texan that made a huge impact was Waylon Jennings. Chet Atkins tried to mold him into a country star, but Waylon rejected the Nashville Sound restrictions and did it his way, bringing back the honky tonk and recording in his own studio.
Back in Austin, Texas, Willie Nelson recorded Red Headed Stranger, a concept album with sparse arrangements. The record executives thought it was terrible. Sherill thought it sounded like a bad demo, but suggested they release and when it bombed, Nelson would listen to them. Sherill admits they "were wrong as hell," and left him alone. Capitalizing on the success of both these rebels, which office manager Hazel Smith at Jennings's studio claims she dubbed "outlaw music," RCA released Wanted! The Outlaws,a compilation album of previously released material by Jennings, Nelson, Jessi Colter, and Tompall Glaser. It was the first country album to go platinum. Following his muse again, Nelson decided to record an album of pop standards, Stardust. Record executives were again flummoxed, but it proved to be an even bigger success.
As tough as it is to make in the music business, it is even harder for the children of legends. Hank Williams Jr. had to deal with the pressure of being his father's son, not just from the audience but his mother/manager as well. Once he came of age, he left to find his own voice. Influenced by Southern rock and embracing his father as opposed to mimicking him, Jr became a success. Roseanne Cash graduated high school and went on the road for three years with her father Johnny. She thought it would be fun to see the worked before going to college but she got an education on that trip. She wanted to become a songwriter and married Rodney Crowell, who became her producer. She too found success being herself.
The best thing Country Music does is show how elements are intertwined. In 1983, Willie Nelson and Merle Haggard were recording together but hadn't found the magic until Neslon heard his daughter listening to an Emmylou Harris album. Harris had been a folk artist but had been brought into country music through former Byrd Gram Parsons. They recorded and performed together before his deadly overdose. She continued making music, proving to be a bit of an outlaw herself as she tread her own path and Stuart and Crowell sing her praises. The Harris song Nelson heard was new to him. Fans might already know but for those paying attention, the song had already been mentioned by narrator Peter Coyote. It was Townes Van Zandt's "Pancho and Lefty" and the duo had a huge hit with it.