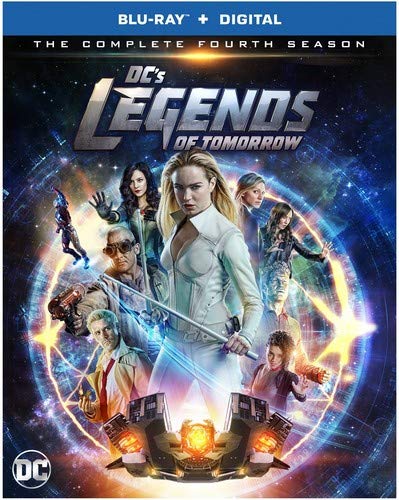 Disclaimer: Warner Bros. Home Entertainment provided Cinema Sentries with a free copy of the Blu-ray reviewed in this post. The opinions shared are those solely of the writer.
I recently spent a lot of time zipping through the fourth season of Supergirl. I like that show but it has a tendency to stop the action dead in order to preach at the audience. It is a series that gets so focused on its righteousness that it forgets to entertain at the same time. When it remembers it is a lot of fun, but it can be exhausting when it forgets. This past week I've been catching up on Legends of Tomorrow. Within ten minutes of the Season Four opener, "The Virgin Gary," I gasped, "Now this is how you do a superhero show!" Unlike Supergirl and Arrow, Legends understands the ridiculousness inherent in this type of series and knows how to let loose and have fun.
This is no more true in Season Four where they mostly leave behind any big seasonal arcs and concentrate on monsters-of-the-week storylines which are usually wrapped up by episode's end. By doing this, it loses a little in the way of epic storylines and cohesiveness, but it gains a looseness and an ability to go for it in each episode without needing to move the larger story along.
In "The Virgin Gary" which opens the season, they go to Woodstock, steal a joint from Jerry Garcia, and send a rainbow unicorn to Hell to keep it from eating people's hearts. In another episode, they go to summer camp to kill a swamp creature, and in another. they meet legendary director Ishiro Honda and fight off a Godzilla-like creature. These stories would not be nearly as fun if they had to add in scenes where the Legends were concerned with defeating some Big Bad by the season's end.
This isn't to say there aren't larger themes and stories being explored. Nate (Nick Zano) spends time with his father Hank (a wonderful Tom Wilson) who also happens to be the Congressman in charge of funding (or not funding as the case may be) the Time Bureau. They've had a distant relationship in the past and over the season learn to love each other on their own terms (and get into some ridiculous adventures). Sara (Caity Lots) and Ava's (Jes Macallan) relationship does some growing of its own. Each of the Legends (both old and new,' which we'll get into in a moment) grapple with their own personal problems and deepen their personalities.
As you might have guessed with the unicorns and Godzilla monsters, this season contains a lot more magic than previous ones. When they destroyed Malus at the end of last season, they accidentally opened a portal to his magical prison and now all sorts of magical creatures have entered Earth. Constantine (Matt Ryan) enters the picture once again as a full-blown main character (and a Legend) to lend his expertise in the magical department.
With Ava now being a main character and Nate dealing with his father, the series divides its time between adventures on the Waverider and ones back at the Time Bureau. While this does introduce the always wonderful Ramona Young as Mona, a sort-of magical zookeeper, it does mean there is often a little too much going on in each episode (and kind of defeats my whole point about how not having a seasonal arc keeps the episodes more focuses).
Maisie Richardson-Sellers returns as a full-time cast member despite it seeming like she was leaving at the end of last season. I won't get into the details as that enters major spoiler territory, but I will say I was satisfied with how they handled her character. Zari (Tala Ashe) continues to be the weakest link in the Legends crew mainly because she's given the least amount of character development. Mick (Dominic Purcell) continues to be a hoot every moment he is onscreen and Ray (Brandon Routh) continues to be the heart of the series. It is Ray that gives the series its biggest emotional pull. The other characters have their moments, but Ray is such a lovable goof of a character he really is the heart of the team and the writers do a wonderful job of centering him in a way that gives the series the emotional heft to keep all the wackiness from being weightless.
Legends of Tomorrow is a series that continues to grow on me. I wasn't too keen on it during its first season but each consecutive season has gotten better and better. In a world full of dark and gritty, overcurious superhero movies/tv shows, it is refreshing to find one that is nothing but fun. Legends doesn't takes itself seriously, allows itself to get pulled into one ridiculous situation after another all while remaining joyful and heartfelt.
Extras on this Blu-ray set include two featurettes, one on the special effects, another on the stories it tells. Plus there is a gag reel and some unaired scenes.