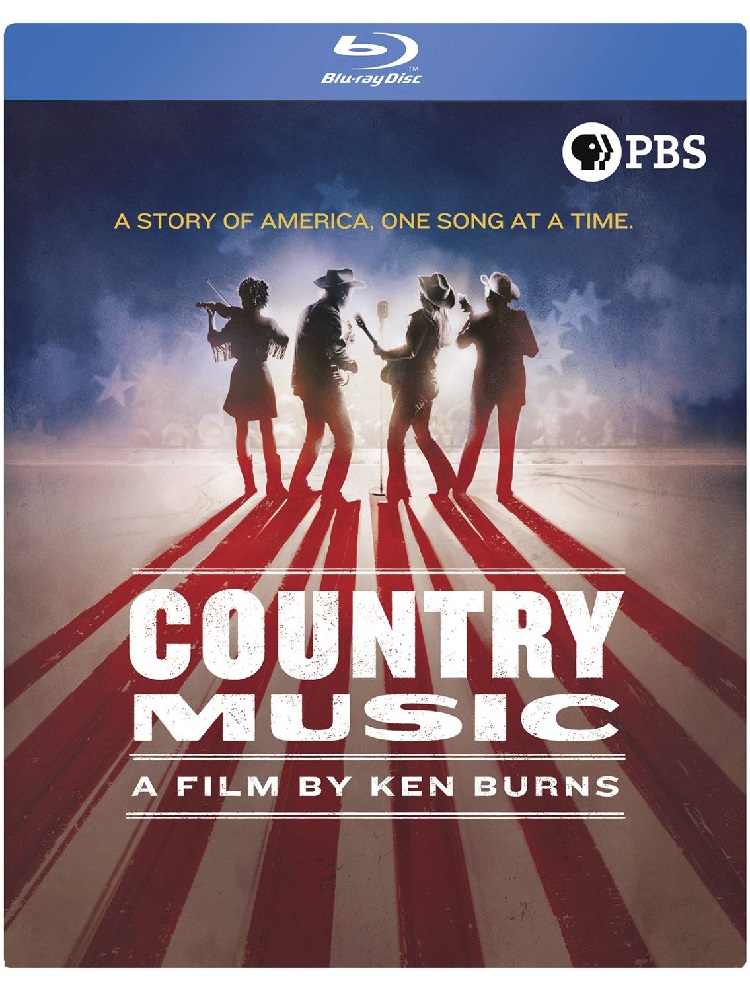 Ken Burns's latest examination of the fabric of the United States sees him focus on another musical genre, Country Music, in an 8-episode, 16-hour documentary airing on and streaming through PBS. The story is narrated by Peter Coyote and supplemented by a wealth of interviews by country artists like Loretta Lynn and Charlie Pride; from those who lived through it like session musicians and radio DJ Ralph Emery to the children and grandchildren of beloved musicians. Much like Shelby Foote served as a frequent contributor to Ken Burns's The Civil War, Marty Stuart performs the same role, sharing stories, offering opinions, and even playing instruments. Episodes One through Four have previously been reviewed.
In this episode, Burns shows that the country's societal upheaval made its way into the music. As women and African Americans fought for equal rights, Loretta Lynn wrote songs that told stories from a woman's perspective and fans who fell in love with Charley Pride's voice had to question their prejudices when they later saw him perform. Johnny Cash was a social justice warrior before the term was coined, singing about the down trodden.
But Cash was more than just a country musician and was a fan of many genres. His interest in folk music led to a friendship with Bob Dylan and a discovery of Peter LaFarge, who wrote "The Ballad of Ira Hayes." The latter resulted in the album Bitter Tears, a tribute to the American Indian. The lack of radio airplay for it infuriated him, but he was easy to rile then because he was an amphetamine-pill addict. He busted all the footlights at the Ryman during one performance and was banned from the Opry. Vivian divorced him, and June Carter divorced her second husband, but she was in no hurry to marry the self-destructive Cash.
Roger Miller was a fiddler and established songwriter, but he couldn't make it as a singer, having been dropped by four labels in six years because of weak record sales. Before giving up on his dream and leaving Nashville for Hollywood to try a different line of work, his producer set up a recording session to make him some money for the move. From that session, and after relocating, Fate had other plans and Miller finally scored his first hit with "Dang Me." The follow-up album spawned "King of the Road," which crossed over to the pop charts.
The episode offers a brief look at the Nashville session musicians, such as the most recorded guitarist in music history, Harold Bradley. Pedal steel guitar player Lloyd Green and multi-instrumentalist Charlie McCoy, who played harmonica on Cash's "Orange Blossom Special" also get some well-deserved face time. In contrast to the purveyors of the Nashville Sound, those who liked less polish on their music appreciated what Buck Owens was doing out of Bakersfield, CA, returning the honky tonk sensibilities. He supported The Beatles, though he wasn't sure about their hair. The Eab Four enjoyed American country music, and covered Owens's "Act Naturally" sung by Ringo.
Loretta Lynn took from life, from what she had seen and lived, and she told stories that no one else was dealing with feminist themes. "Don't Come Home a Drinkin' (With Lovin' on Your Mind) was her first hit and dealt with the idea of a woman not putting up with a husband's abuse and having a say over her body. Years later, Lynn, a mother of six, sang about "The Pill," which in an interview for the documentary she says she wishes had used. The record company was scared and held it for two years. Radio stations wouldn't play it until fans forced their hand and it turned it into a pop-hit crossover.
Lynn's success led to other females coming to the forefront. Connie Smith, was helped by Lynn, paying forward the help she had received from Patsy Cline. Bobbie Gentry wrote and recorded a #1 hit on the pop charts with "Ode to Billie Joe" and Jeannie C. Riley became the first woman to have the same song #1 on the Billboard Hot 100 and the U.S. Hot Country Singles with Tom T. Hall's "Harper Valley PTA". Talented singer and songwriter Dolly Parton came onto the scene. Porter Wagoner helped but tried to guide her career with a heavy hand and she wasn't having it.
Charley Pride, first thought baseball would get him out of the cotton fields and played in the negro league, but he was a better singer than he was an athlete. Cowboy Jack Clement wanted to record him, Chet Atkins helped find him a label, and Faron Young was a huge supporter. Pride;s first singles were released without any mention of his race, but he still ran into issues. Wanted to sing Curly Putnam's "Green Green Grass of Home" but the label was worried since Mary, who the song is sung about, had "hair of gold," meaning she likely wasn't an African Americans. When he was up for a CMA award, Loretta Lynn was told to take one step back if he won. Being Loretta Lynn, she stepped forward and hugged him because no one was telling her what to do.
Another person who didn't take kindly to people telling him what to do was Merle Haggard, who went from repeat criminal offender to a poet for the common man. Dwight Yoakam is visibly moved while focusing on his favorite Haggard song, "Holding Things Together" with lyrics about a father raising a child after his wife left him. Haggard had been inspired by seeing Johnny Cash live when he was an inmate at San Quentin in 1969. Though he was from Oklahoma, he grew up in Bakersfield and made his way back there after prison and got involved in the music scene.
Before playing San Quentin, a cleaned-up Cash performed at Folsom Prison and revived his his career. The live album taken from that performance was a landmark, received rave reviews not only in the world of country music, but jazz and rock critics also sang its praises.