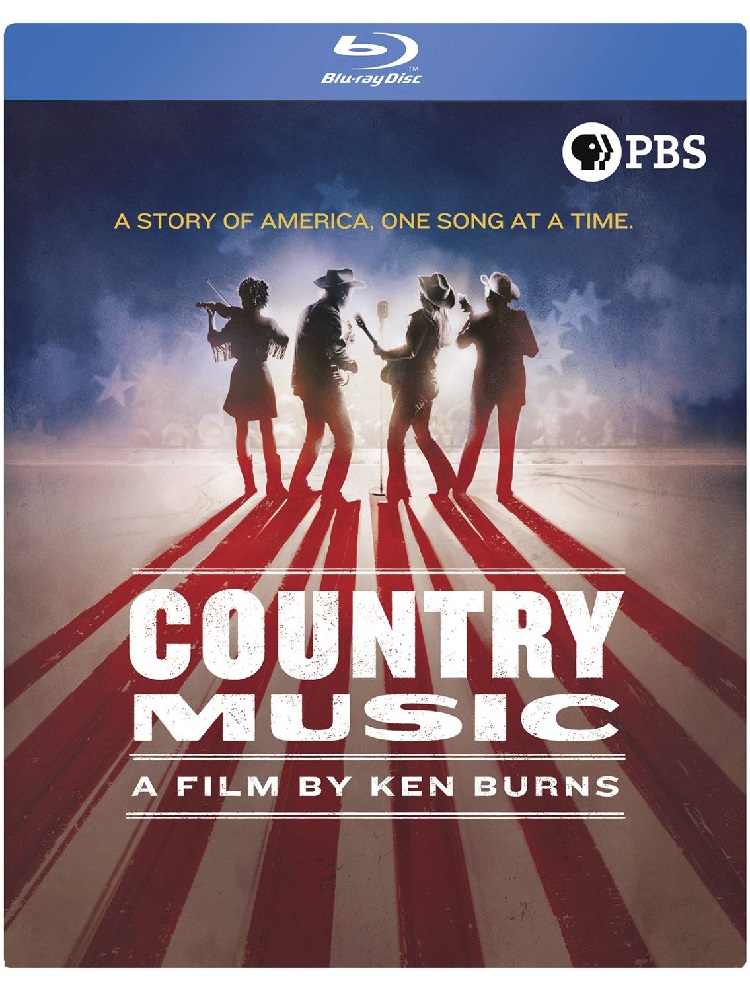 Ken Burns's latest examination of the fabric of the United States sees him focus on another musical genre, Country Music, in an 8-episode, 16-hour documentary airing on and streaming through PBS. The story is narrated by Peter Coyote and supplemented by a wealth of interviews ranging from country artists, giants in the business like Dolly Parton and Kris Kristofferson to lesser-known artists keeping the spirit alive like Ketch Secor from Old Crow Medicine Show and Rhiannon Giddens; from those who lived through it like session musicians and radio DJ Ralph Emery to the children and grandchildren of beloved musicians. Much like Shelby Foote served as a frequent contributor to Ken Burns's The Civil War, Marty Stuart performs the same role, sharing stories, offering opinions, and even playing instruments. All prior episodes have previously been reviewed.
Episode Eight "Don't Get Above Your Raisin'" (1984 – 1996)
Unfortunately, all good things come to an end, and so we get the final chapter in Ken Burns's outstanding documentary. Over the time period covered, we see one again the circle that is the story of country music remain unbroken as the cycle repeats itself.
In 1984, country music sales were in decline by 27%, and two years later, Johnny Cash's sales were so poor his record label dropped him. But the business folks saw potential. Two new cable stations dedicated to country music popped up and music videos were embraced by artists and audience.
Also popping up were a bunch of new musicians who embraced the past so much they were dubbed neo-traditionalists. Ricky Skraggs had played for Bill Monroe at age 6, Flatt & Scruggs on TV at 7, and as a teenager played with Ralph Stanley. He then joined Emmylou Harris's The Hot Band. Then, he added drums and electric guitar to his string band and traditionalists lost their mind. Dwight Yoakam credits Harris's first two albums with shaping him, and he was a rebel like fellow Bakersfieldian Buck Owens. Reba McEntire stood up for the musical ideas and became the most successful female artist of the '80s. The biggest duo of the decade was The Judds, a mother and daughter team, who had a great story about overcoming the odds, which manifested itself in "Why Not Me?" Not only did these acts pull country back from pop, but the recalibration allowed other artists to push boundaries and opened up avenues for Nancy Griffith, Lyle Lovett, kd lang, and Steve Earle.
Nashville's The Bluebird Cafe became a place for new musicians to find an audience. John Vezner wrote "Where've You Been" song about his grandmother whose mind was slipping away having a moment of clarity when she recognized her husband. Though a heart-wrenching song, Kathy Mattea, Vezner's wife, recorded it and had a hit with it. The same night Vezner played the song at the cafe, Garth Brooks was there.
Vince Gil started in bluegrass and became lead singer in country pop group Pure Prairie League. Rodney Crowell got him to join Roseanne Cash supporting band. He was asked to join Dire Straits. The musician in him wanted to go, but he believed in himself so he kept focused and put out an album. Keith Whitley drank himself to death at 33. Gil started writing "Go Rest High on That Mountain" in response to his friend's loss. When his brother died four year later, he finished the song. He sang it at George Jones Memorial at the Grand Old Opry, but has trouble getting through it because he was so overtaken by emotion. It's sad to see him in so much pain, but the humanity on display shows he no different than anyone else.
From 1989 to 1991, sales of country music doubled to nearly $1 billion. In 1991, the way record sales were tracked changed to Soundscan for a more accurate assessment. Turns out, country artists were doing better than reported. From 1991 to 1994, they doubled again. A major driver of those sales was Garth Brooks. His second album, No Fences, propelled by the song "Friends in Low Places" was the first country album to hit 5 million in sales. The follow-up, Ropin' the Wind, debuted at the top of the pop charts and was first country album to sell over 8 million. In '93, he sold out Texas Stadium, about 66 thousand seats, sold out in 92 min, beating a record by McCartney. A second and third show created the same reaction. Upset about the scalpers, Brooks scheduled a fourth show for free.
The state of the industry got to a point that labels and shareholders wanted greater successes without putting in the work of grooming artists. Radio station consolidation saw a smaller pool of songs played, making it hard for new artists to break through and harder for old artists to hang on. An alternative to pop country, new and old acts, was growing and Americana was born as a genre. Emmylou Harris its beacon. She recorded a live acoustic set at the Ryman where Bill Monroe was her only guest. It led to a $8 million restoration.
Working in Branson, Missouri, Johnny Cash was playing empty theaters. In '93, Rick Rubin wanted to record with Cash. Family and friends thought it would not be good for what little of a career Cash had. But the songs chosen were in his wheelhouse and the sparse arrangements Rubin created allowed for a focus on Cash's voice. Country stations ignored it. American Recordingswas his best selling album since '71 and became a Grammy winner for Best Folk album. They reteamed for a second volume, which went on to win a Grammy for Best Country Album. They recorded three more, covering the greatest songwriters of all time in all genres. His cover of Nine Inch Nails' Hurt was the biggest hit of their collaboration. Johnny Cash died in 2003, a few months after his wife June.
Country Music tells a captivating story about an integral component of American culture and is very well made. All the major artists and movements seemed to be covered and it will surely cause viewers to seek out their music and to learn more about them. It's interesting how the story repeats itself and isn't unique to country music. There are traditional artists and artists trying new things. There are artists who follow their own path while other artists are happy to go where the audience wants. Once audiences get tired of one thing, they seek something else out, opening up new opportunities.