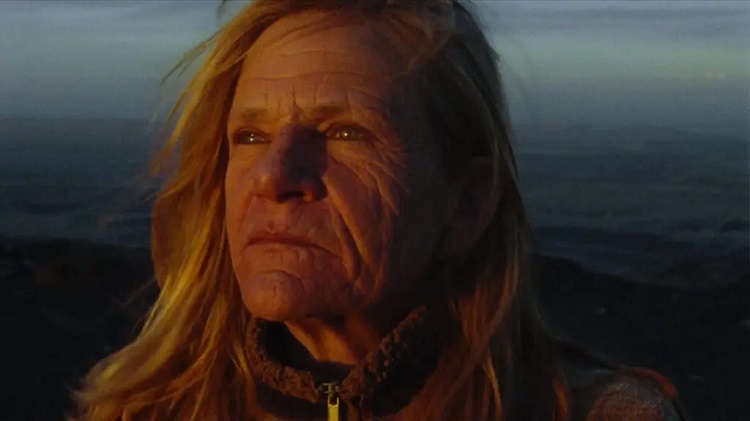 Dale Dickey has been acting for nearly 30 years, and chances are, you've seen her in at least one movie or TV show. She's worked with a wide array of filmmakers such as J.J. Abrams, David Mackenzie, Clint Eastwood, and Tony Scott. She's also appeared in popular television shows such as True Blood and Breaking Bad. But she's never been a household name, due to mostly being a supporting actor in the roles she takes. A Love Song, the directorial debut for Max Walker-Silverman, allows her to take center stage in a lead role and one in which it's predominantly her onscreen. Other characters show up here and there, but this is Dickey's film through and through.
In A Love Song, Dickey plays Faye, a widow who lives at a lakeside campsite in Colorado. She is eagerly awaiting the arrival of an old flame. With each passing day, a young mail carrier (John Way) comes by with his pony, and Faye jumps for joy at the thought of possibly receiving a letter from the person for whom she waits. When there isn't anything, she becomes glum and questions how much longer she should wait.
Each day passes by, and Faye goes about her routine of listening to music on her transistor radio, sipping her coffee or her beer, listening to all the different birds, and identifying which ones are which through the help of a guidebook. She's surrounded by beauty all around with the lakeside view, which is gorgeously captured by cinematographer Alfonso Herrera Salcedo. The film doesn't make it clear exactly when the movie is set. We only get a slight sense by when Faye pulls out a 2020 calendar and marks a random date as "Today."
Although various people pass by her campsite, the movie never resorts to having one of the characters give away exactly what day it is. None of them pull out a cell phone, nor do they have any other type of electronic device nearby that grants them that capability. It's a smart move and one that allows the viewer to sympathize with Faye on the uncertainty of it all and how much longer she should wait.
We do get little insights into what type of person Faye is, with all the people she meets at the campsite. She's loving and compassionate, but she also holds her ground. Walker-Silverman's decision to bring other characters in for brief moments highlights the film's mild quirkiness and allows Faye to share her experiences in order to help others.
Just when Faye is about ready to pack everything in and give up on waiting, she is awoken by a dog happily licking her face. Next to that dog is the man she's been waiting for, Lito (Wes Studi). Through their intimate conversations, we discover that they were both long-time friends. Lito had been married at one point, too, but is now also widowed like Faye. Their time together consists of listening to the music coming from Faye's radio ("It always plays the right song," she says), enjoying ice cream cones, and reminiscing about their past.
One can sense the bond between Faye and Lito is strong, through their conversations and the moments they share onscreen. Both Studi and Dickey are perfect together in this reunion of former lovers, and Walker-Silverman just allows the two veterans to play their part without hesitation or wanting to make any particular moments grand. It all comes very naturally, and the minimalistic approach the film takes is appreciated more and more as the movie progresses.
A Love Song is proof that Dickey can excel in a lead role when the opportunity is given to her. It's a terrific performance in a movie that allows her to showcase a wide array of emotions such as gleefulness and quirkiness, but also gives her the moment to showcase the fear of anticipation and wondering what's next.
There may be obvious comparisons to Chloe Zhao's Nomadland with characters breaking free from the entrapments of real-world living and resorting to living off the grid. But A Love Song doesn't become a movie about independence or isolating oneself from reality just for the sake of doing so. Its setting is similar, but it becomes more focused on the unexpected and the fear of both aging and loneliness. For Walker-Silverman's first directorial effort, this is a beautifully filmed drama about the unknown and how one particular person handles it.