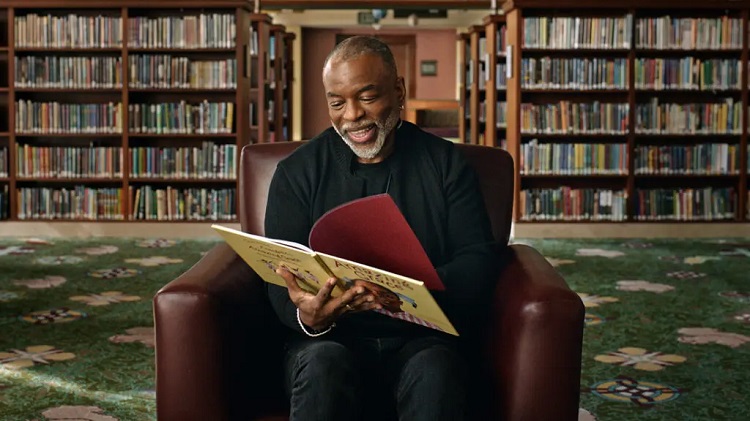 The opening scene of Butterfly in the Sky centers LeVar Burton in front of a huge library filled with books. The book in his hand is Amazing Grace, which was featured on one of the most popular episodes of the hit PBS series, Reading Rainbow. Immediately, fans of the series will get swept up in Burton's calm presence and reading of the book. From this very moment, there's an instant level of joy that the viewer immediately feels, and that feeling never wanes.
For many, myself included, Reading Rainbow was one of the hit PBS shows that was used as educational material in school and also something that was entertaining to watch. Not only did Burton bring on a new book for each episode, but he also recruited some kids to give their book recommendations. So there was that immediate connection with young people.
Butterfly in the Sky focuses on the history of Reading Rainbow and how it rose to become one of the most long-running and successful shows in PBS history. Some of the best moments are the segments that feature the kids in the show, as they are now all grown up. They reflect back on what it was like to be on the show, and how it helped them overcome any fear they may have had. It's a nice little trip down memory lane for them, and for us, and the viewer gets the sense of how much fun they had on the show by the expressions on their faces.
There were plenty of obstacles that the documentary details in terms of how they were going to get this show off the ground, such as when Twila Liggett and Tony Buttino – the show's creators – were tasked with creating a show that encouraged kids to read. Back before the show took to the airwaves, too many kids had become addicted to television and had focused less time on reading.
Neither Liggett nor Buttino had worked in television before. So they recruited people who had, Cecily Truett Lancit and Larry Lancit, and that's how they were able to get it started. There then came the issue of finding the host. Although the documentary doesn't bounce off any other names besides Burton, it does detail how they were initially intimidated to cast him, due to the success of Roots.
Butterfly in the Sky works as both a documentary on the impact of Reading Rainbow and the life story of LeVar Burton. The 65-year-old actor shares his journey as an actor growing up during the '70s and '80s, and how his presence made an impression on many people. It was also a time when his fame was starting to grow, as he accepted the role of Geordi La Forge on Star Trek: The Next Generation as Reading Rainbow was still on the air. Burton explains how he could not pass up that opportunity, while others who are interviewed discuss how they were uncertain if Reading Rainbow was still going to continue.
We're immediately intrigued to hear Burton share his take on this time in his life, as he's essentially working two full-time acting jobs and both roles are extremely popular. Burton even took Reading Rainbow fans onto the set of The Next Generation during one episode, which is a fun segment to revisit.
Many of the PBS shows love to do crossover episodes, and Butterfly in the Sky shows us the times when Burton appeared on Sesame Street and Mister Rogers' Neighborhood. There's a clip with Burton and Rogers talking about their friendship that will just break your heart when it appears.
Directors Bradford Thomason and Brett Whitcomb create a lovely documentary that will immediately win over the fans of Reading Rainbow. The minute the theme song is played, it brought back so many memories of childhood and how enjoyable the show was.
Butterfly in the Sky is an informative and delightful look at how Reading Rainbow influenced so many kids to read. It may seem apt that a documentary on the hit PBS show releases today, as there are many kids who are connected to a variety of screens and are maybe not reading for fun as much. This serves as a reminder of how wonderful Reading Rainbow was, and how reading is not only important to kids, but it is also something that can be fun as well.