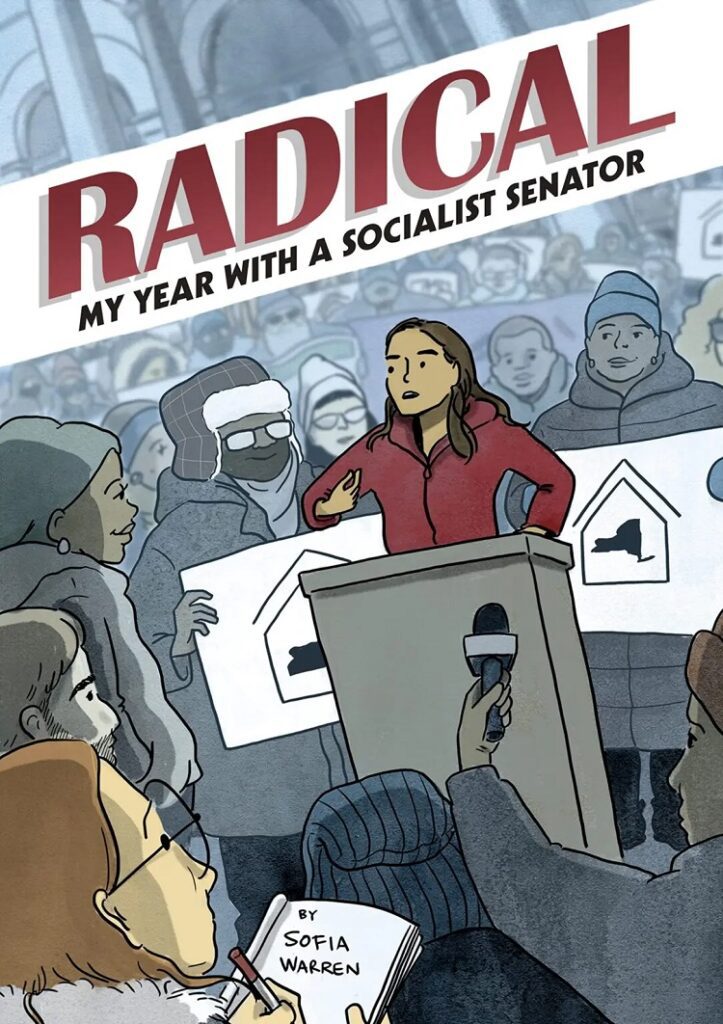 A young Latina politician runs for and wins office in New York as a virtual unknown, ousting a veteran incumbent Democrat in the process. Sounds like the Alexandria Ocasio-Cortez story, but this graphic novel is actually about New York State Senator Julia Salazar. Cartoonist Sofia Warren was granted unfettered access to Salazar's campaign for a full year, following her as she surged to victory in the election and then worked to quickly learn the ropes in the New York Senate.
In addition to being the youngest woman ever elected to the State Senate, Salazar gained notoriety for her identification as a Democratic Socialist, becoming the first one elected to the Senate in a century. Seems like prime material for conservative ire, but Warren doesn't really get into the weeds about any Socialist distinctions, instead presenting Salazar as nothing more than a progressive Democrat. As a political neophyte herself, Warren is mostly interested in observing how a successful campaign transforms into a functional political office, chronicling Salazar's staff meetings and related staffing issues throughout the year.
Salazar comes off as a driven, sympathetic, and highly capable individual hindered only by the inexperience of herself and her staff. We follow her as she lobbies for bills she's heavily invested in, particularly related to rent control, and see her grief as she's faced with the inevitable concessions needed to get anything accomplished in the Senate. We also get a look at the power structure at the top, as the leaders of the Senate and House along with the Governor are shown to hold an almost unfair level of power in the final determinations of what proposals will actually see the light of day.
Warren's black-and-white art style is loose and sparsely detailed, with a heavy line that gets character expressions across but little else. She comes from a background as a cartoonist for The New Yorker and doesn't seem to have altered her approach here, keeping the perspective tightly focused on each character interaction without fleshing out the backgrounds. While this type of work doesn't really need flashy staging, Warren's approach is weighted more heavily to the "novel" half of the graphic novel moniker. It's a suitable approach for the real-life subject matter, just not particularly moving from an artwork perspective.
The book contains large amounts of narration as Warren guides us through her adventures. The printed font chosen for that narration is somewhat cramped, but the handwritten-like font chosen for character dialogue is much easier on the eyes, even though it's roughly the same size. The selected fonts wouldn't be a concern in an oversized graphic novel, but at the book's dimensions of 6.5" x 9", reading the text can be a bit of a chore.
Ultimately, the book is a fascinating peek behind the political curtains, giving readers unique insider access. While it will resonate the most with residents of New York, there are enough general political machinations that we get a good feel for how the gears of government turn in every state and the country as a whole. Readers looking for either a searing indictment or glowing endorsement of socialism won't find it here, as Warren's portrayal of Salazar paints her like any other progressive Democrat without taking any strong partisan sides. Instead, enjoy the work as an inspirational guided field trip through the wild world of modern U.S. politics.